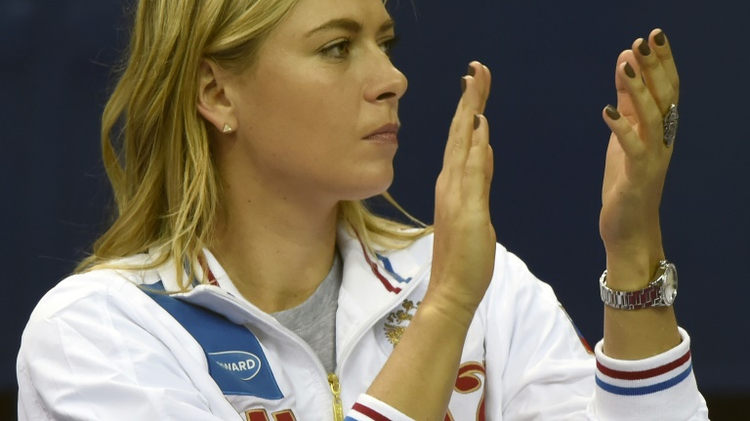 ☆
Tennis: Sharapova's doping ban cut to 15 months
credits/photos : ALEXANDER NEMENOV (AFP)
Russian Maria Sharapova after a point in the first match of Fed Cup against the Netherlands on February 6 in Moscow
Sharapova had tested positive for Meldonium, which was added to the world anti-doping WADA list on January 1
Maria Sharapova had her two-year tennis ban for doping reduced to 15 months by the Lausanne-based Court of Arbitration for Sport (CAS) on Tuesday.
The 29-year-old Russian tested positive for the banned medication meldonium during January's Australian Open, but the world's top sports court cut the initial two-year ban by nine months.
The court said in its verdict that it "found that Ms Sharapova committed an anti-doping rule violation and that while it was with 'no significant fault', she bore some degree of fault, for which a sanction of fifteen months is appropriate".
Meldonium was added to the world anti-doping WADA list on January 1. Sharapova said she had been taking it for 10 years to help treat illnesses, a heart issue and a magnesium deficiency.
She also claimed it had entirely escaped her attention that the product had been added to the banned substance list published by the World Anti-Doping Agency (WADA) on January 1, just before the Australian Open.
The initial ban was imposed by an independent tribunal appointed by the International Tennis Federation and the reduced ban following her appeal means the Russian, who has spent most of her life in the United States, will be free to resume competition at the end of April 2017.
The original ruling was expected by July 18, with Sharapova hoping that a successful appeal would have allowed her to spearhead the Russian tennis team in the Rio Olympic games. The delay meant she sat out the games.
(Staff with AFP)