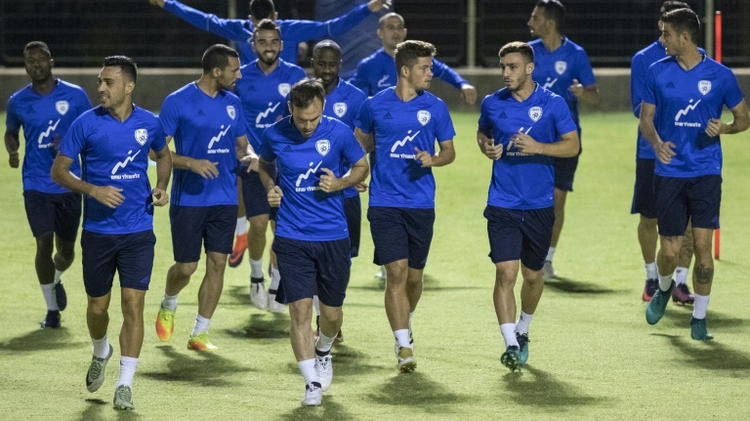 ☆
Israeli soccer team stranded in Albania after stunning 3-0 victory
credits/photos : Jack Guez (AFP)
Israeli national team take part in a training session, but citizens have been warned not to attend their World Cup match against Albania
Engine failure warning forces plane carrying Israeli team to turn back at airport
Players from Israel's national soccer team found themselves stranded in Albania Sunday morning after a technical fault with the plane they were on prevented it from taking off. 
The Israeli team was looking forward to returning home after it secured a stunning 3-0 defeat over Albania in a 2018 World Cup qualifying match Saturday, however as their plane was preparing for take off from the airport in Tirana, it was forced to turn back after due to fears of an engine failure.
Eran Zahavi converted an 18th-minute penalty to set Israel on their way with Dan Einbinder and Eliran Atar making sure they beat Albania.
The match was held under tight security after an Islamist terrorist plot targeting the Israeli team was thwarted earlier this week.
Over 2,000 Albanian police and hundreds of special agents were deployed to protect the match in the central Albanian town of Elbasan, officials said Saturday.
The match was originally supposed to be played in the northern town of Shkodra, but was moved to Elbasan, some 45 km (28 miles) from the capital Tirana, for "security reasons".
Local media reports said the match was the target of a plot by an Islamist network dismantled this week in Albania, Kosovo and Macedonia. About 20 people were arrested, said authorities in the three neighboring Balkan states.
Security checkpoints were set up in streets around the stadium ahead of the match with concrete blocks, while police sharpshooters took up position and a helicopter was due to help oversee the operation.
Police announced that a tunnel between Tirana and Elbasan would be closed four hours before the evening match, due to kick off at 19:45 GMT.
"Supporters have to report at the entrance at least four hours before the match and they will be subject to strict checks," said a police statement.
Amid the tension, Albanian anti-terrorist forces arrested a former fighter for the so-called Islamic State group in Guras in the east of the country, said an interior ministry spokesman.
The spokesman did not say whether the man, named as Ervin Düka, 29, who had returned from Syria after being injured, was suspected of being part of the dismantled alleged terror cell.
Police found weapons, ammunition and explosives at his home, the spokesman said.
Four members of the dismantled cell were arrested in Albania, suspected notably of plotting to attack the match. One of them Medat Hasani, is also a former IS fighter, according to sources close to the inquiry.
The three others are a self-proclaimed imam, a hairdresser and a doctor, according to Albanian media reports.
According to official figures more than 550 Muslims from Macedonia, Kosovo and Albania joined jihadist fighters in Syria and Iraq, of whom over 100 have died.