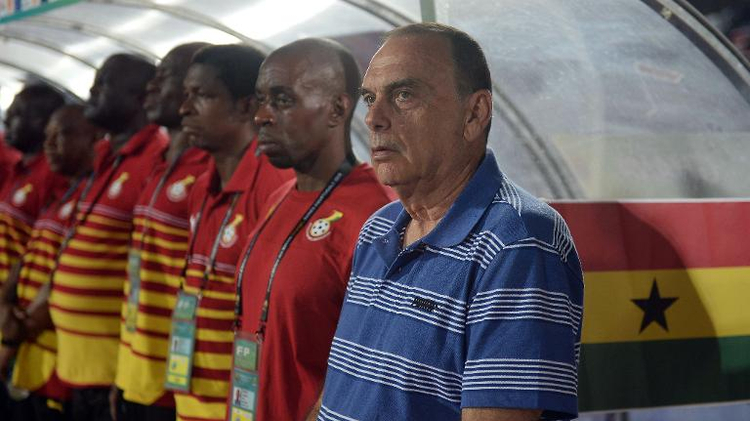 ☆
Security fears as Avram Grant heads to Egypt for Ghana showdown
credits/photos : Khaled Desouki (AFP/File)
Ghana coach Avram Grant (R) attends the Africa Cup of Nations group C match against South Africa in Mongomo on January 27, 2015
Reports in Ghana suggest Israeli coach was warned by Mossad not to travel to Alexandria
Ghana's national soccer team coach, Israeli Avram Grant, will will be accompanied by heavy security Sunday when he heads to Alexandria for his team's showdown with Egypt, local Ghanaian media reported. 
According to Ghanasoccernet, Grant was warned by the Mossad, Israel's intelligence agency, not travel to Alexandria as Ghana take on Egypt in a 2018 Fifa World Cup qualifier match.
Grant has played down any security issues related to Sunday's match after the Egyptian Football Association (EFA) downplayed Ghanaian reports saying Grant would face possible security threats in Alexandria.
"I'm a football coach and here to play football, I'm not a politician and, sports is a global game that promotes unity, irrespective of where you come from," Grant said, according to Ghanaian reports. 
According to FootballGhana.com the EFA has discovered plans by extremist fans to "harass and abuse" the Israeli coach when he leads the Ghana team.
A source told SportsObama.com, "They plan to hurt him with several attacks of chants ….they want him not to come into Egyptian land because people don't like him around."
The source added that the Egyptian Football Association will try to urge fans to show restraint.
i24news' sports analyst Yoav Borowitz explains that "Coach Grant's appearance in Egypt has been very a sensitive and problematic issue of late. Although there is peace between Israel and Egypt, there has never been a match between their national teams or lower level clubs."
"It is a cold peace, we might even say a frozen peace when it comes to collaboration and sense of comraderie or friendship," Borowitz continues, adding "It is even more dangerous as an Israeli coach coming to Egypt and coaching a game in Cairo."
Prior to Grant's appointment, the Ghana Football Association said Grant's Israeli nationality had been discussed and they had found ways around facilitating his travels and work in potential hostile countries.
The match is set to be held at the 75,000 strong capacity Borg al-Arab stadium in Alexandria.