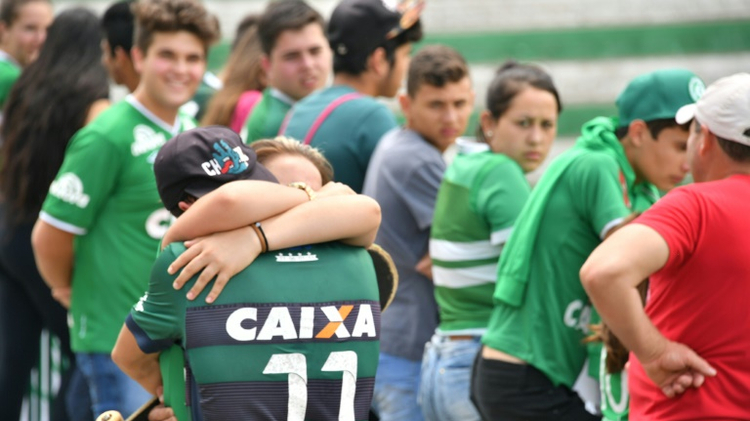 ☆
Soccer games in Israel to open with minute silence after Brazil team plane crash
credits/photos : Nelson ALMEIDA (AFP)
People pay tribute to the players of Brazilian team Chapecoense Real who were killed in a plane accident in the Colombian mountains, at the club's Arena Conda stadium in Chapeco
Israel's finance minister expresses condolences over Brazilian footballers who dies in Colombia plane crash
Israel's Finance Minister Moshe Kahlon expressed his condolences on Wednesday to senior Brazilian diplomat Sergio Rodrigues dos Santos over the plane that crashed in Colombia killing 71 people including Brazilian footballers, Channel 7 reported. 
Kahlon sent a message to his Brazilian counterpart expressing his condolences to the Brazilian people over the tragedy and offered his support to the families of the victims on behalf of all lovers of Brazil and sports fans in Israel. "All sports fans and the people of Israel are standing by your side at this difficult time," Kahlon wrote in a letter, according to Channel 7. 
Kahlon made a special request to the Israeli Soccer Association that soccer teams perform gestures of solidarity with the Brazilian people and the football team who perished in the disaster. The association accepted the request of the finance minister and ordered that all National League and Premier League games open with a minute silence in memory of those killed in the disaster.
Colombian authorities are investigating what made the plane crash in the mountains of northwest Colombia on Monday night.
The crash killed 71 people including most of the Chapecoense football team from Brazil. Six people including three players miraculously survived.
Announcing the disaster on Monday night, the aviation authority said the plane reported electrical problems just before the crash.
But a Colombian military source told AFP: "It is very suspicious that despite the impact there was no explosion. That reinforces the theory of the lack of fuel."
Brazilian media said the plane's fuel capacity may have been inferior to the amount required for the distance of its journey from Santa Cruz in Bolivia to Medellin.
Colombian media, citing investigators, said the plane may have had to wait for another flight to touch down in Medellin before it could land.
Colombian broadcaster W Radio aired a recording of what it said was the captain of another aircraft who said he had heard the pilot of the doomed plane over the radio reporting fuel problems followed by an electrical failure.
British, Bolivian and Brazilian investigators headed to Colombia to help with the probe, authorities said.
Staff with agencies