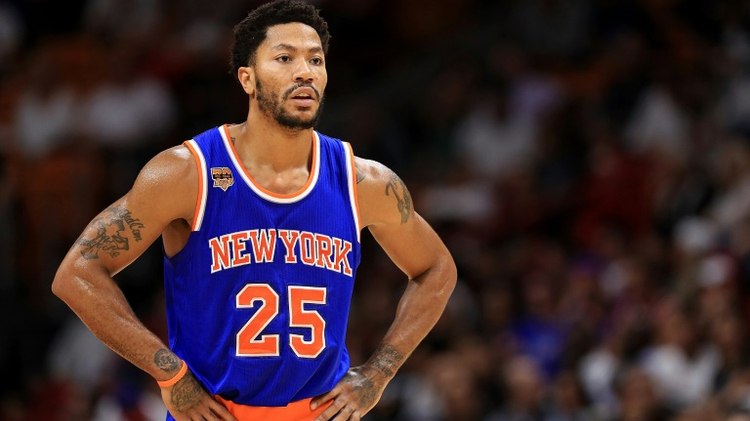 ☆
Rose fined $200,000 over NBA Knicks no-show: report
credits/photos : Mike Ehrmann (GETTY/AFP/File)
Derrick Rose, pictured in December 2016, angered the Knicks management after disappearing without notifying team officials or explaining his absence
Rose mysteriously disappeared before game against New Orleans Pelicans
The New York Knicks fined Derrick Rose around $200,000 (188,350 euros) for his mysterious no-show, the US media reported on Thursday.
Rose created a sensation on Monday when he failed to appear for the Knicks' 110-96 defeat to the New Orleans Pelicans.
The New York Post said in a report Thursday that Rose had been fined $193,848 -- 1/110th of his $21.3 million salary -- mirroring the formula used by the NBA for a one-game suspension.
"The team fined him a pretty hefty amount -- the amount of the fine for missing a game," Knicks coach Jeff Hornacek was quoted as saying.
Rose angered the Knicks management after disappearing without notifying team officials or explaining his absence.
He also ignored calls from team officials attempting to locate him.
He later explained that he had travelled to visit family in Chicago, saying he needed "space."
Rose returned to the team Tuesday and apologized to his teammates, coaches, president Phil Jackson and general manager Steve Mills.
"When I was in the room I felt like they understood where I was coming from," Rose said of Knicks management.
Rose told reporters prior to the Knicks' 104-89 win over his former team, the Chicago Bulls, on Thursday that he didn't regret making his unscheduled trip.
"Family over everything," he said.
And Rose, who will be an unrestricted free agent at the end of the season, hopes the Knicks will still want to re-sign him.
"I hope one incident didn't change their minds. Who knows? This is a business and if it was to happen I'm still going to play the way I normally know how to play no matter where I'm at."
Rose, who scored 25 points in his first game back with the Knicks on Wednesday -- a nail-biting loss to Philadelphia -- scored 17 against the Bulls on Thursday and said he'd been welcomed back warmly by the team, the fine notwithstanding.
"Right when I came back, I felt nothing but love," Rose said. "I apologized to them and like I said, it eases everything when they understand."