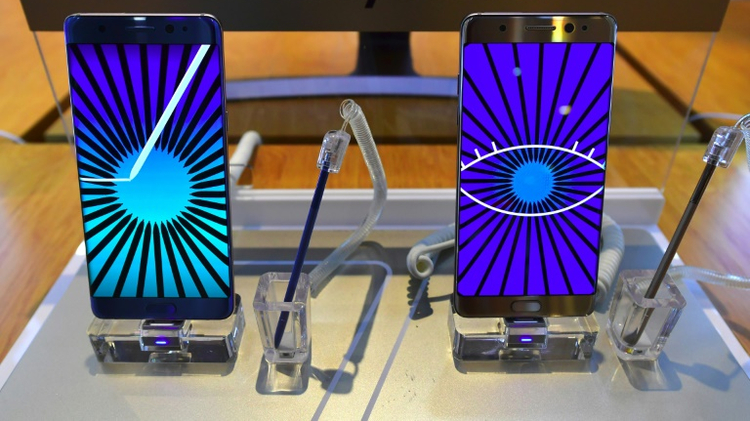 ☆
US, Japan warn against using Samsung Galaxy Note 7 on planes
credits/photos : Jung Yeon-Je (AFP/File)
Samsung suspended sales of the Galaxy Note 7 and recalled 2.5 million units following problems with batteries exploding or burning while charging
Samsung last week stopped sales and recalled 2.5 million units following reports of battery explosions
Japanese aviation authorities on Friday followed their US counterparts by urging passengers not to turn on or charge Samsung Galaxy Note 7 smartphones on aircraft following reports of explosions from faulty batteries.
The South Korean smartphone maker last week suspended sales of the "phablet" and recalled 2.5 million units following the reports.
"In light of recent incidents and concerns raised by Samsung about its Galaxy Note 7 devices, the Federal Aviation Administration strongly advises passengers not to turn on or charge these devices on board aircraft and not to stow them in any checked baggage," the US watchdog said in a statement Thursday.
Qantas and Virgin Australia also told customers Thursday not to use or charge the devices on their planes.
Japan's transport ministry followed suit on Friday as two more airlines, Abu Dhabi based Etihad Airways and Singapore Airlines banned the phones from their flights.
The phone is not yet on sale in Japan, but the ministry cited accidents overseas for its warning, which also cautioned against using or charging them onboard, or stowing them in checked bags.
"Until such time that safety measures are taken by Samsung, the ministry has requested that Japanese airlines strongly communicate instructions to passengers regarding bringing Galaxy Note 7 on board planes," the ministry said in a statement. 
Samsung is the world's top smartphone maker, outpacing its American rival Apple.
(Staff with AFP)