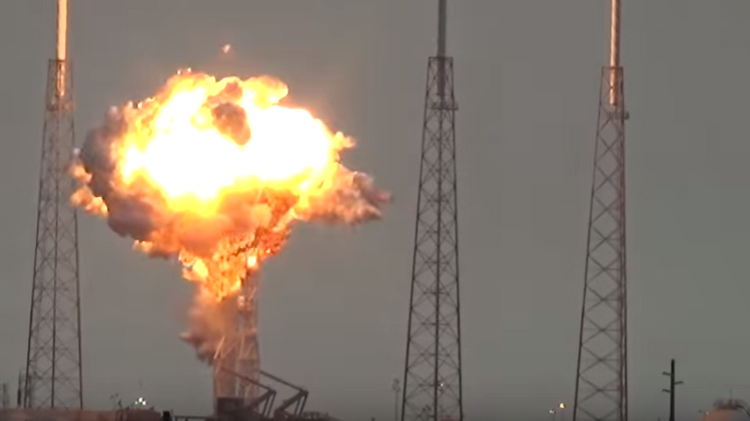 ☆
Helium tank breach likely caused Falcon 9 blast, SpaceX says
credits/photos : YouTube Screen capture
The explosion of a SpaceX Falcon 9 rocket during a test fire at the launch facility at Cape Canaveral in Florida on September 1, 2016
Pre-launch blast destroying rocket and payload still under investigation
A SpaceX rocket that burst into flames as it was being fueled at Cape Canaveral, Florida earlier this month, likely suffered a large breach in its upper-stage helium system, the company said on Friday.
Aerospace manufacturer and space transport services company SpaceX, owned and operated by technology entrepreneur Elon Musk, was fueling a Falcon 9 rocket for a routine pre-launch test known as a static-fire on September 1, when a bright fireball suddenly emerged around the rocket's upper stage, destroying the rocket and its payload, an Israeli communications satellite, Amos-6.
"At this stage of the investigation, preliminary review of the data and debris suggests that a large breach in the cryogenic helium system of the second stage liquid oxygen tank took place," SpaceX said in a statement posted on its website.
SpaceX spokesman Dex Torricke-Barton declined to speculate on what may have triggered the breach, saying the company was still investigating a range of possible causes.
No one was hurt in the explosion, which could be heard 48 km away. The cause of the accident is under investigation.
The company stressed that it concluded that whatever triggered the blast was not related to a June 2015 accident that occurred about two minutes after liftoff, destroying a load of cargo headed for the International Space Station.
At the time, SpaceX traced that problem to a faulty bracket securing a bottle of helium in the oxygen tank of the rocket's upper stage.
"We have exonerated any connection with last year's … mishap," SpaceX said in Friday's statement.
The California-based firm said it would shift some missions to a new launch site at NASA's Kennedy Space Center, adjacent to the Air Force base while the damaged launchpad at Cap Canaveral is undergoing repairs.
The company is hoping to resume flights in November.
Israeli communications firm Space Communication (SpaceCom) said it expects either a $50 million payout from the private aerospace company owned by Elon Musk or "the launch of a future satellite carried out under the existing agreement and with the payments that have [already] been made."
SpaceCom will also receive over $173 million in compensation plus interest from Israel's Aerospace Industries (IAI) under an insurance policy on the device, IAI said in a statement Saturday.
According to SpaceCom, the total amount due to be received from IAI is "approximately $205 million."
The accident -- the second of its kind since SpaceX was founded in 2002 -- came just over a year after a Falcon 9 rocket exploded after liftoff on June 28, 2015, destroying a Dragon cargo capsule bound for the International Space Station (ISS).
Before that, SpaceX had logged 18 successful launches of the Falcon 9 -- including six of 12 planned supply missions to the ISS carried out as part of a $1.6 billion contract with NASA.