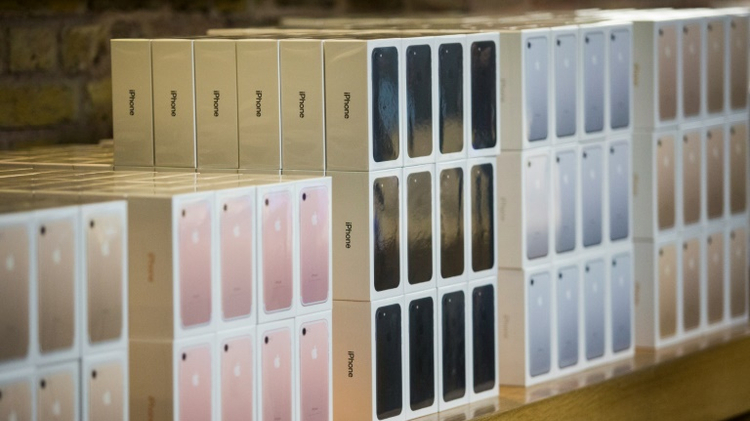 ☆
Parts of 'iPhone 8' secretly being developed in Israel: report
credits/photos : Jack Taylor (Jack Taylor/AFP)
Stocks of the new iPhone 7 smartphone, with its improved camera and water resistant body, quickly sold out around the world
Employes of Apple Israel give out sparce details of upcoming iPhone
Some of the hardware of the next version of Apple's iPhone is being developed in Israel, according to a report in Business Insider. 
An employee working at Apple's office in Herzliya in Israel told the paper that the new phone, which is expected to be released next year, will have a radical redesign and be called "iPhone 8," apparently skipping an expected iPhone 7s. 
The employee, whose identity was being kept secret by Business Insider, solders components for Apple and said that employees in Israel work on all of Apple's new products. 
The Apple employee also said employees in Israel are working on what's coming "next" in Apple's product line, specificly mentioning the iPhone 8.
A second Apple employee told Business Insider he "couldn't talk" about what Apple did in Herzliya. 
Apple traditionally shrouds the development of its devices in secrecy and has been known to implement extreme measures such as presenting test devices to reviewers in hermetically sealed rooms and bolting devices to tables.
Roughly 800 employees work at Apple's Herzliya office, which is used as research-and-development facility to develop hardware such as chips, storage, cameras, and wireless technologies. 
The office was set up after Apple acquired two startups: the flash memory designer Anobit in 2012 and the 3D sensor developer PrimeSense in 2013. 
Only last week it was revealed that Apple is using the technology of the Israeli mobile chip designer Ceva in the iPhone 7 and 7 Plus phones.
Israel is home research-and-development facilities for almost every major Silicon Valley tech firm and a wide range of common technologies such as phone cameras, USB sticks, the ICQ messaging service, and integral parts of the Windows operating system were developed in Israel.