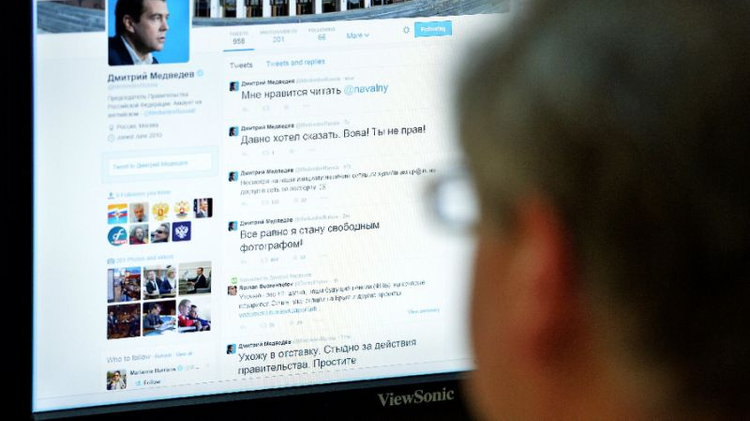 ☆
Twitter suspends alt-right accounts, adherents complain of 'great purge'
credits/photos : AFP Photo/Yuri Kadobnov
File photo: A man looks at the computer screen with the twitter page of Russian Prime Minister Dmitry Medvedev displayed, in Moscow on August 14, 2014
Suspensions come as service rolls out tool to combat harassment and controversy swirls over top Trump hire
The social media site Twitter on Tuesday  suspended several accounts linked to the alt-right movement, on the same day  the service introduced a new tool to fight abusive "trolls" and amid controversy over US President-elect Donald Trump's hiring to a top post of Steve Bannon, who presided over the Breitbart News site that he described as  a platform for the alt-right.
The alt-right is a somewhat poorly defined term, but its most consistent elements are anti-immigrant, hyper-nationalism, and anti-multiculturalism – with some adherents embracing a white nationalist ideology that calls for a re-imagining of the United States as an ethnically white state. The movement rallied to Trump's candidacy and helped him beat out over a dozen Republican rivals during primaries and ultimately attain the presidency. 
Among the suspended accounts was one belonging to Richard Spencer, who runs an alt-right think tank. Twitter also suspended the accounts of his think tank and online magazine.
"Basically, my entire digital presence on Twitter has been suspended," Spencer said in a video posted at YouTube.
"It is corporate Stalinism; there is a great purge going on."
Spencer compared the suspensions to Adolf Hitler's elimination of his opposition in 1934 in what is popularly known as as the Night of the Long Knives.
"I think Twitter, Facebook and others are deeply triggered by this election and that social media helped elect Trump," Spencer said in the video.
"I am alive physically but digitally speaking there has been execution squads across the alt right," he added. "There is a great purge going on and they are purging people based on their views."
Twitter has suspended alt-right accounts before and notably permanently banned Breitbart editor of Milo Yiannopoulos after he led a campaign of insults against actress Leslie Jones that involved hundreds of anonymous users.
Spencer said he supported Yiannopoulos but that he had been "engaging in something that could be called harassment.
"The fact is that I, and a number of other people who have just got banned, weren't even trolling," USA Today quoted Spencer as saying. "I was using Twitter just like I always use Twitter, to give people some updates and maybe to comment on a news story here and there."
Read more: Bannon's appointment to White House Chief Strategist a 'sad day,' says ADL