☆
In world first, Israeli biomedical group successfully transplants lab-grown bone
credits/photos : Nelson Almeida (AFP/File)
A researcher collectssamples at a lab of the Institute of Biomedical Sciences of the Sao Paulo University, Brazil
Lab-grown bone graft transplants '100 percent successful in all 11 patients,' Bonus Biogroup says
An Israeli biotech company said Monday that it has for the first time worldwide successfully used semi-liquid bone graft harvested from patients' own fat cells to repair bone loss in an early stage of a clinical trial.
The Bonus Biogroup injected the lab-grown bone tissue into the jaws of 11 patients. The tissues successfully hardened and merged with existing bone to repair damage, the company said.
"For the first time worldwide, reconstruction of deficient or damaged bone tissue is achievable by growing viable human bone graft in a laboratory, and transplanting it back to the patient in a minimally invasive surgery via injection," Bonus Chief Executive Shai Meretzki said in a statement to the Tel Aviv Stock Exchange.
When bone is injured in a trauma accident or degenerates with age, reconstruction or transplant is the only option for repair, Meretzki told i24news.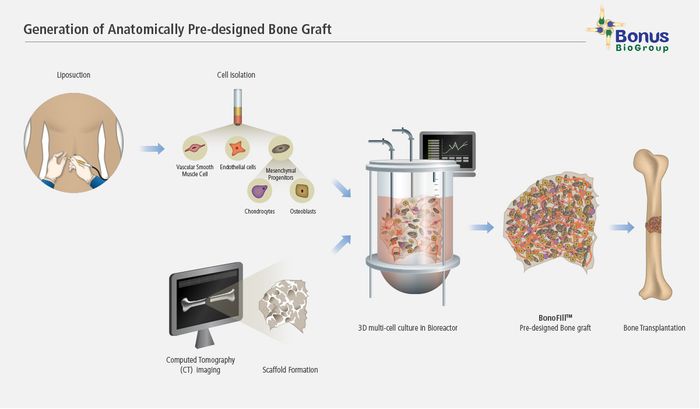 Traditionally, grafts created from the patient's own cells involve obtaining bone samples from the pelvic crest. It is an invasive, painful, and expensive procedure. Other types of bone grafting, which use synthetic substances or cells obtained from a bone bank, risk rejection by the patient's body.
"I was looking for a way to do it cheaper and easier for the patient and the medical system," Meretzki tells i24news. "The idea of bone grafts is that they should be bio-compatible, functionally and structurally similar to the patient's bone, easily transplantable, and cost effective," he says.
Meretzki and his team have spent some 50 million dollars over the past 6 to 7 years, he says, working towards developing in-vitro tissues and turning them into viable bone grafts.
"We are growing bone through small samples of fat tissue and isolating the different kinds of cells that we need to create the bone," he explains.
"Because the bone was created from the patient's cells there is no rejection. Its a one-to-one identity between the new bone and the patient's immune system," he adds.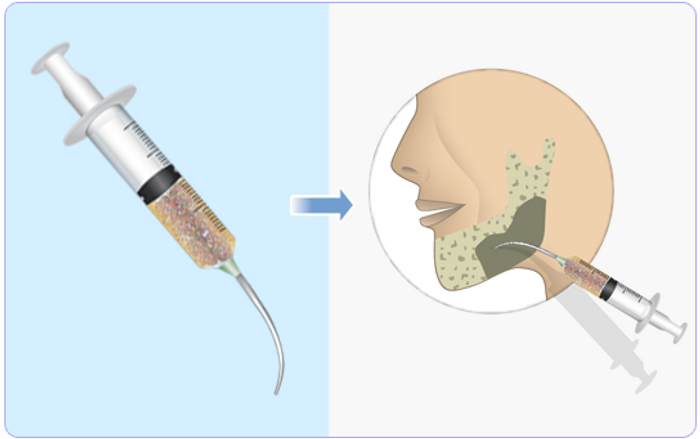 Bonus is currently the only biomedical company in the world to have successfully developed viable bone graft from fat tissues harvested in a laboratory.
"We have the ability to create a small bone particle and we can transplant it by injection not surgery. We inject thousands of bone particles. It grows and proliferates and becomes a solid bone," Meretzki told i24news.
Ora Burger, vice president of regulation affairs at Bonus Biogroup, told Reuters transplants in clinical trials were "100 percent successful in all 11 patients".
The biomedical group will next conduct clinical trials working with long bones in the body's extremities.
The company will present the preliminary results of its clinical trial at the International Conference on Oral and Maxillofacial Surgery in Spain on Monday.
Amelie Botbol, i24news' intern reporter, contributed to this report.
(Staff with agencies)