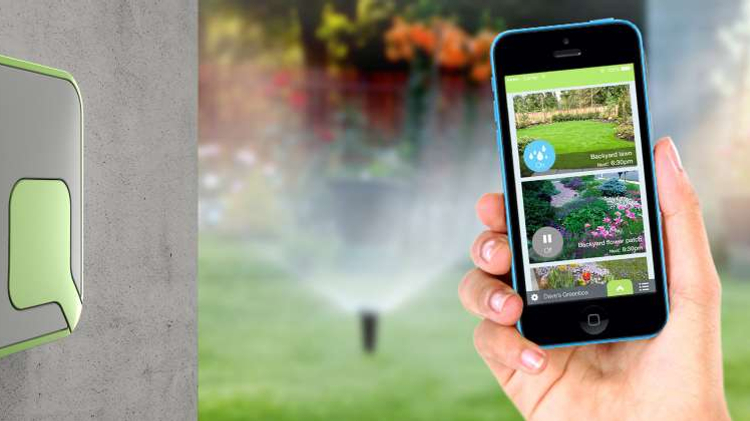 ☆
HighTech: Garden Irrigation 2.0
credits/photos : Courtesy
The GreenBox system allows you to water your garden from your smartphone
Two Israeli start-up companies are developing the next wave of smart irrigation systems
From a country where every drop of water is precious and water conservation is a way of life, come two innovative start-ups that want to help you not only save money on your water bills, but also make your garden smarter and easier to maintain.
As a desert country, Israel was always very active when it came to water efficiency. In the late 1950's Simcha Blass become a pioneer of drip irrigation, introducing with his company, Netafim, a new concept of low-volume crop watering that helped transform the agricultural world, reducing water consumption between 30 percent to 50 percent compared to older irrigation methods. Drip irrigation also allowed crops to grow in countries and areas where years of drought resulted in low crops and even famine, making it one of the most important agricultural innovations of the 20th century.
Since the 1960's, drip irrigation has combined with the electronics and computer revolution to create computerized irrigation systems which are now sold and operated in commercial farms and millions of homes around the world.
Anybody who has ever used any irrigation controller, such as you can buy at almost any local hardware store and use to water your garden at specific time intervals, knows that setting those units up and changing them is a hassle. In an age where almost anything can be done using a simple app on your mobile device, most existing irrigation controllers looks like dinosaurs.
Here comes two Israeli start-up companies which decided to join the raising trend known as the Internet Of Things (IOT). Part of a global change in the technology market in the past two years or so which aims to connect to the internet not only computers, smartphones and tablets but also our home security systems, air conditioning, refrigerators and now even our gardens.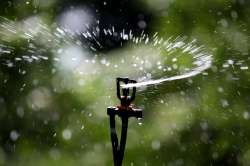 The first Israeli company we talked to which started to work on a smart "connected" irrigation controller several years ago is GreenBox. The company created a small, slick-looking, controller that costumers can connect instead of their old irrigation controller (the set up process if you already have the infrastructure ready from a previous controller should take just a few minutes according to the company). Once you have all the wires connected, you use a free app to connect to the controller using Bluetooth 4.0 (iOS based devices initially but Android should follow later on, and there will be options to connect through WIFI as well which is also supported by the unit). GreenBox lets you automatically schedule watering programs based on local weather. You also have the option for up to eight different zones as well as an option to test your watering cycle to see that everything is configured correctly.
i24news recently talked to Dori Dayan, founder of GreenBox, who explained that by using information about local temperature, solar radiation, wind and humidity users can calculate the evaporation level of the ground and the algorithm can determine when the plant needs watering. GreenBox is currently on a pre-order status (under $250) and should be available in the next few months.
The second Israeli company working on an advanced irrigation controllers is GreenIQ. Odi Dahan, founder of GreenIQ, explained to us in an interview that the idea for a smart irrigation system came to him one winter day when he was sitting at home and the sprinkler system started working when it was pouring rain outside and he did not want to go out to turn it off. He started looking for a system that can solve this problem and also adapt itself automatically to the conditions in the user's garden. At the time there were no such systems available, so he started working on creating one. The system Dahan created is already selling online (for under $200) with a full feature version scheduled to come out later this year.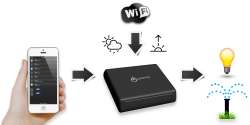 GreenIQ seems to have a somewhat different approach to the garden irrigation problem than others do. While its product can also be controlled using an Android/iOS app or web app (PC/MAC), it emphasizes the ability of its unit to serve as a smart hub for your garden, collecting information and controlling all sorts of external sensors such as the Parrot - Flower Power (which GreenBox also promise to support later on) and even the ability to schedule when to turn on/off your garden lights.
Developments in the field of the 'Internet Of Things' seems to progress extremely fast these days and since both Israeli companies began their work on their new systems, several other companies released competitors products including Colorado based Rachio's Iro sprinkler controller, which is already selling at Home Depot. It seems that these new products are just the beginning and that our future garden will be more connected than ever before.
Iddo Genuth is a technology reporter and editor, covering diverse topics ranging from medicine to mobile apps