The renaissance of comic art in Israel
Landmark exhibition at the Israeli Cartoon Museum features the works of 14 female artists
Comic art is undergoing a renaissance in Israel and women are playing a significant role.
A landmark exhibition at the Israeli Cartoon Museum in the city of Holon features the works of 14 of the country's top female artists.
Titled "A Museum of One's Own" (inspired by Virginia's Woolf's famous feminist text), much of the show is devoted to Friedel Stern, a trailblazing artist who taught three generations to follow in her creative footsteps.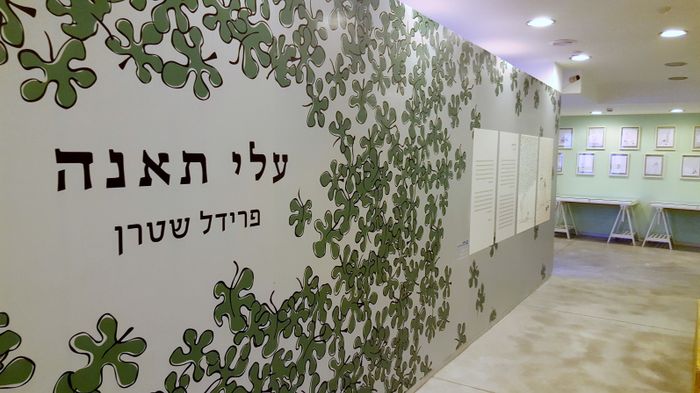 "Friedel Stern is a very unique character – she's basically one of a kind," Assaf Gamzou, a curator at the Israeli Cartoon Museum, tells i24news. "She's the only female cartoonist of her generation."
"She didn't do editorial or political cartooning, but [rather] gag cartooning, illustrative work and a lot of graphic work," he adds, noting that the museum houses nearly 13,000 of her illustrations.
The exhibition in Holon marks 100 years since the birth of Stern, who emigrated from Germany to Israel at the age of 20. Drawn to art from an early age, she became the first female cartoonist to work in the comics medium after the state was established in 1948.
Alongside her illustrations stand those by other women working in the same format, in what has become an increasingly popular medium. In fact, since Stern passed away 10 years ago, comics and cartoons have undoubtedly taken off in Israel and many contemporary artists are gaining well-deserved recognition both at home and abroad.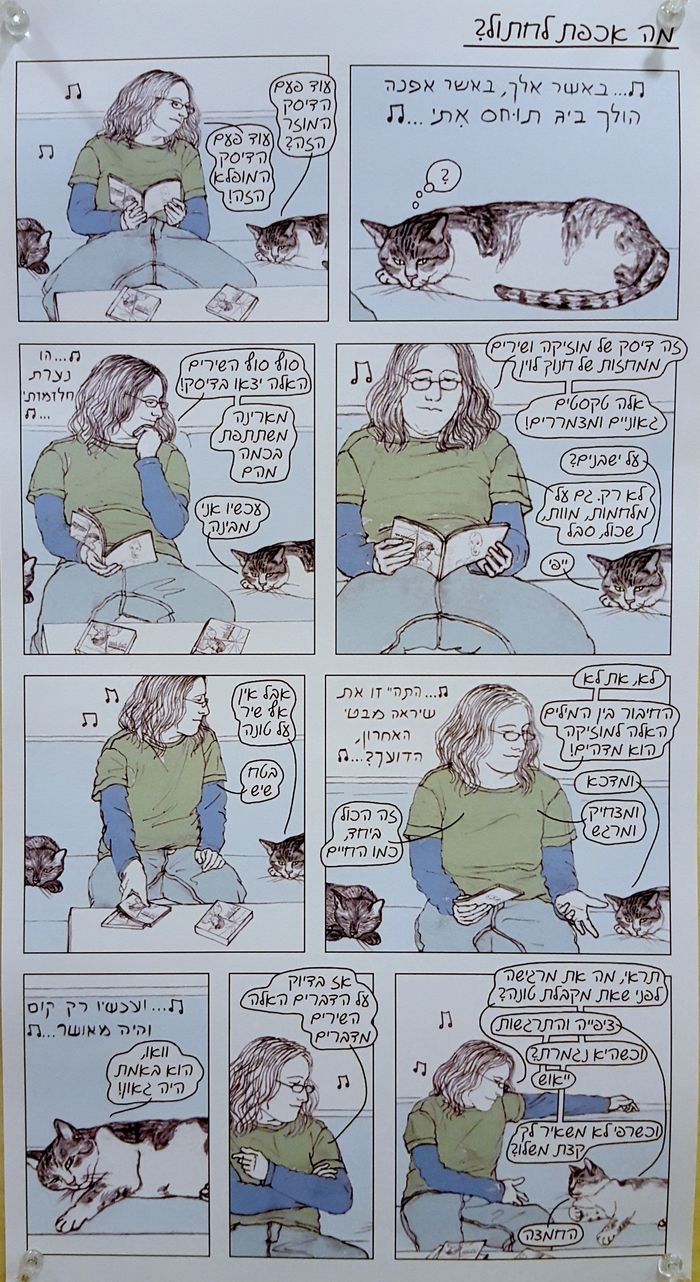 "Asaf and Tomer Hanuka, and Boaz Lavie just last week won the International Manga Award - which is amazing - for their work 'The Divine,'" Gamzou affirms. "Rutu Modan won the Angouleme Prize [and] Michel Kichka is being published worldwide. Israeli comics are definitely on the rise, both in the national market and in the international scene."
Hila Noam, one of the cartoonists participating in "A Museum of One's Own", has also noticed a decisive shift in the way comics are perceived as an art form in the country.
"A few years ago you didn't really hear about comics a lot and only a few people knew about [them]," she says.
Her illustrated book "Omnibus", created in collaboration with fellow illustrator Einat Tsarfati, presents the combined stories of two women unsuccessfully trying to flee pervasive feelings of guilt. Noam admits the idea for the story was based on her personal experiences.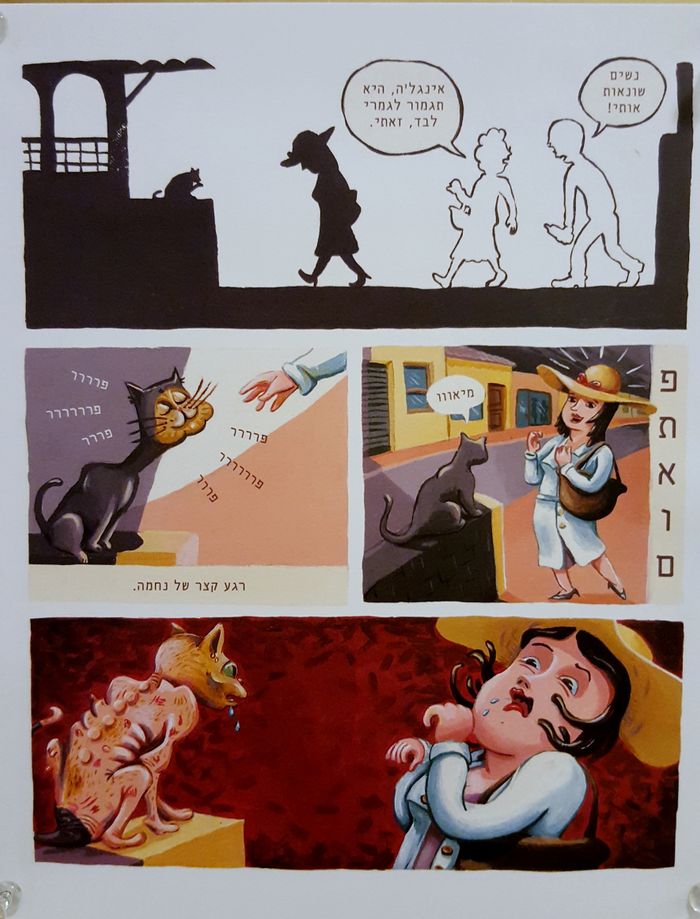 Autobiography is in fact a recurring theme in many of the works on display. Ilana Zeffren, another artist in the show who also draws a weekly caricature in the Haaretz newspaper, believes this is a defining characteristic of Israeli comics.
"I think what's interesting here [in Israel] is that we don't have a tradition like in Europe or in the States," Zeffren points out. "We don't have the whole superhero industry. Comics here are more alternative and less mainstream."
Contemporary Israeli artists wishing to tell intricate and highly developed personal stories are thus turning more and more towards the comics medium, once viewed as being entertainment for children.
"I choose to work in the comics medium because for me, as a comics creator, it's the most correct way to tell a story," says Rachel Shalev, the comics creator behind the illustrated blog "Mom in Stripes". "I can basically control what the viewer sees as well as what they read. The combination of text and image is what leads to a strong story."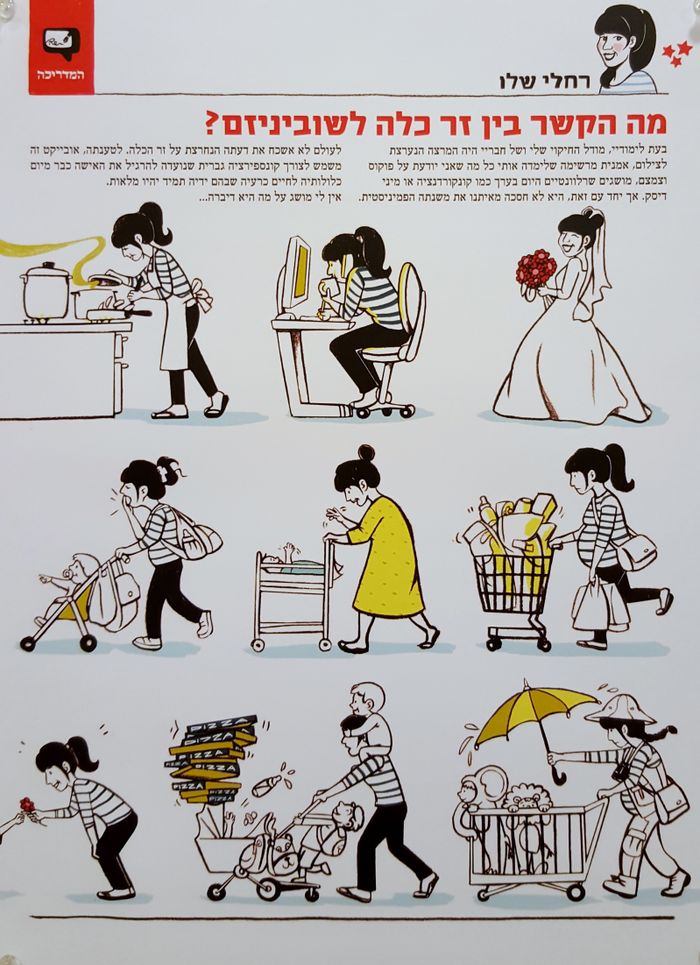 Ultimately, the comics exhibited at the Israeli Cartoon Museum present an eclectic combination of styles and subject matter. Ranging from comical to dramatic, they offer a glimpse into the complexities of Israeli life and culture.
"A Museum of One's Own" will remain open until the end of August.
Maya Margit is a journalist and editor at i24news.