Die Antwoord accuse 'Suicide Squad' of stealing their style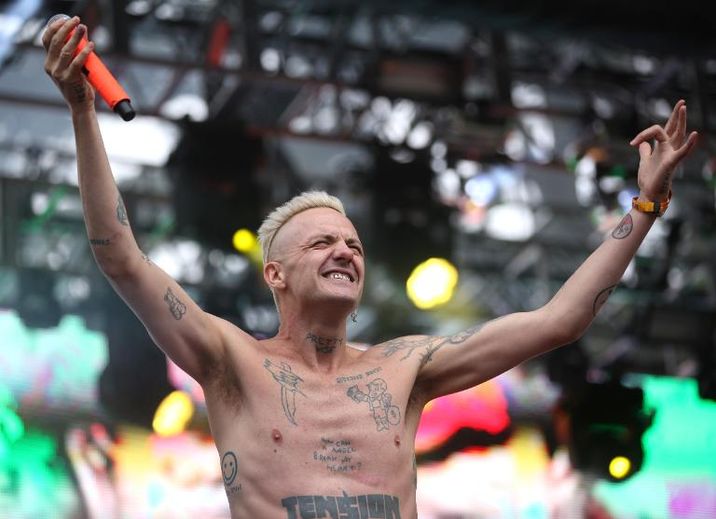 Le musicien Ninja du groupe Die Antwoord lors d'un festival à San Francisco le 10 août 2012
Trixie Textor (Getty/AFP/Archives)
Famous rap group claims David Ayer lifted unique visual style for his movie
South African musicians Die Antwoord accused "Suicide Squad" director David Ayer on Thursday of ripping off their unique visual style, dismissing the respected filmmaker as a "scared lil bitch."
Yolandi Visser, the rap-rave outfit's lead singer, posted a lengthy, blistering rant on Instagram, which began by telling the director of the Warner Bros. super anti-hero film: "Yes David Ayer u jockin our style."
She went on to claim that she had learned through the film's stars, Cara Delevingne and Jared Leto, that Ayer had been enthusing about Die Antwoord on set, adding: "but u never asked our permission to rip us off."
The 31-year-old alleged that her bandmate, Ninja, had raised the issue with Ayer in a text message but that "u said nothin like a scared lil bitch."
Visser and Ninja -- real names Anri du Toit and Watkin Tudor Jones -- rose to fame after popularizing the Afrikaans "Zef" counter-culture through three rape-rave albums.
They also starred in Neill Blomkamp's 2015 sci-fi feature "Chappie," which made over $100 million worldwide, alongside Sigourney Weaver and Hugh Jackman.
Visser said Ayer had lifted from the opening sequence to "Umshini Wam," a 2011 short film starring the duo and directed by Harmony Korine, who wrote the screenplay for Larry Clark's controversial 1995 teen drama "Kids."
She also posted a video she claimed proves that Ayer had plagiarized the look of Yolandi and Ninja for his interpretation of how the Joker and Harley Quinn should look.
Leto made the contradictory claim in an interview last week that David Bowie had been the inspiration for The Joker.
Visser rounded off her Instagram rant by joining the legion of critics who have lambasted "Suicide Squad," which has grossed around $270 million despite a barrage of dismal reviews.
"Before we knew da extent of ur two face nature -- u invited us to ur movie premiere (which i didnt wanna go to) but ninja went, tinkin ur solid guy an mayb there was jus a lil 'misunderstandin.'"
"Den poor ninja had to sit thru dat hole bullshit movie."