How the Dead Sea turned a black dress into a piece of salt art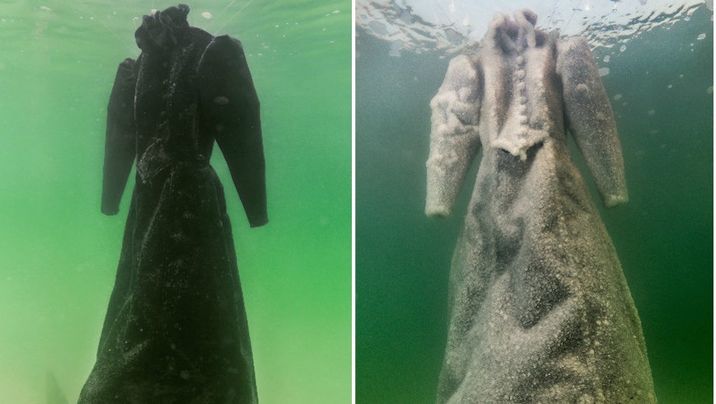 A black dress left in the Dead Sea by Sigalit Landau slowly crystallized, turning it white
Marlborough Contemporary
The dress is a replica of the one worn by a character in classic 1916 Yiddish play 'The Dybbuk'
An Israeli artist's idea of submerging a black gown into the Dead Sea ended with a unique, salt-encrusted work of art.
Sigalit Landau plunged the dress into the salty waters of the Dead Sea in 2014 and photographed its metamorphosis over a period of two months as it transformed into something more resembling a bridal gown.
The dress, a replica of a Hasidic gown worn by a character in classic Yiddish play "The Dybbuk," became slowly covered in salt, which crystallized and turned the garment white.
The photos are now part of an exhibition at London's Marlborough Contemporary museum. In a press release, the museum described the evolution as changing a "symbol associated with death and madness into the wedding dress it was always intended to be," according to the JTA.