Author, Father, Son, Spy: Britain's leading spy novelist divulges life in memoir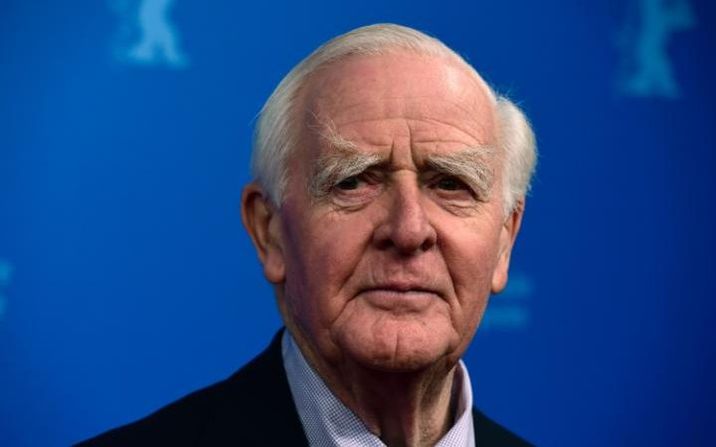 John le Carre
AFP
MI6 agent turned author tells of his con-artist father, encounters with Maragret Thatcher and Rupert Murdoch
John le Carre, world famous MI6 agent turned author, in his new memoir has opened up about his life as a spy, growing up with a con-artist father, and his encounters with a number of notable personalities including Margaret Thatcher and Rupert Murdoch.
Excerpts of the memoir, titled The Pigeon Tunnel: Stories from My Life, have been published in The Guardian newspaper.
Le Carre is a penname for David Cornwell, the man who wrote classic espionage novels such as The Constant Garnder, The Night Manager, and Tinker Tailor Soldier Spy, to name a few which have also been adapted for film and television.
He opens his auto biography, describing his love for writing, "scribbling away like a man in hiding at a poky desk on a blackclouded early morning in May." He prefers writing by hand he says, affectionately describing the process as an artform as "the lapsed graphic artist in me actually enjoys drawing the words."
"If I look over my life from here, I see it as a succession of engagements and escapes, and I thank goodness that the writing kept me relatively straight and largely sane," he tells the reader.
In the next section he moves on to speak about his father, who he calls Ronnie, a conman and his "inspiration".
"Ronnie's entire life was spent walking on the thinnest, slipperiest layer of ice you can imagine," le Carre penned. "He saw no paradox between being on the wanted list for fraud and sporting a grey topper in the owners' enclosure at Ascot."
He even talked police who came to arrest him at his wedding into staying for the party, persuading the "two Scotland Yard detectives to put off arresting him until the party was over – and, meanwhile, come in and join the fun, which they duly did."
Le Carre writes shamelessly of his father's flawed character, "He was a crisis addict, a performance addict, a shameless pulpit orator and a scene-grabber. He was a delusional enchanter and a persuader who saw himself as God's golden boy, and he wrecked a lot of people's lives."
His relationship with his mother was not much closer as she fled her abusive husband when le Carre was five.
"Certainly she had no high opinion of mine," he says, and describing visiting her later in life after she had moved into a nursing home, adds that "As my visits continued, I came to realize that she had created for herself – and for me – an idyllic mother–son relationship that had flowed uninterrupted from my birth till now."
The only familial affection the le Carre recalls from his childhood, he received from his older brother, " who for a time was my only parent."
"I remember the dissembling as we grew up, and the need to cobble together an identity for myself and how, in order to do this, I filched from the manners and lifestyle of my peers and betters, even to the extent of pretending I had a settled home life with real parents and ponies," he recalls. "All this no doubt made me an ideal recruit to the secret flag."
He was no more forgiving later on when he describes meeting Rupert Murdoch in 1991, after his paper The Times, published an article on le Carre falsely claiming that he was overcharging a struggling Warsaw theater for royalties to the stage version of The Spy Who Came In From The Cold.
After a consultation with his agent, who reassured him that the allegations were indeed false, le Carre wrote to Murdoch demanding a published apology, a "handsome donation" to the theater in Warsaw, and a lunch meeting, to which Murdoch obliged.
" He is smaller than I remember him," Le Carre Describes, "but more pugnacious, and has acquired that hasty waddle and little buck of the pelvis with which great men of affairs advance on one another, hand outstretched, for the cameras."
"When he wrinkles up his eyes to give me his sunny smile, I have the odd feeling he's taking aim at me," he adds.
The two exchange pleasantries and Murdoch offers an apology for the article. He then demands of le Carre, "Who killed Bob Maxwell?"
Chzech born Ian Robert Maxwell escaped the Nazi occupation and after serving in the Czechoslovak and British Armies built an extensive publishing empire in Britain.
According to le Carre's memoir, Maxwell was "the alleged spy of several nations, including Israel, the Soviet Union and Britain."
He died in November 1991 after a fall from his yacht. His death was officially ruled a heart attack combined with accidental drowning, while some theorized that it was suicide, explanations which apparently did not sit with Murdoch.
"Well, Rupert, if we're really saying it's not suicide, then probably, for my money, it was the Israelis, I suggest," le Carre responded.
"Why?" Murdoch retorts.
Recalling the rumors that were flying around at the time, le Carre regurgitates them for Murdoch. "Maxwell, the long-term agent of Israeli intelligence, blackmailing his former paymasters; Maxwell, who had traded with the Shining Path in Peru, offering Israeli weapons in exchange for strategic cobalt; Maxwell, threatening to go public unless the Israelis paid up."
However, "Murdoch is already on his feet, shaking my hand and saying it was great to meet me again."
The entire lunch lasted about 25 minutes, according le Carre's estimate.
Rewinding nearly ten years to 1982, le Carre looks back at the time when the Prime Minister's office contacted him, wishing to recommend him for a medal.
Margaret Thatcher, nicknamed "the Iron Lady" held the office of Prime Minister at the time.
Le Carre declined the offer, writing in the autobiography that "I had not voted for her, but that fact had nothing to do with my decision. I felt, as I feel today, that I was not cut out for our honors system, that it represents much of what I most dislike about our country. "
After declining, he received another letter attempting to convince him to accept, which he also declined. A third letter then arrived, inviting him to lunch at 10 Downing Street.
Six tables were set for the lunch, and le Carre was sat at Thatcher's table along with Dutch prime minister Ruud Lubbers.
At one point Thatcher turned to him and asked "have you anything you wish to say to me?"
Le Carre, recently returning from a trip to southern Lebanon, "felt obliged to plead the cause of stateless Palestinians."
"Don't give me sob stories," he recalls Thatcher replying after he made his case. He describes her response as vehement.
"Whereupon, appealing to my emotions, she reminded me that it was the Palestinians who had trained the IRA bombers who had murdered her friend Airey Neave, the British war hero and politician, and her close adviser," he continued.
While not shining the kindest light on the other personalities he features in the autobiography, he remains brutally honest about himself as well.
"I have been neither a model husband nor a model father, and am not interested in appearing that way," he says.