Tattoo artists give 'healing ink' to Israeli victims of terror and war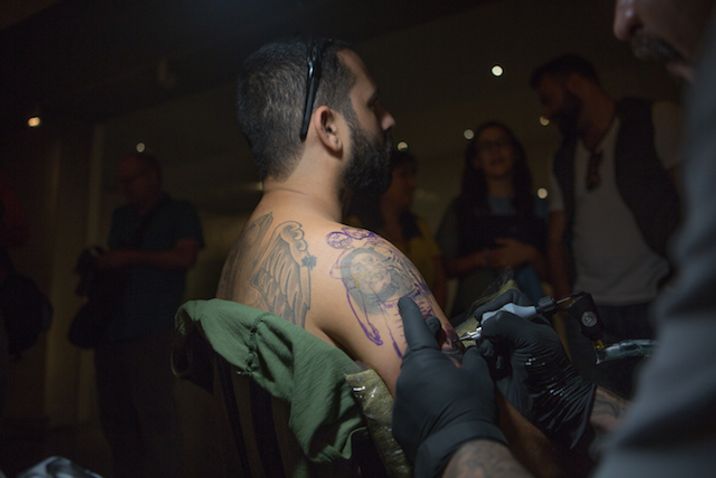 Barak Miron is tattooed by Steve Soto during "Healing Ink" at the Israel Museum in Jerusalem, October 20, 2016
Shiran Golan/i24news
Internationally acclaimed tattoo artists help Israelis reclaim their bodies, heal physical and emotional scars
The steady buzz of tattoo machines filled the halls of the Israel Museum in Jerusalem on Thursday, where internationally acclaimed tattoo artists offered free ink to help heal and bring meaning to the physical and emotional scars of Israeli victims of terror and war.
Curated by New York City-based nonprofit organization Artists4Israel, "Healing Ink" put the intimacy of tattoo artistry on full display as survivors of war and terrorism told their stories while artists masterfully inked permanent emblems on their bodies, each signifying a journey towards recovery.
"Whether their scars are physical or mental, tattoos are a way for them to reclaim their bodies," says tattoo artist Megan Wilson, who works out of San Francisco, California. Wilson is no stranger to the transformational power of tattoos, having spent most of her career tattooing women who have been victims of domestic violence.
"We have no control over what happens to our bodies. But we choose to be tattooed. If you make that choice for your body, you own your life and you own your body. It's a step forward in healing," she says.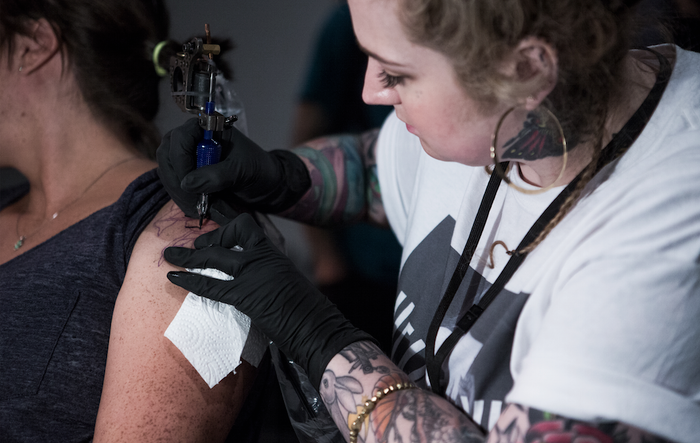 Barak Miron sits stoically in the museum's dimly lit archaeology wing recounting the day that left him partially paralyzed as he is inked by award-winning tattoo artist Steve Soto. Miron was serving as a rescue medic in Lebanon in 1999 when he came under heavy fire by Hezbollah terrorists and was shot in the lower back, immediately paralyzing him from the waist down.
"I blacked out. I saw my whole life in front of me," he says. "The last thing I saw was my family and dog. And I told myself 'I didn't say goodbye, I need to wake up.' And I opened my eyes."
Miron's tattoo, of a male figure embraced by a female figure, represents how the love of his wife has helped lift him out of his darkest days. Today, the couple have one child and are expecting triplets.
"For more than ten years she has been lifting me up," he says. "She was the muse and the inspiration behind this tattoo."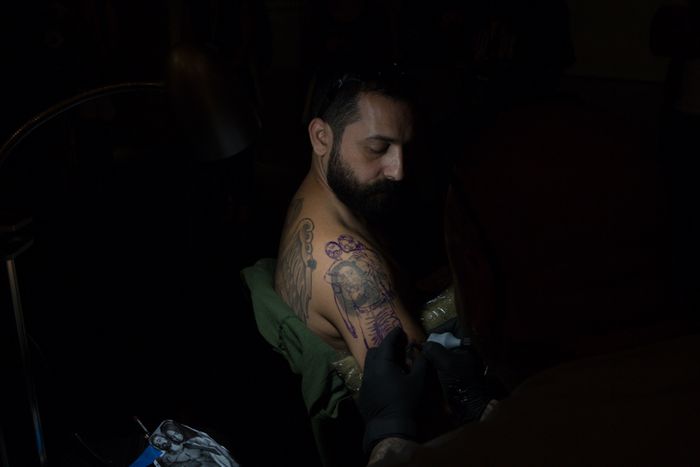 Many of the participants are also recovering from emotional scars and are using tattoos as a way to bring meaning and representation to the invisible wounds they have suffered.
"What if your scar doesn't show," asks Rami Yulzari, who developed chronic PTSD after being trapped in a minefield on the last day of his service. Two of Yulzari's fellow soldiers were killed that day, and Yulzari waited for hours to be rescued, frozen in place covered in the blood of his friends.
"I put a tattoo not to cover the scar but to bring it to the surface," he explains, proudly displaying a turtle on his arm by artist Greg Mayorga. "After living more than 30 years with post-trauma I feel like I am entitled to tell about it."
Yulzari, who now leads a long-distance running group for soldiers with PTSD, chose the turtle to represent that "you can go slow, but you can go far."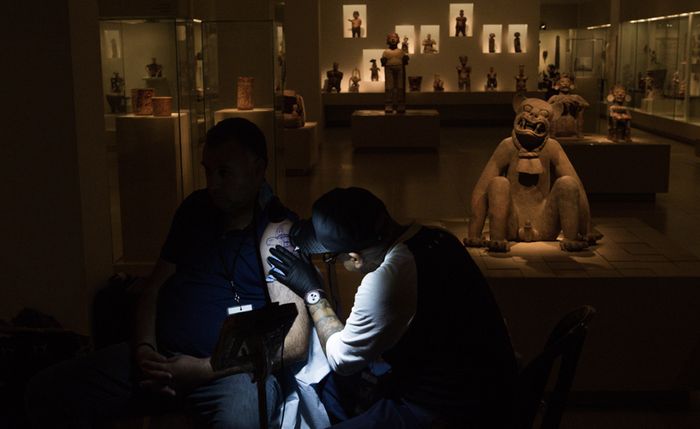 The pairings between tattoo artists and recipients, as well as the specific installations they are situated in front of, contribute to the symbolism and enhance the poignancy of the stories being told through each exhibit.
"It's not just creating a piece of artwork for someone on their skin," tattoo artist Jim Sylvia says of his craft. "It's about relating with people."
British-Israeli Kay Wilson was hiking with an American Christian friend west of Jerusalem in 2010 when they were ambushed by two Palestinian men armed with machetes. Bound and gagged, Wilson recalls watching helplessly as her friend was brutally murdered while she herself was stabbed 13 times and left for dead.
Wilson miraculously survived and on Thursday received a tattoo around her wrist of a Jewish prayer by Palestinian Christian artist Wassim Razzouk of Jerusalem. The tattoo, Wilson says, will help her "recognize I don't know why this happened."
"It is not a question of why," she said. "It is a question of how I am going to carry this cosmic event with dignity and not live in hatred."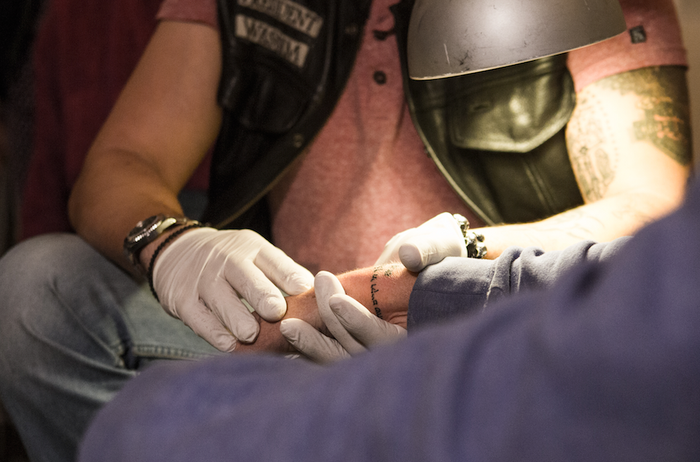 "What we are doing today is spreading love and respect to each other as human beings," Razzouk says as he holds Wilson's freshly tattooed hand. "Peace is not an easy word, I think peace is a very political word, but as humans we can only love each other."
Meanwhile, in the modern art hall, 31-year-old Dror Zicherman lies prone under surrealist Rene Magritte's "The Castle of Pyrenees" where California-based tattoo artist "Zero" is creating a machine-like tattoo on on his left leg.
Zicherman was unable to walk independently for nearly ten years after being severely injured when a suicide bomber, on his way to carry out an attack at a holiday concert in central Israel, detonated himself at the checkpoint where he was stationed. Zicherman's tattoo serves as a tribute to the leg brace with which he now walks.
"I wanted to make a brace for my other leg. This is my source of power," he says.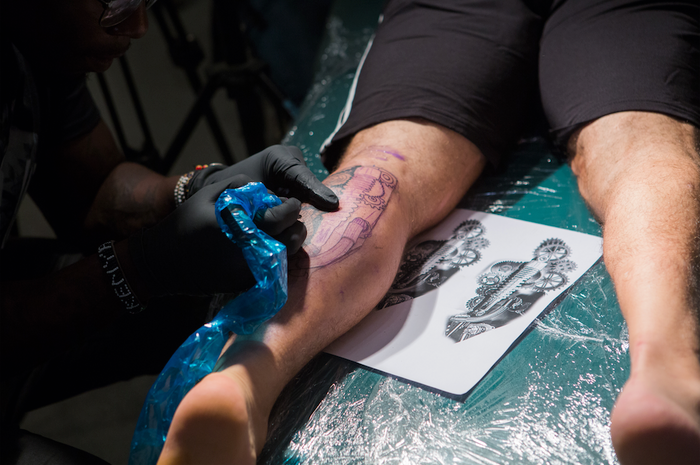 Zero, who was born in Nairobi, Kenya, studied Magritte as a fine arts student. Tattooing Zicherman in front of the work of an artist who has had a significant influence on his craft, he says, is "like a lifelong dream."
"I never dreamed I'd be in a beautiful place like Israel doing something good with my art," Zero said. "This tattoo means almost as much to me as it does to him."
In addition to bringing meaning and healing to tattoo recipients, Artists4Israel director Craig Dershowitz says he hopes the event will help elevate Israel's reputation among the artistic community overseas as well as the perception of tattooing as a legitimate sphere in the fine arts.
"[The Israel Museum] are the height of respected art. Although we know the power and seriousness of tattooing, others don't get it right away," Dershowitz says. "Israel and tattooing have a lot of similarities. Those who don't really understand it hold wild misconceptions."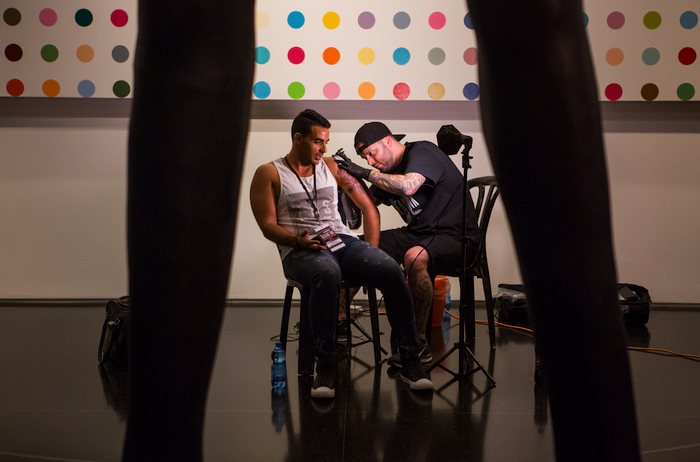 "Unfortunately, there are too many stories to work with in Israel," Dershowitz says.
'Healing Ink' will hold a second live tattooing session on October 24 in Tel Aviv at three locations on Dizengoff Street, including the Simta Bar, where two people were killed in a terror shooting in January.
Emily Gatt is a journalist and news editor for the i24news English web desk.