Beastie Boys' Adam Yauch park vandalized with anti-Semitic, pro-Trump graffiti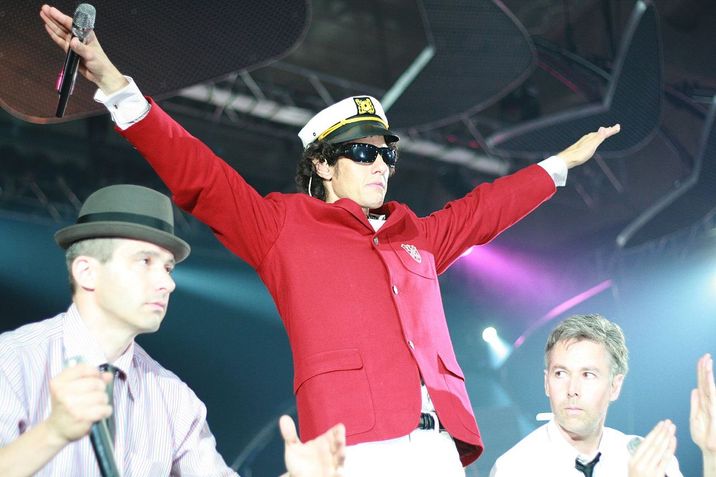 The Beastie Boys (L to R: Mike D, Adrock, MCA) on stage at the 2007 Sonar festival in Barcelona
Michael Morel/WikiCommons
Yauch (MCA) was Jewish, as are surviving Beastie Boys Michael Diamond (Mike D) and Adam Horovitz (Ad-Rock)
A children's play structure at a New York City park named after the Beastie Boys' Adam Yauch was defaced on Friday with anti-Semitic and pro-Trump graffiti. It is the latest in a string of hate crimes sweeping the nation since Trump's shock victory in national elections earlier this month.
Vandals spray painted two swastikas and the words "go Trump" in white paint on play equipment in the Adam Yauch Park in Brooklyn Heights.
Yauch, whose stage name with the Beastie Boys was MCA, was Jewish as are his surviving bandmates Michael Diamond (Mike D) and Adam Horovitz (Ad-Rock).
.@beastieboys Adam Yauch Park in Brooklyn Heights was left defaced with ugly symbols of hate today. This cannot be the new normal! pic.twitter.com/xWjS7HLNyG

— Karen Wang (@kw492) November 18, 2016
The Brooklyn Heights park was named in Yauch's memory three years ago after the Beastie Boy died of partoid cancer in 2012 at the age of 47.
A practicing Buddhist, Yauch was human rights activist and founded the Milarepa Fund, an NGO that organized several all-star Tibetan Freedom Concerts to benefit the cause of Tibetan independence.
He was also outspoken against xenophobia, and memorably denounced racism and prejudice against Muslims while accepting the Beastie Boys' Video Vanguard Award at the 1998 MTV Video Music Awards.
"It's very important that the United States start to look toward non-violent means for resolving conflicts," Yauch said during the VMA speech.
"Another thing America needs to think about is our racism – racism that comes from the United States towards Muslim people and towards Arabic people. And that's something that has to stop," he said.
Brooklyn City Councilman Brad Lander wrote on Twitter that the NYPD Hate Crimes Task Force and the Parks Department had responded quickly to the offensive graffiti, which was painted over by Friday evening.
Within the first day after Trump was confirmed as the 45th president of the United States, dozens of reports of racially-motivated attacks against minorities appeared on social media, usually accompanied with a worried message regarding the future of the country.
NYPD Hate Crimes Task Force and @NYCParks staff on-site immediately. Will be painted over tonight. No place for hate. We will not be cowed.

— Brad Lander (@bradlander) November 18, 2016
US Attorney General Loretta Lynch on Friday said that the Justice Department would be investigating reports of intimidation and harassment that have flooded law enforcement offices since election night.
The incidents will investigated as possible hate crimes and to see if they violate civil rights laws.
Read more:
- US Justice Department to probe spike in post-election incidents as hate crimes
- Anti-Muslim hate crimes in US up 67% last year, FBI figures show