Hummus and the Wild, Wild Middle East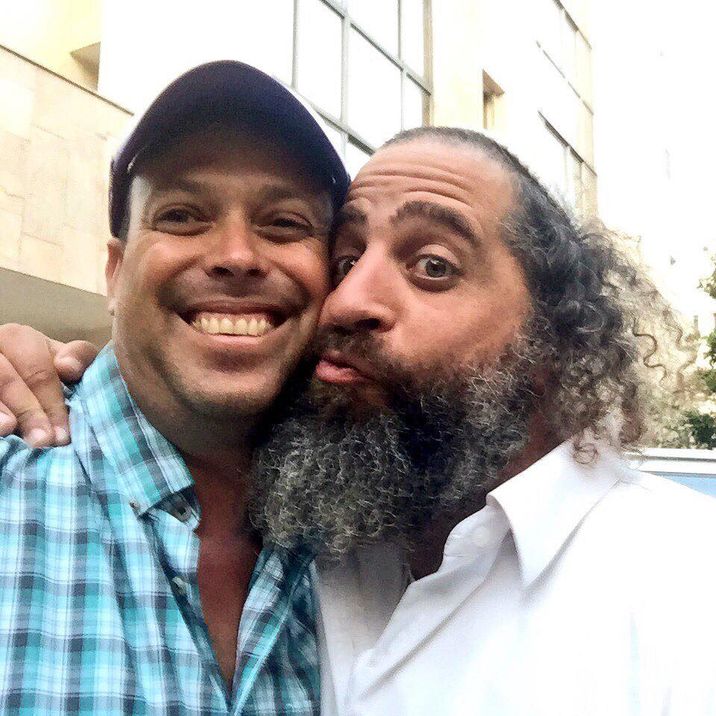 Oren Rosenfeld and Eliyahu Shmueli
Oren Rosenfeld/Hummus! the Movie
'Hummus! The Movie' centers on the popular dish, but the real subject is 'life in the wild wild Middle East'
The peoples of the Middle East have unfortunately been entrenched in perpetual conflict with one another spanning over the course of decades and even centuries. But if there is just one thing that Middle-Easterners can agree on, it most certainly is their love of hummus.
The unique spread, made out of a combination of chickpeas, lemon juice, tahini salt, garlic and olive oil is so frequently used and consumed by people in the region that hummus might very well say much more about the Middle East than it does about itself. Perhaps "it's not about hummus but about life in the wild wild Middle East," at least according to one of the first messages in the documentary, "Hummus! The Movie," premiering today in London.
"It's a soundbite in the movie from my friend Aluf Abir," explained Oren Rosenfeld, the director of the documentary, to i24news. "It's an original he wrote for the movie, which shows different characters, a Muslim, a Christian, a Jew, a monk, all of whom represent different types of people making up Israeli society."
The soundbite, sung in the raggamuffin style popular in Abir's native island of Jamaica, also hints to the "wild" obsession that all people in the Middle East have for hummus.
"What is the main common denominator that makes everyone here stupid," Abir asked in the movie. "I decided it must be the hummus."
Perhaps the "stupidity" was not so much centered around hummus but around the obsessive need to prove oneself in the being the best producer of hummus. The paradigmatic example was a continuous battle displayed between Lebanese and Israeli producers of hummus, particularly over who would maintain the world's record for the largest serving of hummus. While Israel and Lebanon kept unseating each other with the title of the world's record-breaker for the size of a single serving of hummus, what always remained constant was their equally-driven passion and compulsion to have such a title for as long as possible.
While the documentary definitely provides a taste of the "wild, wild Middle East," it also introduces the viewer to the human bonds that can be formed through everyone's passion for hummus. Oren Rosenfeld has had the privilege of living next door to a perfect display of such a process in action.
"I live next to Abu Ghosh in another village Nataf which is right next door, and Abu Ghosh is the capital of hummus," Rosenfeld noted. "Abu Ghosh was always in the background for me because it's always the way in and out to my village."

More importantly than being the "capital of hummus," Abu Ghosh has also been a capital for coexistence. "We are in the center of a Muslim village, and here there is coexistence between Muslims, Jews and Christians," remarked Olivier, a Benedictine monk who has lived in Abu Ghosh for 36 years, in the movie.
Olivier is an archetypical representation of both aspects of Abu Ghosh, expressing both a passion for hummus and a sincere ambition to spread coexistence.
"Olivier hosts soldiers, high school kids, tourists and anybody who wants to come and listen to him and to witness the coexistence between Muslims, Christians, and Jews," noted Oren.
Abu Ghosh however, is most certainly not the only place at least in Israel where a love for hummus translates into coexistence. Eliyahu Shmueli, who runs a hummus business with approximately several dozen branches across Israel, attested to the human bonds that are formed from just a simple meal of hummus.
"People sit with people that they don't even know and they eat together," Eliyahu said in the movie. "They start talking and stuff and everything starts to get mixed. Sometimes you see a Rabbi sitting with a soldier and a hi-tech guy with a lawyer…..and they're passing the pita, passing the salt and they become friends."
Perhaps that's why Jalil Dabit, another character in the movie, was comfortable enough to have adopted more than several different identities. Jalil is so involved in the hummus business that he manages his family's hummus restaurant as well as one of his own in Berlin,.
"I was born in Israel, so I'm an Israeli but my roots are Palestinian, and my nationality is Arabic," Jalil said in the film. "Sometimes I'm more Arabic than Christian, sometimes I'm more Christian than Arabic, sometimes I'm more Palestinian than Israeli and sometimes I'm more Israeli than Palestinian."
Unsurprisingly, one of his dreams is to see complete peace between Arabs and Jews. "I want Arabs and Jews to get together and get along," he added. "That means a lot to me."
Oren Rosenfeld has experienced himself how hummus can lay the groundwork for peace, however small the first steps may be.
"I was on the Mount of Olives on the same day a bus exploded in the Jerusalem and we were viewing the Old City from there," he related to i24news.
"The local Arabs behind us who were upset that there were no tourists because of the terror attacks, asked where I was from and I said I was from Israel," Oren continued. "There was a bit of silence, but one of their friends came with hummus and pita and suddenly, we were sitting down together, talking about the unfortunate situation and of possible ways of moving forward."
In such a way, hummus is not only a common side dish but perhaps a magical recipe for establishing long-term human bridges. To quote the character Eliyahu, hummus "is not normal. It's not something ordinary. It's magic."
Hummus! the Movie will screen this coming Tuesday in Warsaw, Poland.
Visit the film's official website and Facebook page.