Screen legend Kirk Douglas, son of Russian-Jewish immigrant, about to turn 100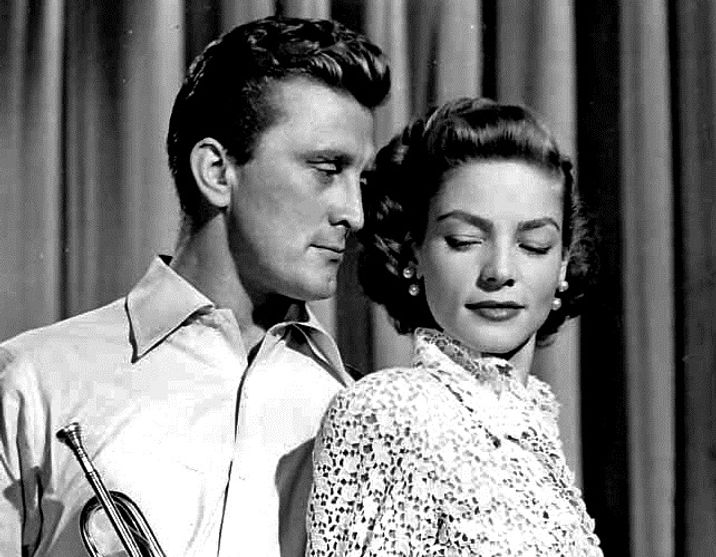 Promotional photo of Kirk Douglas and Lauren Bacall in 'Young Man with a Horn', 1950.
Photofest
The legendary actor rediscovered his Jewish faith after disaster struck his life
Kirk Douglas, whose illustrious career has taken in some of cinema's landmark roles, turns 100 on Friday -- attributing his remarkable longevity to his "wonderful marriage" of more than six decades.
The three-time Oscar nominee will celebrate with 200 friends and family at a party in California hosted by his son Michael and daughter-in-law Catherine Zeta Jones.
Some 150 other guests are set to attend, including family and old Hollywood friends like director Steven Spielberg, Jeffrey Katzenberg, and Don Rickles, the Jewish Telegraph Agency reports.
Rabbi David Wolpe of Sinai Temple in West Los Angeles, who has long overseen Douglas's weekly Torah studies, will also be present.
The star, who was forced to retire because of speech problems after a stroke, has practiced delivering a few words on the day with the help of a speech therapist.
Douglas, the son of illiterate Russian immigrants, appeared in some of cinema's most iconic roles, from slave Spartacus and painter Vincent van Gogh to Western legend Doc Holliday.
Born Issur Danielovitch in poverty in New York to a Jewish father and Protestant mother, Douglas went to the city's Academy of Dramatic Arts.
"Champion" (1949) earned him the first of three Oscar nominations for best actor, an award that has eluded him but was finally snared by his son Michael for "Wall Street" (1987).
Among his most famous films were 1956 Van Gogh biopic "Lust for Life," "Gunfight at the OK Corral" (1957), "Spartacus" (1960) and "Seven Days in May" (1964).
Douglas's first marriage to American actress Diana Webster produced sons Michael and Joel before it ended in divorce in 1951.
Three years later he married Belgian-American Anne Buydens, who once wrote of Douglas: "Living with my husband is like sitting in a beautiful garden right next to a volcano that may erupt at any moment."
The couple would go on to have two sons, Eric and Peter.
"One hundred years old is certainly a milestone, but the facts are what dad has accomplished in 100 years," Michael Douglas writes in the Closer Weekly article.
"I think his stamina and tenacity are the qualities that stand out for me," he continues. "He has taught me always to give it your best shot at whatever you take on. He's the full package."
Jewish faith
The Douglas family has been touched by its fair share of tragedy and disaster over the years.
Eric, also an actor, died from a lethal combination of alcohol and prescription drugs at the age of just 46 in 2004, after years battling addiction.
Kirk had already been deeply shaken by a mid-air collision between his helicopter and an airplane over California in 1991 that killed two people, prompting him to rediscover his Jewish faith.
His 1996 stroke robbed him of the ability to speak entirely, although he managed to make a partial recovery after months of therapy.
As his health limited his film roles, Douglas and his wife turned increasingly to philanthropy, and have expressed their intention to give most of their fortune to charity on their deaths.
The couple have rebuilt 400 school playgrounds in Los Angeles and were behind the establishment of "Harry's Haven," an Alzheimer's unit named after Kirk's father at the Motion Picture and Television Fund Home in Woodland Hills, California.
Double Golden Globe winner and lifelong friend Angie Dickinson shared a bedroom scene with the legend in "Cast a Giant Shadow" (1966), which required the pair to be naked.
"You couldn't ask for more than you get with Kirk," the 85-year-old actress, an ex-wife of legendary composer Burt Bacharach, told AFP.
"He's just a perfect man, I must say. Everything he does is perfect."
(Staff with AFP)