Celebrity Masterchef winner donates $25,000 prize to Palestinian aid group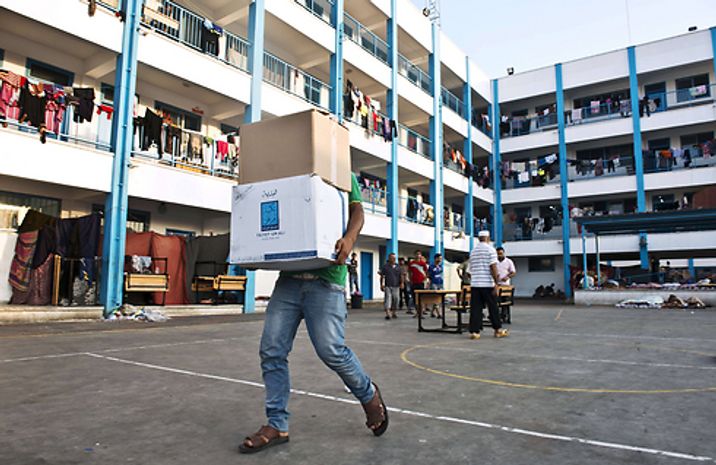 Une école de l'UNRWA à Gaza
AFP
UNRWA organization has been criticized by some for alleged links to the Gaza-based Hamas militant group
Actor Kal Penn, star of the Harold and Kumar movie franchise and television medical drama House, donated $25,000 to the United Nations Relief and Works Agency for Palestinian Refugees (UNRWA) USA after winning the prize money in the Masterchef Celebrity Showdown on Monday, the organization announced in a statement on their website.
According to the group, UNRWA USA's mission is to inform Americans about the UN agency's work.
"Only in America can a guy make tacos on FOX TV, almost lose an eye, and win $25,000 to support Palestinian refugees," Penn said of his win.
"I'm thrilled to be helping UNRWA do its critical work in Gaza and Syria. They're a lifeline for so many families that have been struggling for decades to meet their basic needs and achieve their rights."
Tonight on @MasterChefOnFox I take on @CherylHines in a cook off 4 charity. I'm competing for @unrwausa, check 'em out & tune in! #Refugees pic.twitter.com/aq8yiK9qCI

— Kal Penn (@kalpenn) January 2, 2017
Penn, who like all celebrity Masterchef competitors chose the charity to which they would donate prize money, said that cooking for UNRWA USA "seemed like the right thing to do."
The UNRWA is the only UN agency mandated to provide services to Palestinian refugees.
The organization has been criticized by some for its alleged links to the Gaza-based Hamas militant group. Some Twitter users criticized Penn's support for the organization saying it "perpetuates a crisis."
.@kalpenn Fun fact: @unrwausa perpetuates a crisis by recognizing the kids, grandkids and great grandkids of the original refugees

— Jonathan Schanzer (@JSchanzer) January 2, 2017
UNRWA USA executive director Abby Smardon told the Middle East Eye that donations to the organization have increased since the show, and that Penn's highlighting of the "issue of Palestinian refugees on primetime television" was even more significant than the financial contributions.
A report released by the agency in 2016, said UNRWA was expecting a major funding shortfall, with $473 million still required for providing displaced refugees in Gaza with assistance in renting and repairing homes damaged during the 2014 summer conflict with Israel.
No matter what happens, @KalPenn is our winner! We are DEEPLY humbled by your choice to support Palestine refugees. #MCShowdown

— UNRWA USA (@unrwausa) January 3, 2017
(Staff with agencies)