Adele sweeps Grammys with Album and Record of the Year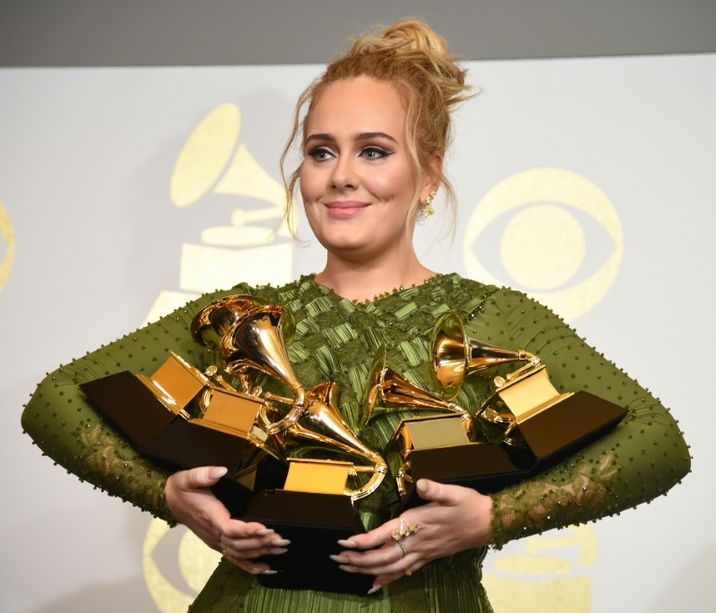 Adele avec ses cinq récompenses obtenues le 12 février 2017 aux Grammy Awards à Los Angeles
Robyn BECK (AFP)
David Bowie posthumously takes five awards for 'Blackstar'; Bruno Mars pays tribute to Prince
Adele on Sunday won the top two Grammys of Album and Record of the Year for her blockbuster hit "Hello" and the album "25" in a sweep of music's top accolade.
The tearful English balladeer took the stage and paid tribute to her main award rival Beyonce, heaping praise on her album "Lemonade" and calling it an inspiration.
"All us artists adore you. You are our light," Adele said to a visibly moved Beyonce.
"25" is the best-selling album of the past decade -- with the exception of Adele's last album, "21," which won Album of the Year in 2012.
Adele, who has named her albums after her ages at the time of recording, kept the same formula for "25" of emotional, often tear-jerking songs of heartache and nostalgia.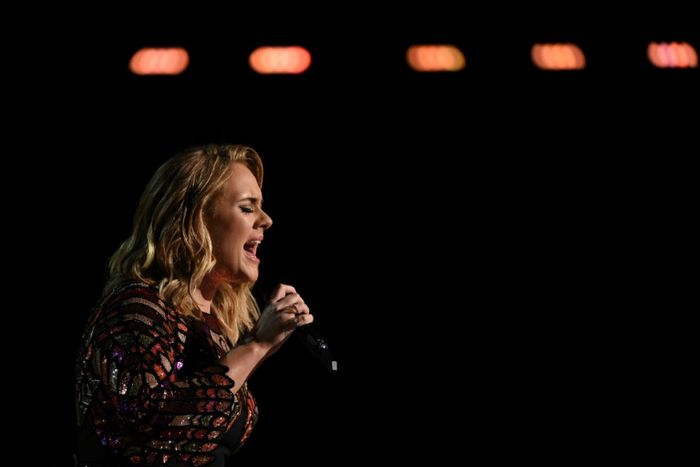 "25" was led by the ubiquitous single "Hello," which returns to Adele's theme of separation and the haunting feeling that ensues. Elsewhere on the album, Adele reminisces of her childhood in north London.
With a global fan base that crosses demographics, Adele adopted an unusual commercial strategy of not streaming "25" for more than six months after its release in November 2015.
Rap collaboration savages Trump
Leading rappers came together Sunday to rip into US President Donald Trump at the Grammy Awards, using the telecast to denounce his anti-immigrant stance.
Hip-hop legends A Tribe Called Quest joined emerging experimental rapper Anderson .Paak and the more commercially successful Busta Rhymes in the strongest political statement of the evening.
Busta Rhymes denounced Trump as "Agent Orange" -- conflating his somewhat tanned appearance with the Vietnam War-era herbicide.
"I just want to thank President Agent Orange for perpetuating all the evil you've been perpetuating," Busta Rhymes said in a mock award acceptance speech.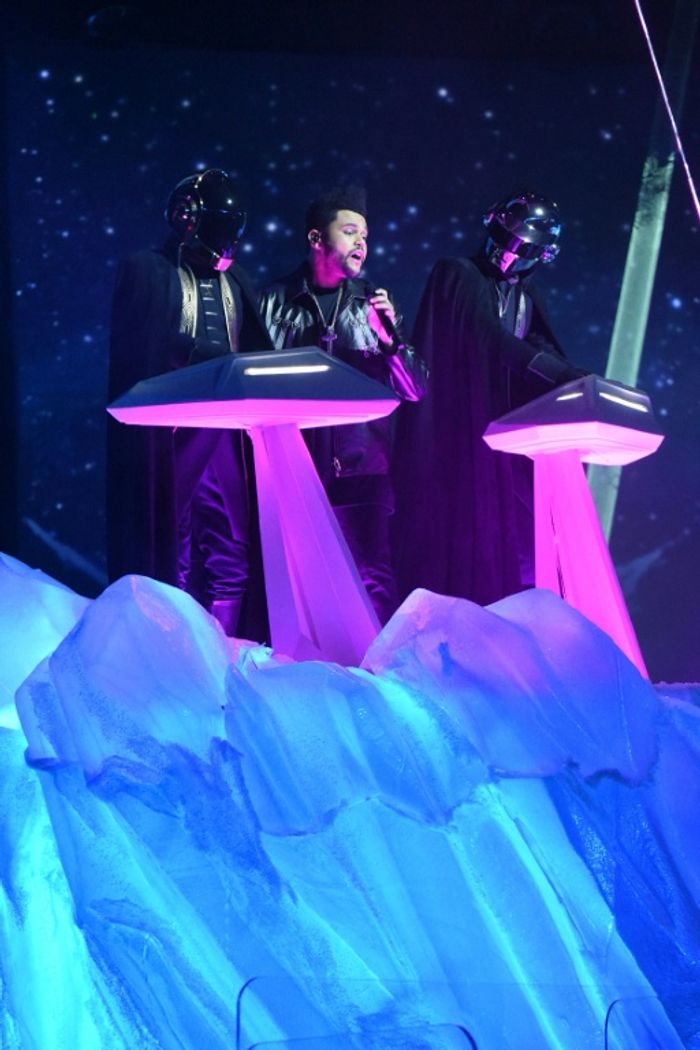 "We come together! We the people!" he shouted as fellow performers knocked through a wall -- a reference to Trump's vow to build a major barrier on the border with Mexico.
More than a dozen people, many appearing to be of Middle Eastern heritage and some wearing veils, walked proudly but silently toward the stage during the performance.
Pregnant Beyonce wows
Bruno Mars, clad in purple, electrified the crowd at the Staples Center in Los Angeles with his tribute to late singer Prince.
The global telecast was, however, marred by technical issues with a tearful Adele asking to start a song over and a microphone off as Metallica performed with pop singer-turned-metalhead Lady Gaga.
Appearing in public for the first time since announcing she was pregnant with twins, Beyonce showed her new, edgier side as she put on a celebration of motherhood.
She showed her exposed belly underneath a bra on a projection on stage -- before the real-life 35-year-old singer took the stage with a golden crown and cape.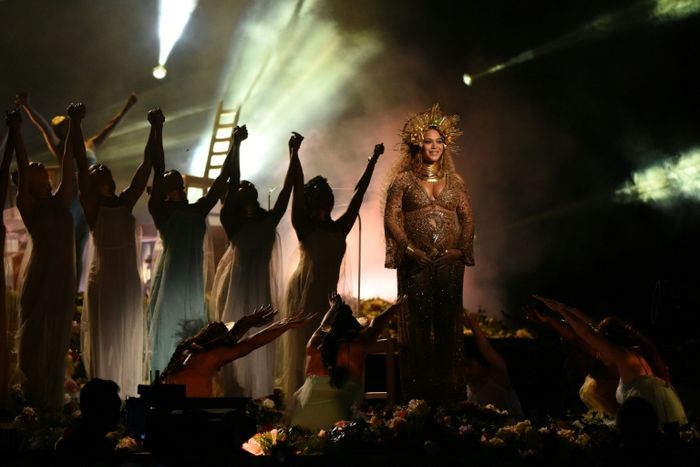 In a New Age production with hints of India and ancient Egypt, Beyonce sang two new songs as dozens of female dancers surrounded her with flowers and a spoken word incantation spoke of the power of women.
Beyonce's "Lemonade" marked a foray into hip-hop, rock and even country as the singer spoke frankly of the struggles of black women.
The album and intertwined film meant "to create a body of work that will give a voice to our pain, our struggles our darkness and our history -- to confront issues that make us uncomfortable," Beyonce said as she accepted one of her trophies.
"It's important to me to show images to my children that reflect their beauty so they can grow up in a world where they look in the mirror -- first through their own families, as well as the news, the Super Bowl, the Olympics, the White House and the Grammys -- and see themselves," Beyonce said, in one of the night's subtle political comments.
The album's single "Formation" won for Best Music Video, in which Beyonce rallied behind the Black Lives Matter movement with an indictment of police brutality.
Posthumous honors for Bowie
"Blackstar," the final album of Bowie, who always enjoyed more recognition in his native Britain, won in all five categories for which it was nominated, including Best Rock Song.
Bowie had won only one Grammy in his lifetime before Sunday.
And "Blackstar," which he released two days before his death last year from an undisclosed battle with cancer, was controversially passed over for Album of the Year honors.
But he won Best Alternative Music Album for "Blackstar," in which Bowie showed himself innovative to the end by collaborating with the avant-garde jazz saxophonist Donny McCaslin.
While not predicting how Bowie would have felt, McCaslin told reporters: "When the press was hearing the album before it came out, I could see it meant a lot to him."
Hello again
Adele was in the running in five categories for "25," in which she returned to her massively successful formula of emotional ballads.
She opened the telecast with her ubiquitous "Hello." But when she returned for a tribute to pop icon George Michael, she abruptly stopped the performance and swore, asking to start over.
It marked the second straight year she was embarrassed by technical problems, although she enjoyed support from the crowd which gave her a standing ovation as she started to cry.
Chance the Rapper, 23, picked up three prizes including the closely watched Best New Artist for his gospel-infused hip-hop. The Chicago artist benefited from updated rules that consider streaming exclusives.
Chance, the Chicago-born son of an aide to former president Barack Obama, has been open about his Christianity and told the gala: "I claim the victory in the name of the Lord."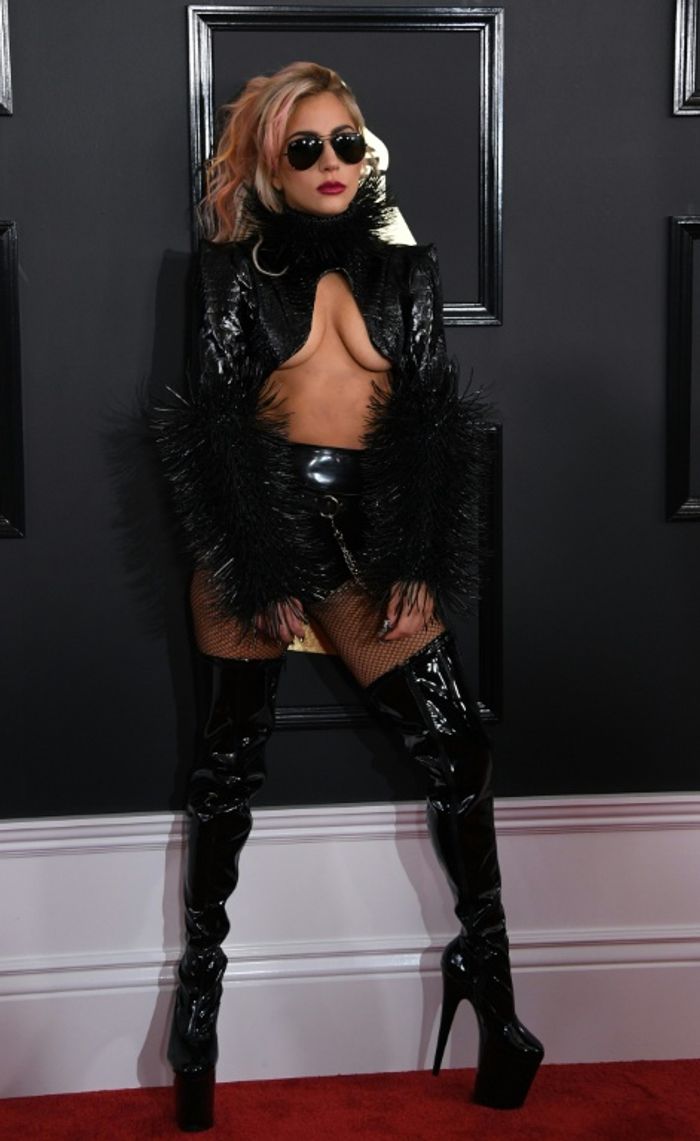 A political edge
With much of the entertainment industry horrified by US President Donald Trump, the Grammys quickly took on a political edge.
"At this particular moment in history, our voices are needed more than ever," Jennifer Lopez said as she presented the night's first award.
Host James Corden showed off a mock list of tweets critical of him -- including one of praise from Trump -- and joked about "fake news."
Paris Jackson, the 18-year-old daughter of late King of Pop Michael Jackson, voiced hope when she saw the enthusiastic crowd in the Staples Center.
"We can really use this kind of excitement at a pipeline protest, guys," she said to cheers.
She introduced a performance by an artist often likened to her father -- The Weeknd, the Toronto R&B singer with a high mellifluous voice.
The Weeknd sang a medley of his hits "Starboy" and "I Feel It Coming" with the reclusive French duo Daft Punk, who performed for the first time in three years.
The duo, usually clad as robots, appeared in Darth Vader-like capes as they delivered an added house music edge and light show.