Around the world in 310 videos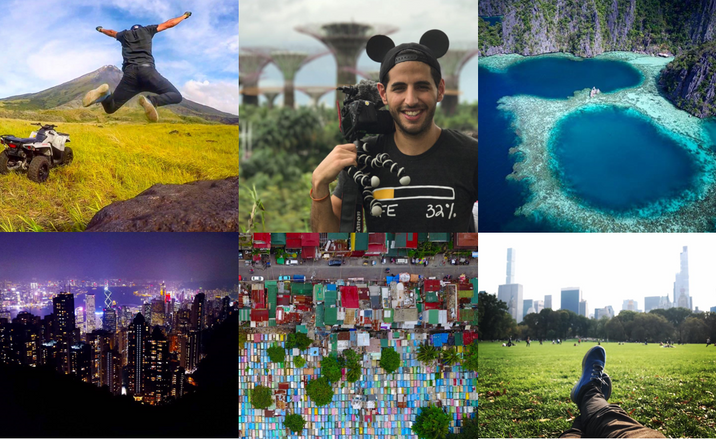 Courtesy Nas Daily
Arab-Israeli Nas captures the magic of countries he visits in infectious and viral daily 1-minute videos
Want to know where to find multi-colored seas in the Philippines, what it's like to hike past an active volcano in Costa Rica, or whether Israeli hummus or Palestinian hummus tastes better? Just ask Nuseir Yassin, or Nas, the 25-year-old Arab-Israeli who has captured the minds and curiosity of the Internet with his quirky, funny, and illuminative travel videos.
Spanning just one minute each, Nas' daily videos capture the magic and the soul of the places he travels to, amassing millions of views and a following of more than 460,000 people on Facebook.
For the last 310 days, Nas has traveled to some 25 different countries and offers an alternative look at each one's unique culture, people and characteristics.
Originally from the small town of Arraba in northern Israel, Nas had his sights set on a bigger, brighter future and a channel for his voice to be heard.
Having a deep rooted love of the tech world, Nas applied to university in the United States and was accepted to Harvard. After graduating, he found a job in New York City, but still didn't feel like his life was all that it could be.
"I saved up enough money and I quit. I was like 'okay, I need to have my opinion heard'," he told i24NEWS. "I thought that coming from Israel-Palestine and then New York and Harvard that I have something to say, and I also wanted to get better at making videos."
Describing how he disliked YouTube, where content gets lost in the masses, or video bloggers that post too-long, boring videos, Nas decided to focus on Facebook as his platform.
"I thought, 'ok I'm going to make it short, I'll take just one minute of your life and I'm going to put my videos wherever my friends are' – and they are on Facebook," he explains. "I thought to make my life interesting I should start travelling because no one is going to listen to some hairy Arab dude on a couch in New York. Fast forward 310 days and my life is awesome."
His favorite place that he has been so far, he says is an "easy" choice – the Philippines.
"The Philippines is probably the best place I have ever been to," Nas says. "I have never felt so in love in my life."
Elaborating on what he finds so captivating about the Philippines, Nas explains that "Everyone here feels like they are forgotten. On the world's stage, Costa Ricans, Nigerians, Serbians, and the people of the Philippines for example - when people come and make content that showcases how beautiful their country is, not only does it help people understand that the world is better and bigger than where they are, it also helps the local people feel proud of what they have."
Nas says that when making his videos, he is very conscious of what he wants to depict.
"Most of the videos that you see are not about me, they are about where I am, because there is a difference between filming your self on holiday and filming your holiday."
In addition to showing the amazing places he visits, or the incredible food he finds, Nas has also started telling the stories of the interesting people he meets. In the Philippines, for example, Nas profiled Mark and his friend Sean, who at the age of 16 began developing a non-profit organization that now provides solar powered lights to more than 13,000 families in remote villages without electricity.
Many people have commented to Nas, "wow! You are living the dream!"
Nas says, however, that people often underestimate just how much work he puts into a single one-minute video. "I'm not really living the dream, I'm working the dream," he quips.
Each video requires on average five hours of filming and three hours of editing. Additionally, Nas spends 24-hours a day thinking about what things he wants to do and capture next.
On the agenda - returning home.
"I'm actually coming back [to Israel] because I feel like my videos are incomplete," Nas says. "I have not made a video about the differences between Arab Israeli villages and Jewish Israeli villages – and with my drone, I think the differences will be stark."
"I have always said to my friends in the US that you can tell who populates the village just by looking at the infrastructure," he continues. "There are two things contributing to the infrastructure in Arabs villages: One - we are regressive in some respects, but two - we don't get enough funding."
Nas says that he also wants to make videos exploring the Israeli-Palestinian conflict, stories of peace, cool tech companies and also videos in his native tongue - Arabic.
"There are many messages that I want to communicate - but one is that no, the world is not just all these one-percenters in San Francisco working in tech, and there is so much more interesting stuff out in the world, and that it is sometimes cheaper and better. Why think Serbia is the best, or Nigeria or Israel? They're not."
Another message he wants to convey, which is quite personal for him as well, is that "you have to hurry up and live."
In every one of his videos, Nas wears a t-shirt with a progress bar that is about 1/3 of the way full. Below it says "life 32%". Nas explains that at age 25, he has lived roughly 32.78 percent of the average human life expectancy.
"It's a constant reminder that you have to hurry up and live before you die. I think a lot people waste their time."
Jessi Satin is an i24NEWS reporter and photographer