Palestinian director wins documentary prize at Berlin film festival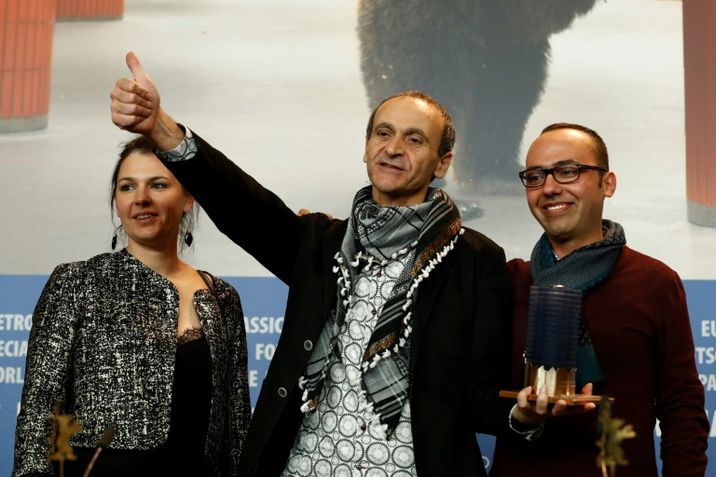 Le cinéaste palestinien Raed Andoni, prix du meilleur documentaire à la Berlinale, le 18 février 2017 à Berlin
Odd ANDERSEN (AFP)
Hungary's 'On Body and Soul' wins top prize
A Palestinian director's film won best documentary on Saturday at the Berlin film festival, Europe's first major cinema showcase of the year.
Best documentary, awarded for the first time at the festival, was picked up by Palestinian director Raed Andoni for "Ghost Hunting".
The film recreates a notorious Israeli interrogation center-- and has ex-prisoners re-enact experiences in a bid to free them of their demons.
"We still have 7,000 Palestinians living in those jails... They never get the recognition as I do," said Andoni, who also served time behind bars in Israel.
Hungary's "On Body and Soul", a tender love story set in a slaughterhouse, won the Golden Bear top prize.
The drama by Ildiko Enyedi, one of four female filmmakers in competition, features graphic scenes in an abattoir set against the budding romance of two people who share a recurring dream.
The win marked an upset at the 11-day Berlinale, where a European refugee comedy by cult Finnish filmmaker Aki Kaurismaki, "The Other Side of Hope", had been the odds-on favorite.
Kaurismaki took the Silver Bear for best director.
Enyedi thanked the festival for embracing her first full-length feature in 18 years but said working conditions in Hungary were growing more difficult under Prime Minister Viktor Orban.
"We live in a more and more absurd country, frighteningly absurd country," she told reporters after the ceremony, while adding that the state film fund served as a "sort of island". 
"We can work there at relative freedom, peace and we get professional support."
The runner-up jury prize went to Franco-Senegalese filmmaker Alain Gomis for "Felicite" about a Kinshasa nightclub singer who has to scrape together funds to pay for her son's treatment after a serious road accident.
South Korea's Kim Min-Hee, the star of Hong Sang-Soo's intimate drama "On the Beach at Night Alone" about a failed love affair with a director, won best actress.
And Austria's Georg Friedrich scooped best actor for his role in the German drama "Bright Nights" as a mourning father who takes his teenage son on a road trip through Norway.
Best screenplay went to another favorite of the festival, "A Fantastic Woman" by Chile's Sebastian Lelio, starring transgender actress Daniela Vega. 
A seven-member jury led by Paul Verhoeven ("Basic Instinct", "Elle") and including US actress Maggie Gyllenhaal ("The Dark Knight") and Mexican director and actor Diego Luna ("Rogue One: A Star Wars Story") selected the main prizes among 18 contenders.
(Staff with AFP)