Innovative TV Conference in Jerusalem attracts international media moguls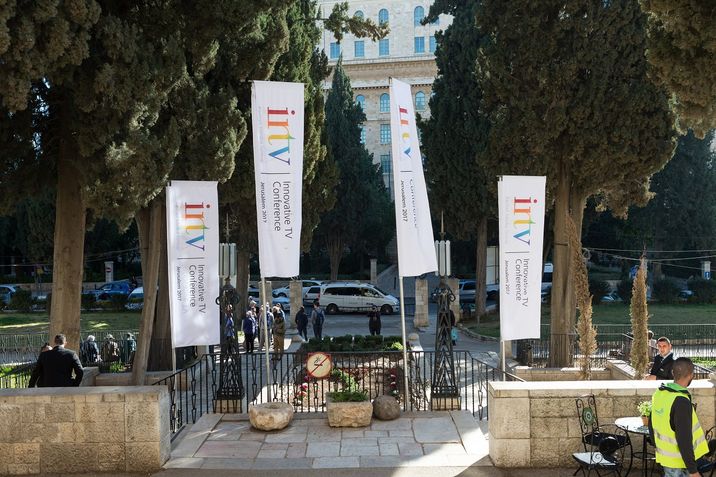 Innovative TV Conference (INTV) in Jerusalem, Israel March 2017
Oded Karni/i24NEWS
Gathering from across the globe, industry leaders, innovators share visions and insights into evolution of TV
Keshet Media group gathered some of television's greatest contributors at the YMCA in Jerusalem this week to explore the future of television during a two-day Innovative TV Conference (INTV).
As we delve deeper into the information age, the shift from traditional industry to an economy based on computerized information requires society to adapt to this growing market.
The global TV industry is continuously evolving: new online outlets are emerging and social media is integrating into the viewer experience, resulting in myriad new business models.
This metamorphosis leaves the creators and executives challenged, and even more driven to stay up to date with the latest innovations.
INTV created a stage for the people who are doing exactly this, shaping the present and future of TV. A two-day event featuring keynote talks and interviews, all designed to explore the future of television.
And of course, a media-centric affair like INTV could not go by without ongoing discussion about Mr. "Fake News" and his strategies to topple the media.
Jeff Zucker, Chairman of CNN Worldwide, opened the second day of the conference exclaiming that US President Donald Trump's characterizing of journalists as "enemies of the people" has in fact brought in momentum for CNN.
Zucker is not afraid of President Trump and his network is beholden to him.
"They've kicked us out of a recent White House press briefing, and they refuse to take our questions, and that's fine," Zucker told the audience.
"This has been very liberating because now we're just doing our jobs, and they may not like it, but they should respect it… CNN's viewership has never been higher. CNN's digital traffic has never been higher, CNN's place in the world has never been more important, our journalism has never been better, so whatever they want to do, that's fine."
David Abraham, CEO of Channel 4 mentioned that "fake news was occurring as money making activity."
He sat on the panel, "Should we trust the media - Does Biased Journalism Exist."
"Being an audience is relatively passive. We want to be entertained. Being a citizen is more active - like voting - and making up your mind as a citizen is trickier." Abraham said.
Other speakers at the two day conference included actor, producer, writer, musician Hugh Laurie, writer and producer of Homeland/ 24 Howard Gordon, and television writer and producer Tami Sagher, amongst others.
Gathering from across the globe, industry leaders and innovators discussed modern TV opportunities and challenges, sharing their visions and insights into the evolving TV landscape.
Dean Stern, Partner and Global Business Developer at Inception PR talked to i24News about his modern TV opportunity.
"In a nutshell we are basically the Netflix of Virtual Reality. We produce our own content with different partners and we are also a library of other people's Virtual Reality's from all around the world, that we put on our app. We've done a virtual tour of the Salvador Dali exhibition in Spain and we have partnerships with top DJ's in the world."
Virtual reality has the power to do more than provide material and innovative technologies and Virtual Reality also played an important part at the conference.
Keshet Media Group is Israel's chief media corporation. Its business centers on Keshet Broadcasting - a franchise of Channel 2, Israel's leading commercial television broadcaster.
Keshet has successfully introduced a host of hit television formats to the international market, including Showtime's renowned drama "Homeland", a winner of multiple Emmy Awards, which is based on Keshet's original "Hatufim" / "Prisoners of War".
This report was contributed by i24NEWS Assistant Producer and Culture Correspondent Lotte Beilin.