Tel Aviv Fashion Week: Where Disney Princesses meet 'Haredi Chic'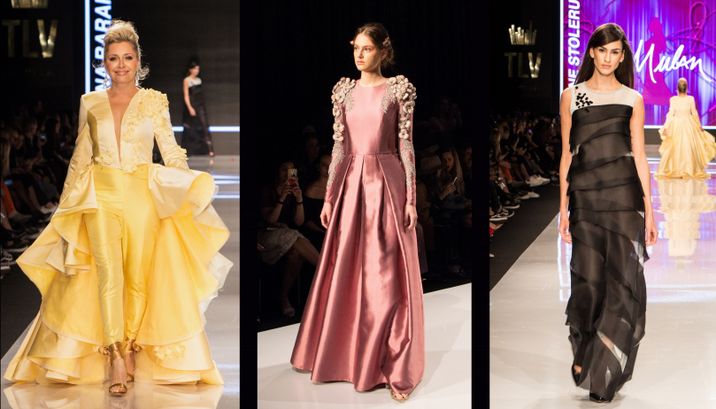 Fashion Week Tel Aviv 2017
Jessi Satin / i24NEWS
This year fashion week brought magic and female empowerment to Tel Aviv
Following New York, London, Milan and Paris, Tel Aviv beginning on Monday hosted its own Fashion Week with runway shows paying tribute to the work of Disney and to fairy tales.
On Monday evening at the Gindi Fashion Mall, some 30 Israeli designers showcased their creations inspired and sponsored by Disney's "Dream Big Princess" campaign.
The following morning, designer Chana Marelus, who had exploded onto Israel's design scene with an aesthetic described by many as 'Haredi Chic' exhibited her new women's wear collection inspired by fairies and gardens.
When Disney princesses hit the catwalk
Disney's "Dream Big Princess" campaign focuses on the journey and stories of its princesses, rather than on looks or beauty, with an aim of inspiring girls and all children to "realize their full potential and dream big."
The show doubled as a fundraiser, with the proceeds going to Israel's Ruach Nashit- Women's Spirit organization which helps female survivors of violence to rebuild their lives.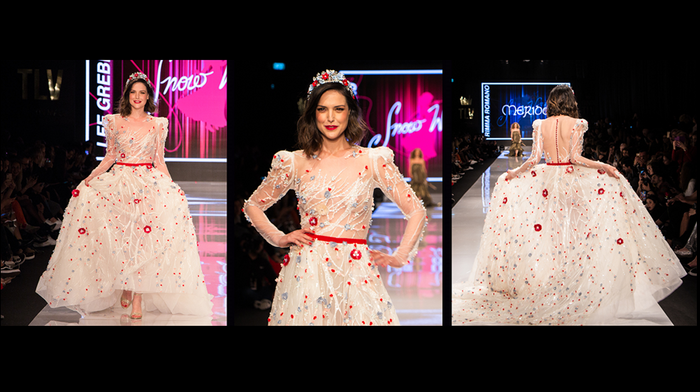 Israeli designers such as Ariel Toledano, Mizo, Hagit Tassa, Galita, Efrat Kalig, and Oved Cohen created dozens of unique pieces inspired by Disney princesses and modeled by a muse of their choosing.
"Each designer chose his favorite Disney Princess, drew inspiration from her characteristics and developed their garment accordingly -such as the courage of Merida, Tiana's approach to making a dream real, or Mulan who found her inner worrier etc...," Disney Israel told i24NEWS.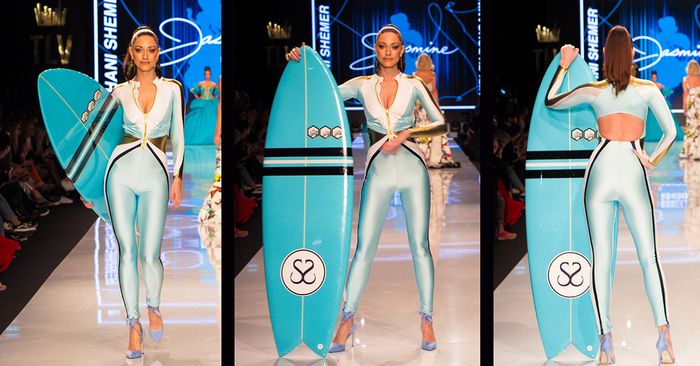 Disney Israel explained that "most of the 'models' were not professional models, but rather women who through their career and personality are true examples of women who have reached their dreams and achieved their goals and are role models- for example Yardena Arazi, a singer, actor and performer who is in the 5th decade of her career and this was the first time she was on stage as a model... Or like Linor Abergil who was former miss Israel and Miss World, and is today an Orthodox Jew leveraging talks about women's empowerment."
Some, like Tel Aviv based fashion label Julliett, imagined Mulan as a warrior princess with sharp silhouette of dark leather, ready to fight any challenge. Others like Dorin Frankfurt, chose a more classic representation, with a shimmery brocade of lilacs morphed into a fluid silk kimono shirt with soft trousers. Eliane Stoleru meanwhile, imagined Mulan as a romantic and delicate heroine.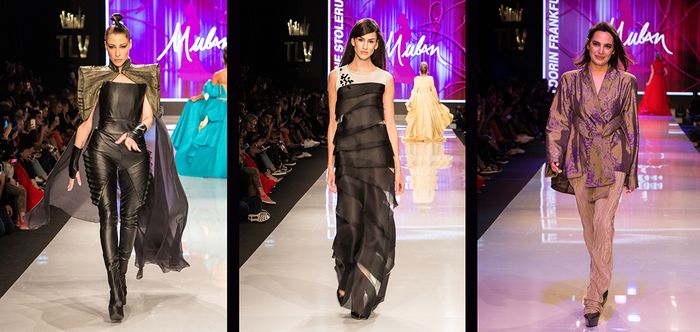 Other designers also chose to re-imagine Jasmine, Belle, Cinderella, Snow White, Pocahontas, Merida, and Tiana through their creations. The show closed with a performance by singer Ania Bukstein.
Israeli designers for @Disney's :'Dream Big Princess' campaign at Tel Aviv Fashion Week #GindiTLVFashionWeek pic.twitter.com/mzB1B4rRoy

— Jessi Satin (@JessSatin) March 14, 2017
From Bnei-Brak to Tel Aviv: Chana Marelus the "Haredi-chic" designer
One Israeli designer who refers to a youthful attachment and inspiration stemming from the magic of fairy tales is none other than rising fashion star Chana Marelus.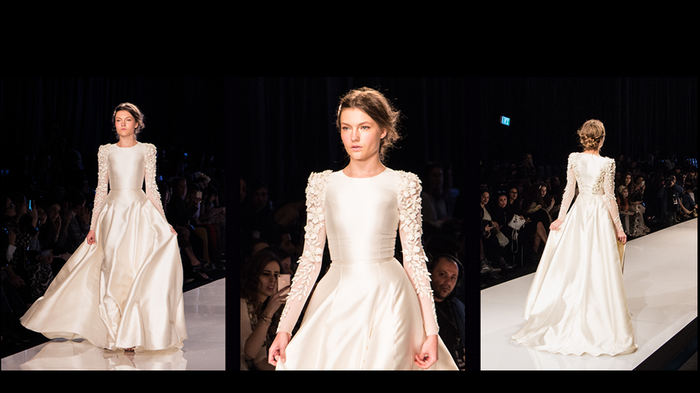 The young designer settled in the city of Bnei-Brak, just outside of Tel Aviv. Her style, which has been dubbed "Haredi-chic", offers unique and delicate creations for Orthodox Jewish women who respect societal rules of modesty, which when it comes to fashion includes not showing certain parts of the body such as the shoulders or cleavage.
Marelus' collection featured a variety of silhouettes from sleek and slender to billowing skirts to flowy and ethereal. Her designs were enhanced with delicate beading, whimsical flower embellishments and at times a hint of sparkle.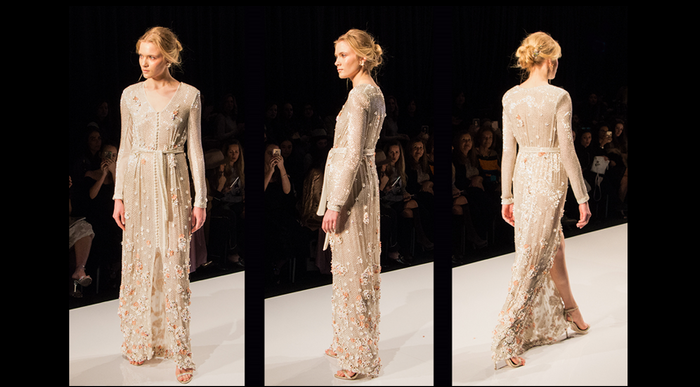 "I like to make all my creations have a touch of magic, as if 'poof', we find ourselves in a fairy universe," Marelus explained to i24NEWS after the show.
Asked about the direction she would like to take her line in the future, Marelus is thinking globally, but says she will stay rooted in Israel.
"Of course, I would like our brand to be international, but you know, Israel is our homeland," she says.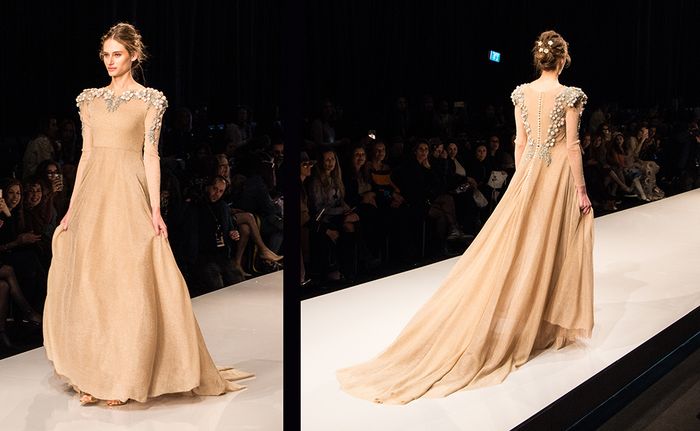 Tel Aviv fashion week was held in the Gindi TLV Fashion Mall, one of Israel's largest shopping mall dedicated to the world of fashion and prêt-à-porter, due to open March 2017 in the heart of the Sarona district.
Article co-authored by Salomé Fitoussi, journalist for i24NEWS in French and Jessi Satin, journalist and photographer for i24NEWS in English.