Kathy Griffin says 'career over' after graphic Trump photo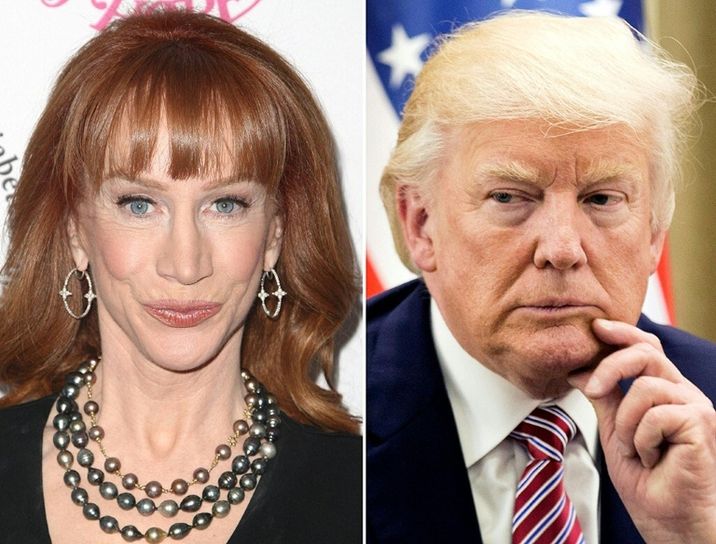 Kathy Griffin is an outspoken critic of Donald Trump
AFP/File
The comedian says she feels Trump is trying to 'ruin my life forever' and is being bullied by the President
In the aftermath of a gory photo featuring comedian Kathy Griffin holding a severed, bloody head of US president Donald Trump, Griffin said her "career is over" and that Trump "broke her," addressing the backlash from both sides of the aisle in a press conference on Friday.
She reiterated her apology in a tearful address Friday, saying the apology "absolutely stands" and that she "felt horrible," but added, "I'm not afraid of Donald Trump, he's a bully."
"What's happening to me has never happened ever, in the history of this great country, which is that a sitting president of the United States and his grown children and the first lady are personally, I feel, personally trying to ruin my life forever," she said.
"I don't think I will have a career after this," Griffin responded to reporters.
"I'm going to be honest, he broke me," she continued tearfully, adding that she believes she's being used as the "shiny object" to distract from the ongoing FBI investigation against Trump.
US television network CNN on Wednesday fired comedian Kathy Griffin from its annual New Year's Eve coverage after she provoking outrage for being photographed holding up the prop depicting Trump's bloodied severed head.
Trump himself responded to the comic on Twitter writing, "Kathy Griffin should be ashamed of herself. My children, especially my 11 year old son, Barron, are having a hard time with this. Sick!"
First Lady Melania Trump issued her own statement that questioned the comedian's mental health.
"As a mother, a wife, and a human being, that photo is very disturbing," said the first lady. "When you consider some of the atrocities happening in the world today, a photo opportunity like this is simply wrong and makes you wonder about the mental health of the person who did it."
Griffin apologized for the picture -- released on Tuesday by the celebrity photographer Tyler Shields -- after a tirade of criticism from conservatives and liberals, saying in a video "I beg for your forgiveness" for having "crossed a line."
Griffin, known for her role in the late 1990s sitcom "Suddenly Susan" and starring in an eponymous reality TV show "My Life on the D-List" a decade later, as well as for a long running stand-up career, apologized for the stunt on Tuesday, saying she "went too far."
But in Friday's press conference she said, "it's not right," explaining that she's been getting explicit and detailed death threats.