Nude feminist art exhibition in Israel stirs up censorship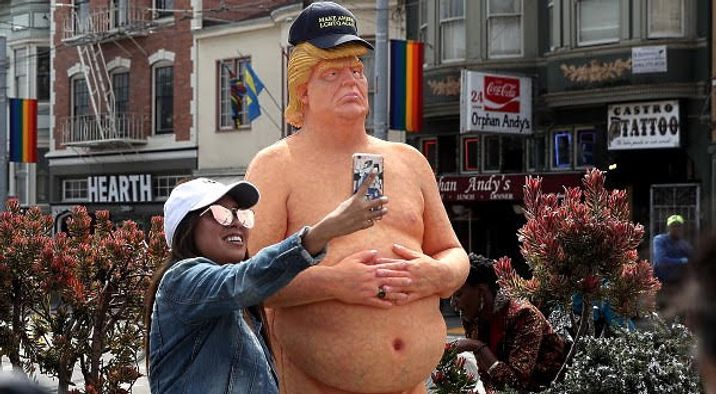 A passerby taking a selfie with a statue of Trump in the nude in San Francisco.
AFP
Culture minister Miri Regev's vocal opposition to nudity evokes changing cultural landscape
In a public space, the human body has the potential to shock and offend. For hundreds of years, artists have used nudity to express ideas, feelings, and even to make political statements.
Last summer, the art collective INDECLINE covertly installed naked statues of US President Donald Trump in several cities across the United States. The project, titled "The Emperor Has No Balls," gained worldwide attention and drew crowds of onlookers (many of whom posed for selfies with the statues).
Another example is the photography of Spencer Tunick. The world-renowned artist gained fame for his pictures featuring tens of thousands of naked people posing simultaneously in striking locations around the globe. Through decades of work, he has had several run-ins with authorities during his photoshoots over public nudity.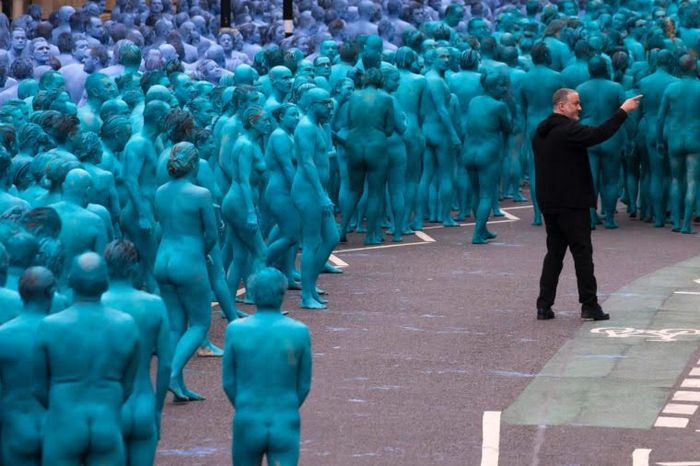 These days the issue of the bare body in art is stirring up controversy in Israel as well.
A new exhibition at the Mane Katz Museum in Haifa - "Chana Orloff: Feminist Sculpture in Israel" - recently opened its doors to the public. A trailblazer, Orloff was one of Israel's first female sculptors.
"Today we don't really think about the obstacles a female sculptor had to face back in the day," curator Svetlana Reingold told i24NEWS. "This is what makes Chana Orloff a great artist and is also why her contribution to women's art is so important."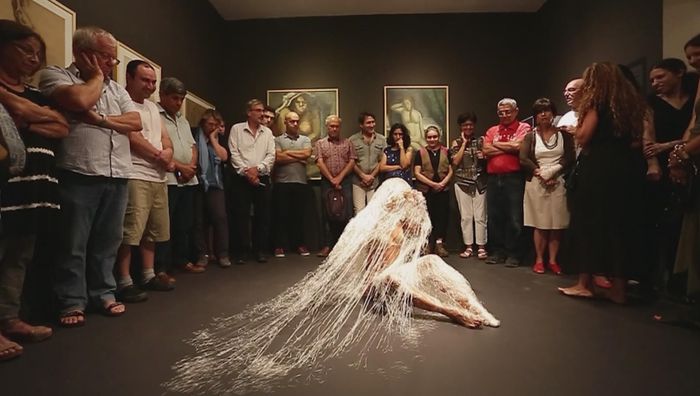 Many of the artworks on display show the female body in an unconventional light, highlighting a feminist perspective.
Like sculptor Ronit Baranga, whose work "Tree of Life" depicts a woman with breast cancer emerging from a bowl-like structure.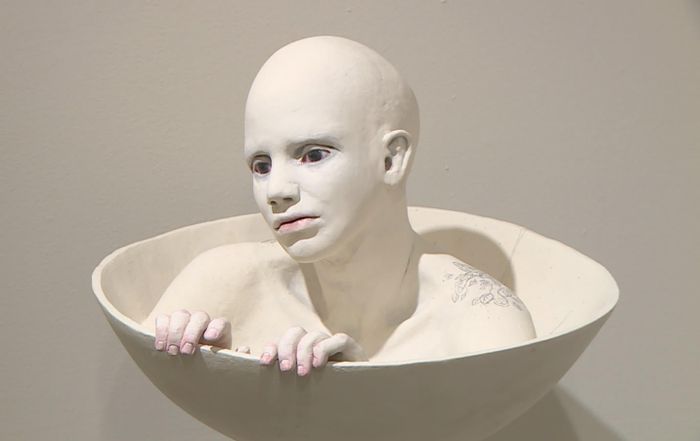 "My work here looks at the female body and how it combats illness – specifically breast cancer," Baranga explained. "My sculpture was inspired by a woman who is very close to me and whom I care deeply about."
Though Baranga's sculpture shies away from showing nudity, she believes artists should be able to use the human body in their work with no issue.
"Nudity is not pornographic or sexual, it is something that serves an artistic purpose."
But others in Israel disagree, with some in the government arguing that nakedness is inappropriate at state-sponsored cultural events.
Israel's controversial Culture Minister Miri Regev recently threatened to defund the country's top culture festival over performances featuring full frontal nudity.
"I oppose funding creative works that are harmful to the public in the state of Israel and to its foundational values," Regev said at the opening of the Israel Festival last month. "It's destructive and harmful."
"I will not support nude shows," she said over jeers from the crowd.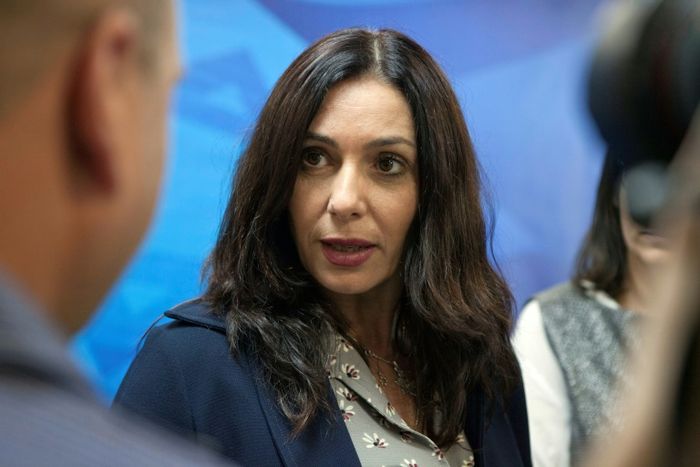 Many in the Israeli art scene are reluctant to discuss Regev's statements or her possible impact on cultural programming.
When i24NEWS asked the curator of the Chana Orloff exhibit what she thought about Regev's recent declarations, she shut down the discussion.
"This whole topic is very annoying," Reingold argued. "I don't think we need to get into this."
While Regev did not intervene directly in the case of the Haifa exhibition, it seems her influence is being felt anyway.
Vered Sivan is one of the artists featured at the Mane Katz Museum. Her performance piece– titled "Plasma" – has been featured in New York art galleries several times in the past.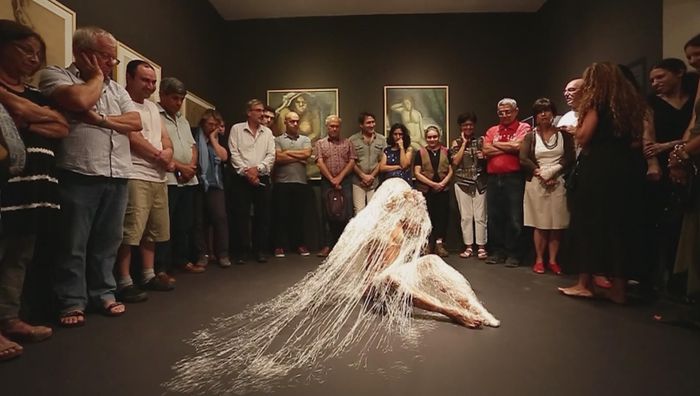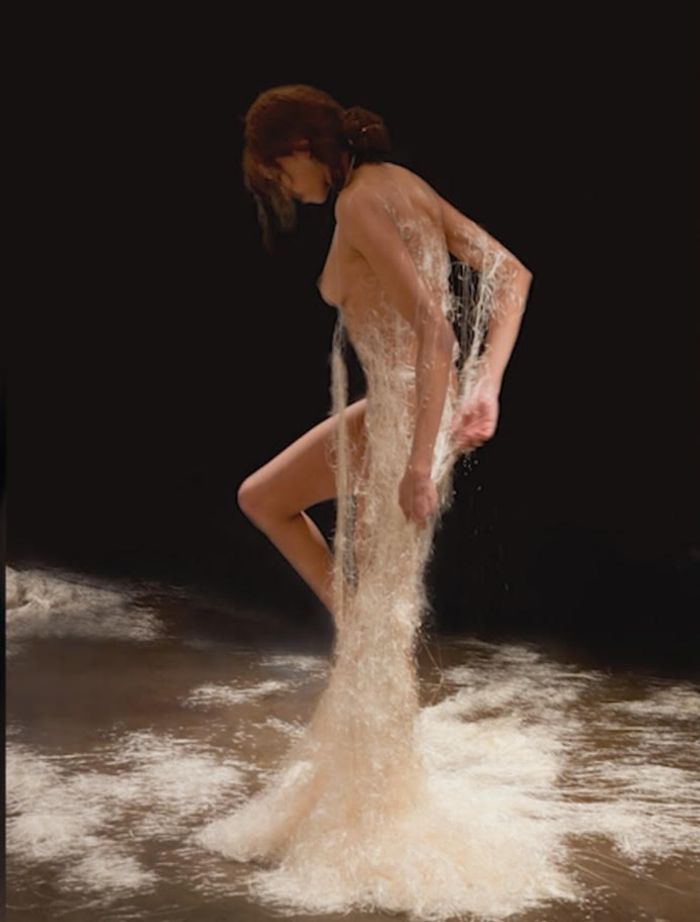 In the work, Sivan slowly covers a live model with synthetic thread. The performance culminates with the model standing up and emerging naked from the pile of yarn.
But in Haifa, the performer was forced to remain clothed after the Mane Katz Musem refused to allow full nudity.
In a telephone interview with i24NEWS, Sivan said she was "surprised" when the museum made the request for the model to be covered, noting it was the first time in years her live model had to wear clothes.
The order to censor an art performance did not come directly from Regev, but some in the art world may already be following the culture minister's lead.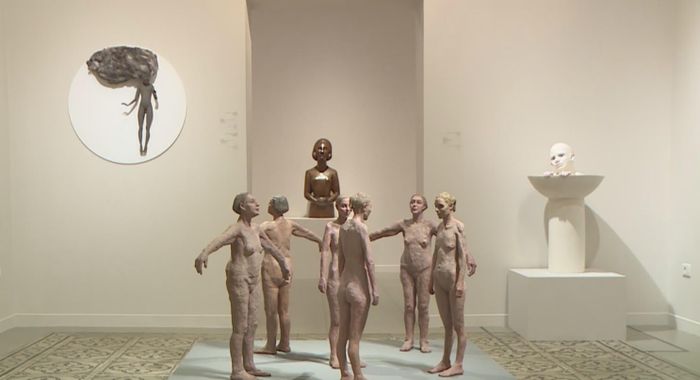 Maya Margit is a culture correspondent at i24NEWS. You can follow her on Twitter @mayamargit for the latest updates on the art scene in Israel.