Amid Jerusalem clashes, Palestinian-Israeli youth chorus sings melodies of peace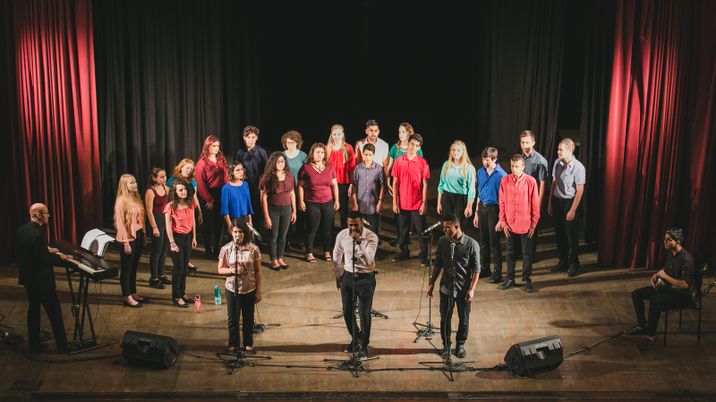 YMCA Jerusalem Youth Chorus
Keren Rosenberg
The Jerusalem Youth Chorus was joined on stage by the Yale Whiffenpoofs
As violent clashes erupted on the streets of Jerusalem on Sunday, the YMCA Jerusalem Youth Chorus composed of Palestinian and Israeli teens from the eastern and westerns parts of the city, delivered a heartwarming performance, reverberating melodies of peace and coexistence.
The youth chorus was founded in 2012 by Micah Hendler, a Yale graduate who sought to combine his musical background with his passion for bridging gaps between Palestinians and Israelis. The group has gained international acclaim, touring the world and, most notably, making their way into mainstream American media with an appearance on the "Late Show with Stephen Colbert" and a feature article in the New York Times.
On Sunday at the Jerusalem YMCA, the youth chorus performed alongside the Whiffenpoofs, Yale University's flagship a cappella group who are currently on a year-long performance tour across the world. As Hendler was a Whiffenpoof during his time at Yale, he has created a special bond between the college group and the Jerusalem Youth Chorus.
Eva is a 14-year old from a Russian-Arab family in East Jerusalem. Two of her sisters are also members of the choir which she believes plays a role which goes beyond the music. For Eva, being a part of the choir is an affirmation that east can harmonize with west.
"I wanted to have contact with the other side," Eva tells i24NEWS. "I want to have contact with people no matter who they are and no matter what religion they are. There are some people that don't think out of the box, but I don't want these labels to box me in.
"I like to connect with others, no matter who they are, no matter what religion they are," Eva says."I want Israelis to see that we are good."
She continues: "I'm in the choir because I want the other side to meet Palestinians and I want Palestinians to meet the Israelis."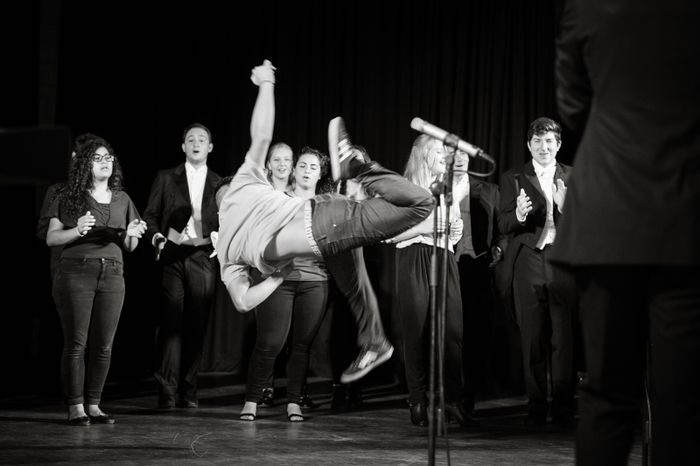 As the divides in the city grow ever-deeper, mingling between youth from both sides has become less and less common.
Dalia, a 14-year-old from the neighborhood of Abu Tor just south of the Old City, says that the chorus provides a space where she can meet with Israelis, something she may not have otherwise.
"It was really nice to have contact with the Israelis because normally I wouldn't have contact with them a lot," Dalia says. "They are nice people and I have a lot of friends now that are Israeli."
As the YMCA Jerusalem Youth Chorus group just returned from a musical tour of Switzerland where they performed at the United Nations, they feel that they've bonded while the world around them sees divides growing deeper, with Dalia saying the other members are now her "second family."
Aside from singing, the youth chorus members have regular dialogue sessions where the teens are encouraged to share their experiences with one another in a safe environment, providing a context for discussion and debate about points of contention and conflict.
Sasha, one Jewish choir member, thought she understood the experiences of the other side, but the dialogue component showed her the realities of the daily life of her Arab counterparts in a city divided.
"Before the choir I had only two or three opportunities to speak with Arabs," says Sasha. "After hearing what they had to say about so many different subjects, I did learn a lot from them. I was sure that I understood already but I didn't really."
For Sasha, the actions of the choir speak louder than words.
"It's not as hard as people assume," she says. "We get together, we sing and we love each other."
Sasha also explains that conflicts between members of of the group are mostly because they are a group of teenagers, and not because of religious divide.
"I mean we are a group of kids," she says. "So, obviously!"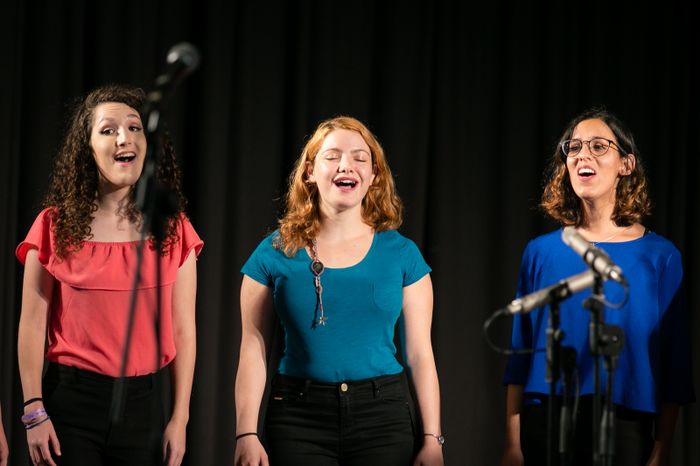 For Lilit, one Jewish member of the youth chorus, Jewish and Arab voices coming together should be seen as natural.
"In my opinion the part about singing together shouldn't be such an amazing thing. They like to sing and we like to sing, we are around the same age and pretty close to each other. But what makes it not obvious, of course, is the reality around us, especially these days," she says.
"I think it's very important to just meet people and see the other side are just people, just kids," Lilit adds.
"The other side for me is not necessarily Palestinian," she continues, affirming that "it's not about their ethnicity - it's about their opinions."
And for Lilit, the youth chorus has a very simple message for the world.
"At the end of the day we are people, and people can talk," she says. "So use your mouth and not violence. Talk and figure it out!"
Ayelet, another Jewish Israeli choir member concurs. "It's not like we're having a hard time," she says. "Why can't grown-ups do it?"
An instrument of peace
Earlier in 2017, the youth chorus released its first album which is an eclectic mix featuring mixed Arabic and Hebrew melodies, along with modern American pop songs.
One of the choir's signature numbers, the Prayer of St Francis, includes the words "Lord make me an instrument of thy peace."
"It's easy to sing about peace" chorus founder Hendler told the crowd, as he introduced the song, explaining that the words are so powerful because they encourage incorporating the action of peace into daily life.
For the choir, who make it a point of rehearsal and holding dialogue sessions even through wars and times of conflict, coexistence and harmony require regular practice.  
Another song on the album is "Nightingales," by Lebanese composer Marcel Khalife. The song uses birds and birdsong as a metaphor for freedom.
"Perhaps we must be free in order to truly sing," Hendler said introducing the song on Sunday night. "Or perhaps it is through song itself that we can find our freedom."
The Hebrew song "Or gadol" or "Great light" was also sung, and Hendler reminded the crowd that, especially in dark times like these, it's important to share light.
From Yale to Israel
The Whiffenpoofs took to the YMCA stage on Sunday, dressed in their signature tuxedos and white gloves, carrying a tradition of singing that is now over 100 years old to the Jerusalem audience. The Yale a cappella group drew applause and laughter from the assembled audience as they belted selected tunes from their recent album entitled "On the Bumpy Road".
As a Yale graduate of music and politics, Hendler, who was named one of Forbes Magazine's "30 Under 30," serves as an inspiration both in Israel and abroad.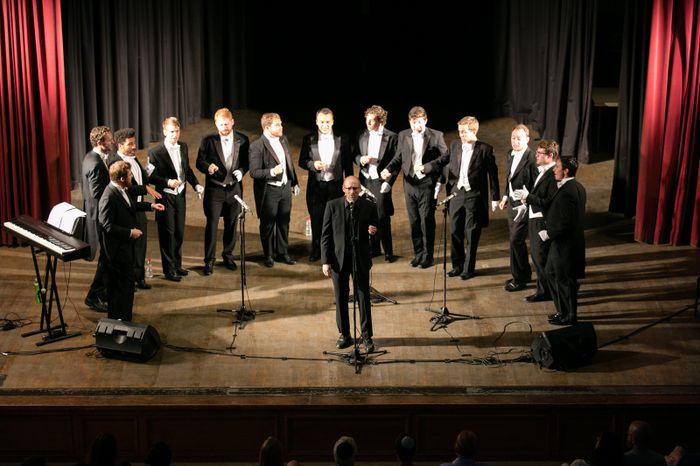 Solon Snider is the musical director of the Yale Whiffenpoofs and, for Snider, Micah Hendler and the YMCA Jerusalem Youth Chorus prove that music can be used to bridge gaps in a society.
"I've always admired Micah and he's always been a role model for me," Snider told i24NEWS. "I've looked up to him since I was in high school, and I'm also interested in the intersection between music and politics.
"He's combined music and international studies in such a beautiful way here and I think it's really inspiring for all of us," Snider adds.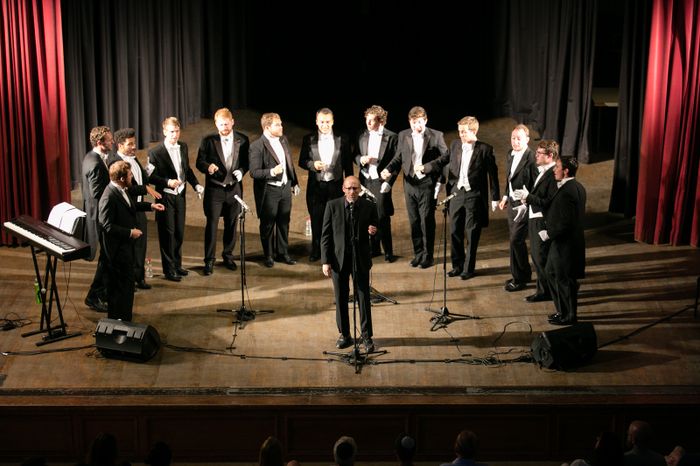 As Snider, a music and theater major at Yale, reaches the end of the year-long tour with the a cappella group, he hopes to take what he's learned in order to use music as a tool for coexistence.
"I hope to be able to model my life somewhat on what he's been able to do here," says Snider "I've found his type of organization to be really inspiring."
Assistant Musical Director of the Whiffenpoofs, Michael Tappel, said he was moved by seeing the Palestinian youth singing alongside the Jewish youth during a workshop the Yale students held with the youth choir ahead of their joint performance.
"We watched them sing a song, just before this we did a little workshop together and they sang a song that was in both Hebrew and Arabic and I don't speak either of the languages but it was still very powerful to hear it and to see the shared music."
Tappel sums up the important message of the commonality of music: "That's what the choir is trying to do, it's trying to bring people together and I can feel that."
Emily Rose is a journalist and web editor at i24NEWS
Follow at @emilyarielrose