Novelist Englander's latest explores empathy in a peace process grown arid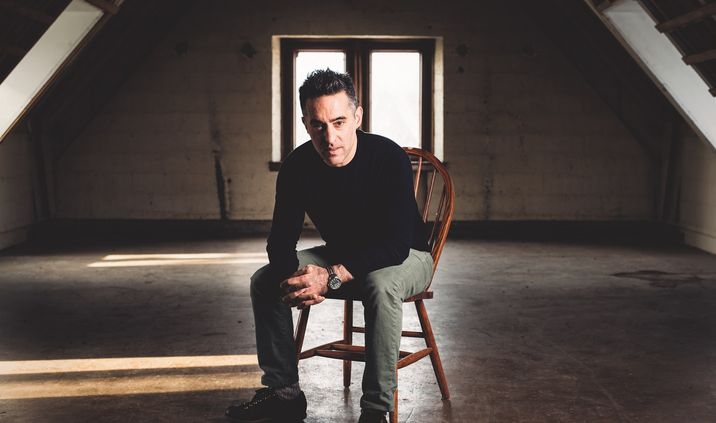 Nathan Englander
Joshua Meier
Best selling author Nathan Englander tells i24NEWS that his latest Mossad spy thriller based on true events
While other writers recycle, acclaimed novelist and best-selling author Nathan Englander adds a new chapter to the long conversation about Jewish identity and the diaspora's relationship with Israel in his latest novel, "Dinner at the Center of the Earth".
In an interview with i24NEWS, Englander, a finalist for the Pulitzer Prize and a winner of the Frank O'Connor International Short Story Award, discussed the inspiration behind the book, which serves as an allegory for the floundering Palestinian-Israeli peace process.
"Dinner at the Center of the Earth" follows the story of Prisoner Z, an ex-Mossad agent and foreign national being held in a maximum security prison cell in Israel for defecting.
Englander was inspired by the true story of Ben Zygier (also known as Prisoner X), an alleged Mossad agent and dual Israeli-Australian citizen who reportedly killed himself in Israeli custody in 2010.
While on his last book tour promoting his acclaimed short story collection "What we Talk About When we Talk About Anne Frank", Englander read an article about Prisoner X's death on the front page of the Haaretz daily. The story, Englander told i24NEWS, struck him as metaphysical in nature.
"If he didn't live until he died, at the moment of death, he lived, because we didn't know about him before," Englander said. "You only lived when you died and there was no cell before, there was no ceiling to tie something to from which to hang yourself and then a ceiling appeared."
"It's fully Talmudic in its sadness," Englander added.
In Englander's novel, the protagonist -- consumed by semi-legitimate paranoia, fear of getting caught, and trying to keep his occupation secret from his prying Jewish mother -- finds himself belonging to one of the world's top spy agencies, a club which wouldn't exactly want him as a member.
This almost accidental spy finds himself on a spiraling journey of secret love, public war, and a crisis of faith and identity -- much like a requiem for the Palestinian-Israeli peace process.
As with his previous works, Englander unearths moments of humor in the darkness, in what he describes as a situation which is, in Hebrew, "hafuch al hafuch" or "turned on its head."
Englander hopes "Dinner at the Center of the Earth" will induce among his readers what he sees as lacking on both sides of the conflict - a sense of empathy.
"The whole issue has a lack of empathy and exactly what books do is allow us to empathize," Englander said.
"It is empathy that I was exploring," Englander told i24NEWS. "I heard about Prisoner X and we all know what people think of traitors, and I thought this guy is so much like me."
"I thought, what would it take to flip someone from empathy? What would it take to flip someone from feeling? That's the moment that my Prisoner X becomes a Prisoner Z," said Englander.
Englander himself lived in Jerusalem and his previous books explored the complexities of having a Jewish identity and love for Israel while grappling with political conundrums and trials of faith - while his gift has been the ability to make these dilemmas accessible to an audience with no prior knowledge.
"The book has to work for someone in Mississippi who really doesn't know, who has never met a Jewish person, and then it also has to work for someone who can literally map every thought about what it is to come from America to Israel and what it's like to live in Jerusalem," Englander said.
A central figure in the novel is an army general who remains on life support, mirroring the life and death of Israel's late Prime Minister Ariel Sharon. The General, much like the Israeli-Palestinian peace process, remains on life support while true zealots remain loyally at his bedside.
"It's a woman sitting by the bed of someone who is alive but might as well be dead and a guard sitting by a prisoner who is already dead but still alive," Englander said.
Above ground, on the political level, Palestinians and Israelis are locked in endless conflcit but, just below the surface, and on a personal level, characters from both sides connect through a shared sense of humanity.
The novel is part thriller, part espoinage and part love story but what it really is, Englander asserts, is an allegory for the State of Israel and "the spiraling structure of the conflict." Above all, Englander says, it is a story about hope, even in the face of darkness and uncertainty.
"The further peace recedes," Englander told i24NEWS, "the more I believe in it - we have done the impossible before. And I don't think that's a position. I think it's the only option."
Emily Rose is a journalist and webdesk editor at i24NEWS
Follow at @emilyarielrose