Film follows Israeli climbers, Bedouin guide carving soaring route up Wadi Rum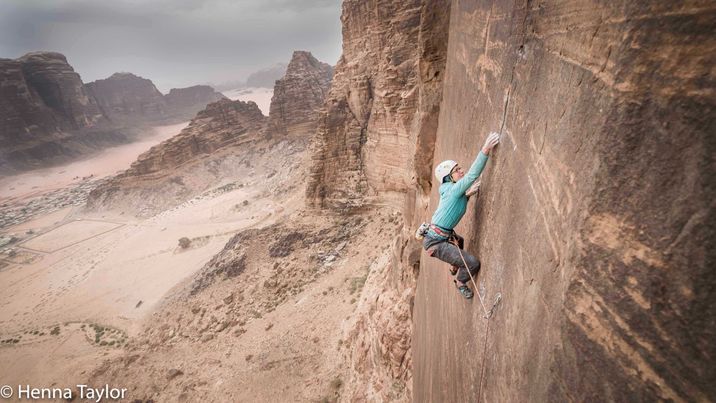 Pictured: Madeleine Sorkin climbing the 'Sultan El-Mujahidin'
Courtesy Henna Taylor
What begins as an adventure film set against a desert backdrop evolves into something more profoundly human
In 1984, Jordan's King Hussein invited British climbers Howard, Taylor, Baker, and Shaw to explore Jordan's largest valley Wadi Rum -- sometimes referred to as the Valley of the Moon or Valley of Sand -- with the hopes of unlocking its potential to boost tourism.
Wadi Rum became a coveted destination for adventure climbers from all reaches of the world, but following the Gulf War in 1990, tourism waned and the majestic valley was more or less forgotten by the climbing community.
Today, however, an unlikely crew of adventurers – two Israeli climbers and their friend and Jordanian Bedouin guide – have embarked on a personal mission to reintroduce the expansive terrain to fellow mountaineers and thrill-seekers.
Emerging filmmaker Henna Taylor captured the journey of climbers Eliav Nissan and Elad Omer, joined by their friend and Bedouin guide Mohammad Hussein, and later, Madaleine Sorkin, a professional rock climber from Colorado, as they carve out a fresh path up the expansive rock face of Wadi Rum.
WADI RUM TRAILER_1080 from Henna Taylor on Vimeo.
"Wadi Rum", which premiered Friday at Israel's Adventure Film Festival in the upper Galilee region of Kfar Blum, follows the group as they explore the intersection of both climbing and culture — as the world of mountain climbing, a decidedly Western sport, unexpectedly intersects with Bedouin culture deep in the Middle Eastern desert.
Taylor, who spent three weeks filming the trio hanging alongside them on the steepest rock faces, blends the thrill of scaling the sheer rock faces of Wadi Rum with the group's quieter, more intimate moments, drinking Bedouin tea around a fire. She called the process "a profound experience for a climber."
What emerges is far more than a movie about mountain climbing, but, as Taylor describes, a film about "the imaginary walls we create that can often prevent us from understanding a simple beauty that lies waiting just beyond."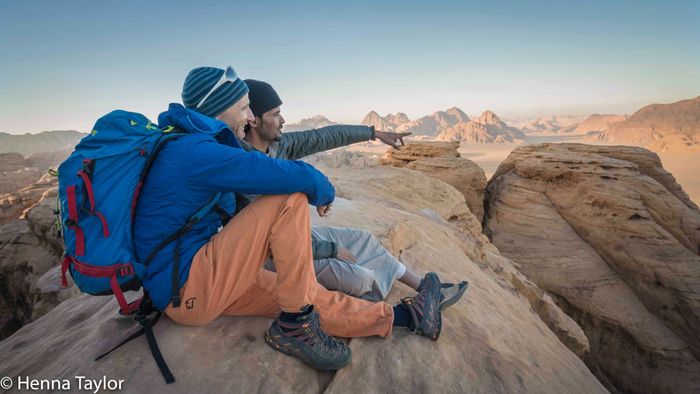 - Carving a new route -
The film centers on the group's efforts to carve out a completely new route up Wadi Rum's famous red rock faces. The crew named their virgin 500-meter (1,640 foot) route the "Sultan El-Mujahidin," or the Sultan of all the Freedom Warriors.
The name is a double-entendre referring both to the team's quest for freedom as well as their climbing style – freestyle climbing without the use of tools such as ladders and ropes – a feat never before achieved on Wadi Rum.
Omer, who grew up on a kibbutz in Israel's northern Golan Heights region, was the first to seek out Wadi Rum's most challenging climbing routes. There he met Hussein, who lives in a Bedouin village nestled in the desert valley. Omer describes the deep friendship that blossomed between them as "almost love at first sight."
"I liked him, he was different than the other kids there, because he was just a kid then," Omer tells i24NEWS of their first encounter over 20 years ago. "We've been working together ever since."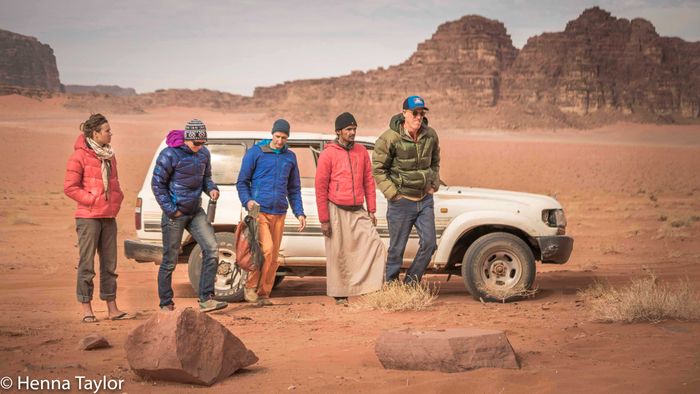 Nissan joined on the project three years ago, seeking an extremely advanced "harder than hard climb."
"More than [Eliav] loves to climb, he loves to suffer," quips Omer.
As Nissan notes in the film, until the signing of a peace treaty between Israel and Jordan in 1994, Israelis were not allowed to visit its southern neighbor.
"When I left Israel, we didn't even know it existed," he says, which fueled both his and Omer's fascinations with the picturesque rock formation – a climber's dream.
"When I first got to Wadi Rum it exceeded all of my expectations," said Omer. "This is a different world in terms of climbing, but also in terms of the community," calling Hussein's village a second home, one where he even had his wedding.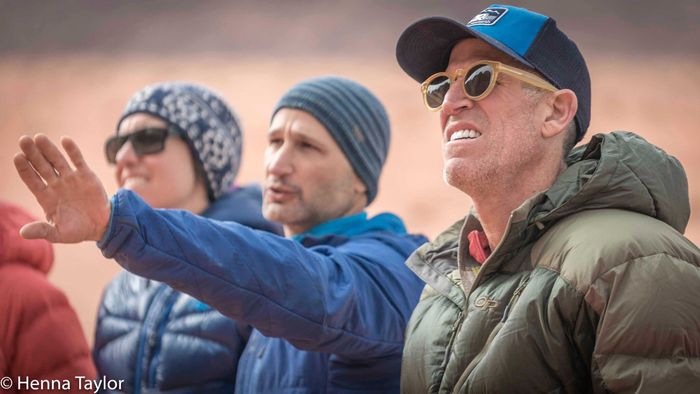 What begins as an adventure movie set against a desert backdrop steadily evolves into a documentary about Wadi Rum, a lofty character in itself, which Taylor managed to capture in its entirety through various methods of filming.
Driven by the "sounds of the wind, the call to prayer, the kids playing soccer or learning to raise goats, the stillness of time," which are all palpable to the viewer, Taylor offers a taste of authentic Bedouin life -- a side rarely seen of the Middle East. Not often is it portrayed in film without reference to violence, devastation, or unruly politics.
Taylor, who admits she had limited knowledge of the Middle East going into the project, wasn't sure what to expect prior to arriving in Jordan, but says she found herself "shockingly comfortable."
"I wanted people to see positive images of the Middle East…not in turmoil" she tells i24NEWS. "I thought, we have enough of that and we all know it, because we see it all the time. But it's just a piece."
"It's a really sad piece and it's a really loud piece, but it's not the whole thing," she adds. "And Wadi Rum -- maybe all of Jordan from what I saw -- is just another piece...And it's okay, it's real."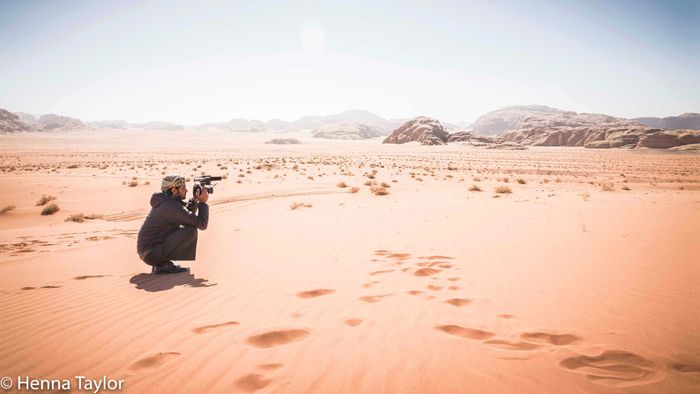 Notably, this past year has been particularly tumultuous for Israeli-Jordanian ties, beginning with a dispute over Israel's installation of metal detectors at the entrance to Jerusalem's Temple Mount, of which Jordan is the official custodian, followed by a shooting at the Israeli embassy in Amman several months later, and finally, backlash over US President Donald Trump's recognition of Jerusalem as Israel's capital in December.
The succession of those events put an unprecedented strain on diplomatic relations between the two nations, which is the only other country aside from Egypt that has signed a peace agreement with the Jewish state.
However, the only hint of turmoil that seems to seep through the towering canyons of Wadi Rum is the decline in tourism there.
"Normally this time of year, if there are no wars in the Middle East, you would see the desert full of people," Hussein tells the climbers in one scene of the film, as the foursome drive through the desert wilderness in an unmarked Jeep. "We are in the middle of the Middle East, but the news always mentions something that is not good and people are afraid to come."
"Jordan is a safe country," he adds. "People love the country. We see what is happening in other countries around, like Syria. We hope it will be finished one day and we are sorry for them, but we don't want this to happen in Jordan," he says.
The film "Wadi Rum" will be screened at several locations across Israel, as well as in Jordan, in Wadi Rum of course.
Ana Nissan is a journalist and news editor for the i24NEWS English Web desk.