Acollective: The triumph of Israeli independent music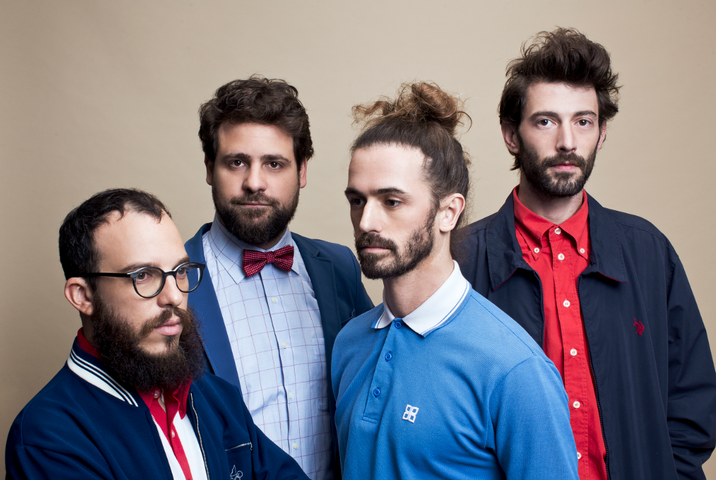 Roy et Idan Rabinovici, Roy Rieck et Emanuel Slonim
Acollective
Since the success of his collaboration with German DJ Wankelmut on "Reckoning Song", Asaf Avidan has become an emblematic figure of Israel's flourishing independent music scene, which sprung to international attention in the early 2000's.
Asaf Avidan -- who sings in English -- is far from the only Israeli indie artist to achieve global recognition, however. Acollective, founded in 2009, is another Israeli group whose journey represents one of the greatest successes out of Israel in recent years, having found a fair balance between a universal and Israeli musical identity.
"Whatever comes out of you, you promote that. My dad is British and Idan and his brother were abroad almost in their entire childhood and during the time they studied. So we grow up both with English being some sort of half mother tongue and it came out naturally," Roy Rieck, singer in Acollective, tells i24NEWS of their Anglo-Saxon inspiration.
The band's members -- brothers Roy and Idan Rabinovici, Roy Rieck, and Emanuel Slonim -- trace their history back to their early years serving in the Israel Defense Forces (IDF). After their military service, Idan studied at Oxford University in Britain, while the others moved to the United States. Roy Rieck settled in Mississippi where inspired by traditional blues music he learned harmonica.
In 2009, " we ended up living in London for about 8 months and that was the point when we decided to join forces and make it an official band", Rieck tells i24NEWS.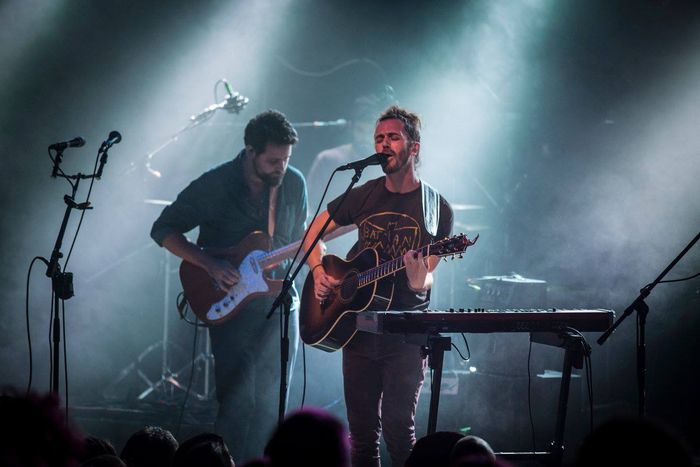 Back in Israel, their early projects had begun to pick up an audience. They started working on their first album Onwards (2011) produced by one of the technicians of Bob Dylan and Jeff Buckley, who came to Israel for a month to work on the project.
After touring around the world, a successful second album Pangea (2014) followed by an unsuccessful project with Jacquire King in Nashville, and a three-year hiatus following the departure of three members of the group (which began with seven), Acollective is making a comeback with their new album The Coming of Light, a reference to a poem by Mark Strand.
"In our minds, this album is a success before it even came out because I think the whole journey of the last three years was not only a musical journey of making the band, it was the journey of us also reshaping the way we looked at life: what is success and what is friendship and what is creating," Roy Rieck says.
"What was left is only the notion that we have good songs that were written and we don't want to see them go to waste," he adds of the band's three-year absence.
'Everything is indie in Israel'
Today, Acollective's concerts are sold out several weeks before their performances and venues are adding extra dates to accommodate. Speaking of their success, Rieck praises the Israeli indie scene as a "community" that is "helping one another with ideas, with contacts, and a shared audience."
He points to the achievement of other Israeli indie musicians thriving internationally -- including Balkan Beat Box, The Angelcy, Lola Marsh, Tatran, and Tiny Fingers.
"These are all bands that have already audience here and abroad working constantly and doing very interesting stuff each in their own filed," Rieck says. "Everything is indie in Israel. Even if there are big [acts] like Asaf [Avidan], he still managed it on his own."
Daniel Anglister -- a sound engineer, mixer and producer for Acollective who has collaborated with some of the greatest Israeli musicians -- says that even Asaf Avidan's success in Europe happened "by accident".
By the time Asaf Avidan's second album was released in Europe, people were already captivated by the singer's unique voice even though the 2012 remix of his "Reckoning song" did not reflect the style of the singer and his band The Mojos.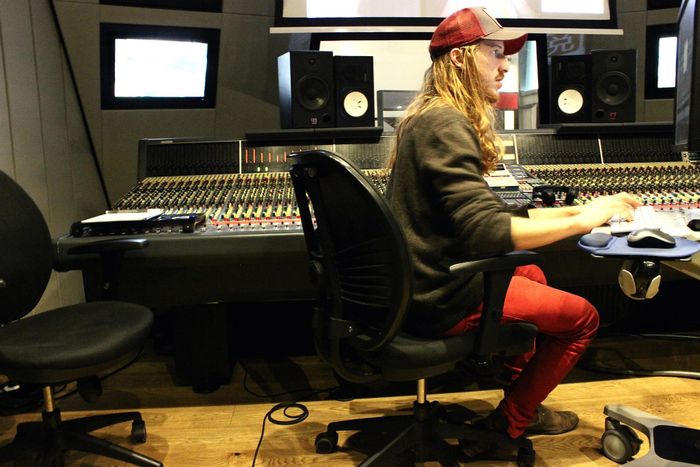 "It does not take a huge financial backing to make an album now, almost anyone make an album and you don't have to have big studios. You can record at home with minimal gear and still achieve great results," Anglister tells i24NEWS. "What is important is your artistic vision and I think in that sense it is a wonderful thing. You don't have guys in suits in offices deciding what will get published or not, it just gets out."
According to him, the Israeli independent scene began to flourish 10-15 years ago. "I don't even think it is specific to this country but there is always a part of globalization and a part of being more national like everywhere in the world", he nuances. 
A global approach infused with subtle Israeli references, is one of the characteristics of Acollective's music. Their song "Happiest of All Memorial Days", for example, reflects on the dissonance between Israel's Remembrance Day (Yom HaZikaron) and Israel's Independence Day (Yom Atzmaut), "the happiest" of all days, immediately after.
"For someone who lives in Israel and has been there when the sirens go and everybody stops, the song touches them in different ways. But it does not say that someone outside from Israel won't relate to it. A good song can be readable for someone here and in India and in the US… that's what makes a good song," Roy says.
"Every song does not have to be exactly about that but from when you were young you were very aware of this: of conflicts, of politics, injustices, of loss… and I think it is very hard not to let it get in. And in their music I can feel it and so do most people", adds Anglister.
Barby: a temple for alternative music
And if Acollective and Avidan represent the triumph of independent music, it is also because the phenomenon of young Israeli prodigies is flourishing.
"These young artists are doing everything by themselves without a booking agency and they are going outside of the country and have big tours", says Shaul, owner of the venue Barby in South Tel Aviv.
The Barby opened for the first time in 1994 and is now a mainstay for the city's independent music scene. The small venue opened at the outset of Israel's budding music industry and has gradually grown along with the industry.
"The main point in Barby is the smaller bands. People got to know Barby because of the artists, because of the alternative scene in Israel. And it is all the time in movement. If I find a good artist and I believe they have their own way then I can believe in them and go with them," Shaul tells i24NEWS. "But when they become mainstream I does not want them anymore," he jokes.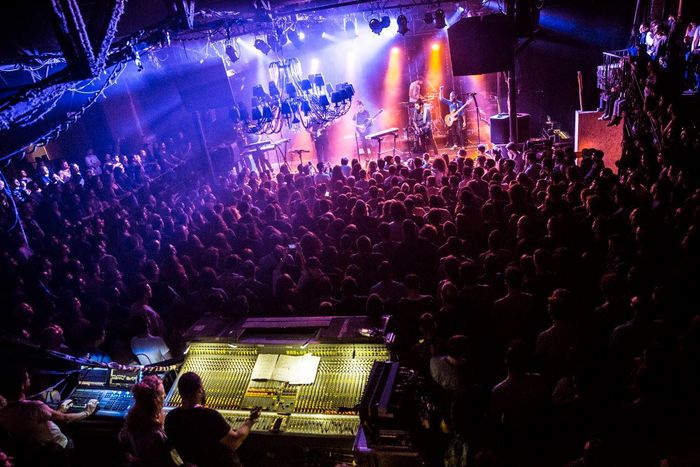 Shaul summarizes the spirit of the Barby in few words: talent, creativity and simplicity. Acollective has indeed conquered the heart of the owner with their innovative performances, their undeniable talent, and the addictive energy of their live shows.
"Here there is nothing: there is only the stage and the audience, everything is very simple. And even people who are not from Tel Aviv, they come here and see that it is also theirs. They feel like they belong here", says Shaul.
"(At Barby) you feel like home… you can come with a suit, you can come with your pyjamas, just be whatever you want… we keep it simple", he insists. And even after 20 years, Shaul continues to stand at the entrance of the Barby before each concert in order to "see everyone with his own eyes" and stay in touch with customers he "never takes for granted".
"Everything in this world is becoming hard to grasp because of the media, the opinions and everything is going so fast but one thing you can be sure is that when you go to Barby and see a show with another 1000 people who enjoy this specific moment, you are experiencing something now and that... is real ", sums up Anglister for whom the Barby will always remain one of the most important places for Indie music despite all the changes observable in Tel Aviv.
Nathalie Boehler is a journalist and web editor for i24NEWS in French.