Thailand: King's death sparks fears of financial downturn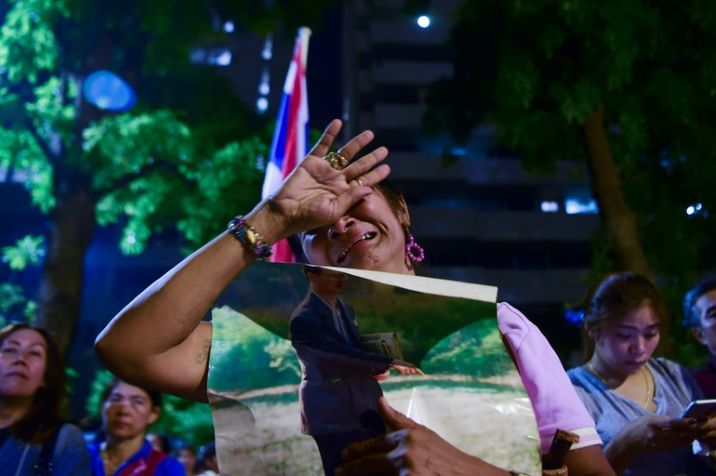 People react to news of the death of Thailand's King Bhumibol Adulyadej at Bangkok's Siriraj Hospital
Munir Uz Zaman (AFP)
National mourning of king adversely affects tourism, which accounts for 10% of the country's GDP
Business has dragged to a standstill in Thailand as citizens mourn the loss of beloved King Bhumibol Adulyadej. Tourists who traveled to a destination famous for a bustling nightlife instead found a nation, and an economy, in the throes of depression.
"There are many factors for the economic downturn, Mantuporn Sakanawat, 54, told Reuters. "Officials don't allow selling on sidewalks. Vendors don't have money. People don't have money. People think about what is necessary for their family. They don't buy unnecessary stuff."
While most public services are unaffected, a range of entertainment, sport and cultural events have been cancelled or postponed. Citizens wore black and white — the national mourning dress code — as they returned to work.
The Thai economy grew at an annual 3.5 percent in the June quarter, its fastest pace in more than three years, helped by strong tourism and government spending. Tourism accounts for about 10 percent of the country's GDP, a rare bright spot for a struggling economy.
Thailand expected to welcome a record 33 million tourists this year. But the king's death and the subdued pace of economic activity could threaten that, and the impact on business remains uncertain.
Sukit Ufomtrikul, head of research and managing director of Maymank Kimrng Security Thailand, said that "the Thai stock market has passed the volatile period. After this, we might see some slow down in activities due to the death of king Bhumibol Adulyadej. But with the fundamentals of the economy which has recovered recently, I don't think we will see much impact."
The economy will plow on - but business activity is expected to remain muted as the country grieves.