Trump's economic promises are one thing. What Congress will go along with is another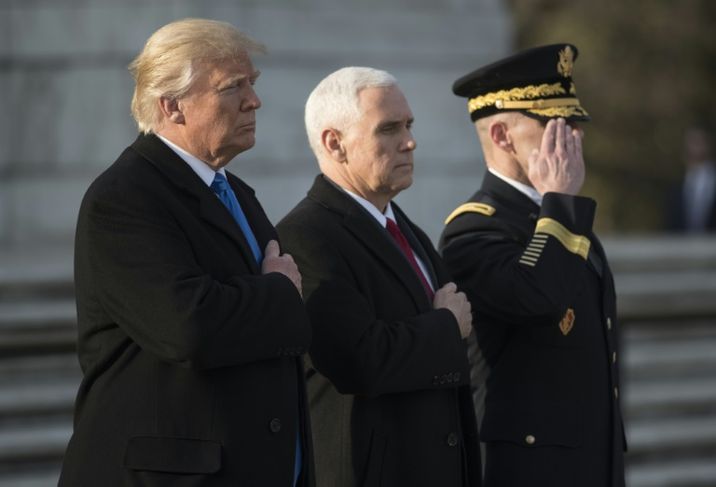 Donald Trump et Mike Pence au cimetière national d'Arlington le 19 janvier 2017 à Arlington
Mandel Ngan (AFP)
Now that Trump is in Washington, the big question is whether or not he can figure out how to enact it
As results began flowing in on election night and it became clear that Donald Trump bested his rival Hillary Clinton, global markets took a major tumble. Futures on the S&P 500 were down over 4 percent -- markets abhor surprises, and Trump's victory was a major surprise.
Two months later, as he prepares to take office, the markets are at all-time highs.
With Republicans controlling all branches of the US government, corporations are hopeful for less regulation and lower taxes. But what should everyday Americans expect from the Trump Administration and how he will affect their pocketbooks?
Since his election, Trump and Republican leaders in Congress have been under pressure to provide details on how they intend to realize his major economic promises from the campaign: creating jobs, repealing Barack Obama's signature healthcare law, improving infrastructure, and reforming the US tax code.
But Republicans are split.
Take the issues of jobs for example. During the campaign, Trump promised to create 25 million new jobs over a two-term presidency. That figure would surpass the golden days of the Bill Clinton administration, when the dotcom boom and globalization spurred 21 million new jobs. Trump's recipe to add jobs is through rewriting trade policies and cutting taxes.
The trade issue, in particular, is fraught. Trump is telling companies that if they build factories abroad, he'll make it more expensive for them to sell their products in the US by slapping high import tariffs on them. But tariffs will hit regular Americans hard, raising the prices of the goods they want to buy.
While the Republican Congress sees eye to eye with Trump on tax cuts, they disagree with his heavy-handed trade protectionism that the new President has made the core of his job creation program.
On healthcare, Trump repeatedly vowed to repeal the Affordable Care Act, also known as Obamacare. The policy, he said, was "a disaster."
Taking apart the complex law is easier said than done. Portions of Obamacare, such as mandatory coverage for pre-existing conditions, are popular, but cannot survive if some of the requirements are dismantled.
A study from the non-Partisan Congressional Budget Office has estimated that repealing the law could lead 18 million people to lose their insurance in the first year alone, and cause premiums to rise 20-25 percent for those buying individual insurance.
Congress has already taken steps to curtail the law, but is beset by infighting over whether to repeal it immediately, or wait until a replacement is in place.
But Trump told the Washington Post this week that he wants coverage to be universal, sounding more like Presidential hopeful Bernie Sanders, a socialist Democrat, than congressional Republicans.
When it comes to infrastructure, economists tend to agree that a boost in investment has wide ranging positive impact. Investing in infrastructure creates construction jobs, and by improving ports, roads and utilities, companies are able to go about their business more efficiently.
Trump proposed spending $1 trillion on US infrastructure, but Republican deficit hawks do not know how they would pay for it. The alternative--giving companies incentives to build infrastructure and allowing them to reap profits in the form of tolls or usage fees later--might help get new infrastructure built, but is less likely to yield needed repairs for existing infrastructure.
Finally, Trump promised to give massive tax breaks to all, with the lion's share of savings directed to the wealthiest Americans. The top 1 percent could see a pay increase of up to 13.5 percent, while the deficit over four years would rise by $6 trillion. That would mean either borrowing a lot more money and causing debt to skyrocket, or cutting federal programs that voters may miss.
Trump was elected as a Washington outsider promising economic change. Now that he is in Washington, a big question mark hangs over whether or not he can figure out how to enact it.
Niv Elis is the i24NEWS Senior Economics Correspondent and Sam Chester is an i24NEWS Economics Correspondent.