Fed's Yellen says fiscal policy adds 'uncertainty' to outlook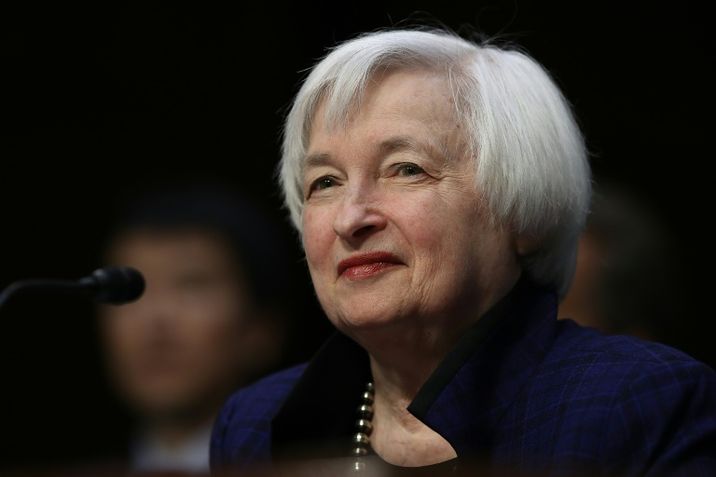 Eyes will be on what Fed boss Janet Yellen says in her news conference
Win McNamee (Getty/AFP/File)
Chair says policy changes are among the factors driving 'uncertainty'
Possible changes in fiscal policy by US President Donald Trump are among the factors adding "uncertainty" to the economic outlook, Federal Reserve Chair Janet Yellen said Tuesday.  
She cautioned that any spending plans should be consistent with putting the budget on a "sustainable trajectory." 
Regardless, the central bank will decide at its upcoming monetary policy meetings -- the next one is March 14-15 -- whether to raise the key interest rate once inflation rises closer to the Fed's two percent target and as employment continues to strengthen, as expected, Yellen said in her semi-annual testimony to Congress.
Her comments on monetary policy gave few additional hints on the timing of the Fed's next rate increase as she repeated familiar statements that "monetary policy is not on a preset course" and decisions will be made "in response to changes to the economic outlook and associated risks as informed by the economic data."
But with Trump promising tax cuts and huge spending programs, Yellen's warnings about fiscal policy are likely to receive a lot of attention from the Senate Banking Committee, just as they did when she testified to another committee in November.
While she stressed that she would not weigh in on specific tax or spending proposals, she repeated "the importance of improving the pace of longer-run economic growth and raising American living standards with policies aimed at improving productivity."
Yellen did not elaborate but the Fed has frequently stressed that sluggish economic growth is partly the result of the small increases in productivity in recent years. 
The fear is that pumping money into an economy near full employment will ignite inflation, unless the policies are geared towards improving productive capacity, for example through improved infrastructure such as roads, ports and airports.
Inflation is the Fed's enemy and policies that set off a spending spree in the economy risk pushing the central bank to raise interest rates faster.
Although Trump criticized the Fed during the campaign for keeping rates near zero, allegedly to help then-president Barack Obama, he is unlikely to look favorably on higher rates that would crimp economic growth and investment.
Upbeat on the economy
The Fed's policy-setting Federal Open Market Committee raised rates in December for only the second time in a decade, a year after it's first post-crisis increase, but kept rates steady in January. Analysts had been looking for a signal from Yellen that another increase might be coming in March.
Yellen gave them little to work with other than an upbeat view of the economy.
Recent data reports suggest the labor market continues to improve and inflation is moving up to two percent, and the FOMC will "evaluate whether employment and inflation are continuing to evolve in line with these expectations, in which case a further adjustment of the federal funds rate would likely be appropriate," she said.
And Yellen also noted, as she has before, that waiting too long to raise rates "would be unwise" as it might force the central bank to increase them more quickly later.
She noted that job gains averaged 190,000 a month in the second half of 2016, for a total of 16 million jobs created since the worst point of the crisis in February 2010. Another 227,000 jobs were added in January, and wage growth has picked up indicating a tightening labor market, with an unemployment rate of 4.8 percent.
She said the improvements in the labor markets have been spread throughout all groups, including African Americans and Hispanics, although unemployment among minorities remains "significantly higher" than the national average.
Meanwhile, the economy has been growing at a moderate pace, boosted by solid consumer spending, including record auto sales last year. And the personal consumption expenditures index, the inflation measure the Fed watches closely, rose to 1.6 percent in December, still low but heading in the right direction. 
However, she said, even though business sentiment has improved, investment was "relatively soft" last year, and "weak foreign growth and the appreciation of the dollar over the past two years have restrained manufacturing output."
(AFP)