Qatar Airways seeks a 10% stake in American Airlines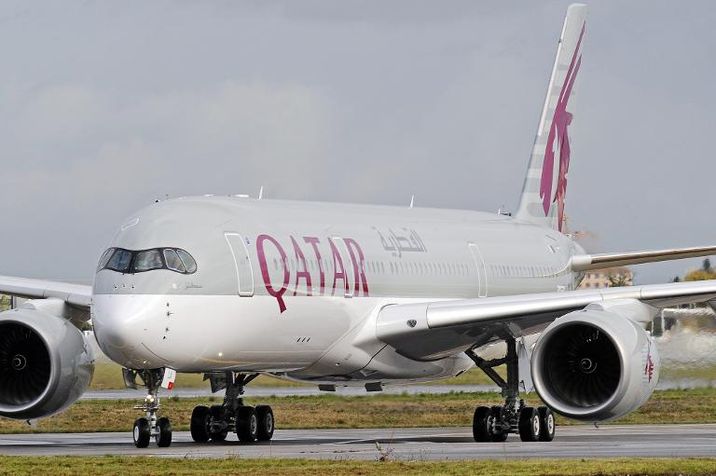 Le premier Airbus A350-900 livré à Qatar Airways, le 11 décembre 2014 sur le tarmac de Toulouse
Remy Gabalda (AFP/Archives)
US airline chiefs have lashed Middle Eastern carriers, including Qatar, as unfair competition
Qatar Airways has notified American Airlines that it wants to buy about a 10 percent stake in the US carrier, which confirmed the move Thursday in a securities filing.
Qatar Airways told American it would undertake purchases of American common stock with an eye toward a 10 percent stake, the filing said, worth about $808 million. Shares of American shot up 5.6 percent in pre-market trade.
The move comes at a tense juncture in Gulf politics, as key members of the Gulf co-operation council suspended all flights to and from Qatar as part of a diplomatic row with the gas-rich monarchy.
While US President Donald Trump expressed support for the attempted diplomatic freeze-out, the State Department has voiced concern and urged the parties to reconcile.
Along with Emirati rivals Etihad Airways and Emirates, Qatar Airways have used the Gulf's strategic geographic location to build a global flight hub that connects Europe, Asia, Africa and Australasia.
Top US carriers - including American - have been waging a public relations and lobbying effort against the Middle Eastern trio, alleging they receive government subsidies and other perks that makes their presence on a host of US routes unfair competition.
The Qatar stake in American "does not alter American Airlines' conviction on the need to enforce the Open Skies agreements with the United Arab Emirates and the nation of Qatar and ensure fair competition with Gulf carriers, including Qatar Airways," American said in the filing.
"American Airlines continues to believe that the President and his administration will stand up to foreign governments to end massive carrier subsidies that threaten the US aviation industry and that threaten American jobs."
Both Qatar Airways and American are members of the oneworld alliance that facilitates co-operation in route planning, ticketing, baggage handling and other operational matters.
You need to be logged in in order to post comments. Sign up or log in
Disengage from the terrorist state of qatar
qatar should be barred from any financial transactions in the US until the stop supporting terrorists like hamas. and more importantly, They Should Be Paying The US Too Keep Our Base There, Else they be wiped off the map by they're neighbor with little to no effort.