Russia says it's not about to deliver S-300 missiles to Iran—because Iran hasn't paid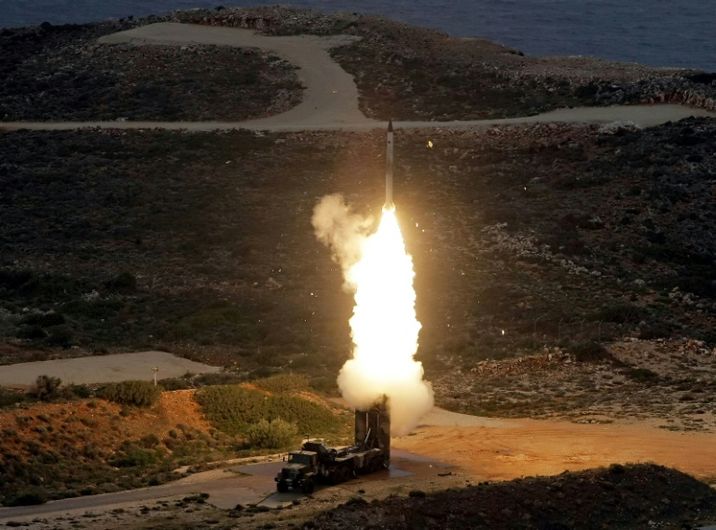 An S-300 anti-aircraft missile launches during a 2013 military exercise on the Greek island of Crete
Costas Metaxakis (AFP)
Russian media reports had said that the first shipments were due to be made on Thursday
Russia's Defense Ministry has denied Russian media reports that it was about to send S-300 missile systems to Iran, the Times of Israel reports.
"The beginning of deliveries of the first consignment of Favorit [S-300] missile systems cannot take place since the Iranian side has not paid the price enshrined in the contract as of February 16," a senior official at the Russian Defense Ministry said to state-run news agency TASS on Wednesday evening, just hours after the reports surfaced.
The information on the imminent transfer of missiles, which was reported by Reuters citing Russian media, had allegedly come from the Russian Foreign Ministry.
The Defense Ministry further added that "the presence of the Iranian defense minister in Astrakhan at the mythical ceremony of dispatching the first Favorit systems to Tehran is out of the question," according to the Times of Israel.
The S300 deal has been under discussion for more than six years. Russia says it cancelled a contract to deliver the advanced missile system to Iran in 2010 under pressure from the West. But Putin lifted that self-imposed ban in April following the interim nuclear deal between Iran and world powers.
The deal has also hit several legal snags along the way.
Russia is still due to send Sukhoi Su-30SM fighter jets to Iran, according to a Times of Israel report which cites an official in the Russian Federal Service for Military-Technical Cooperation.
The jets can conduct air-to-air and air-to-ground strikes, and can fire several different kinds of precision munitions.
According to Reuters Iran is also interested in Russia's more advanced S-400 missile systems, but are not currently in talks to buy them.