Kosovo's new president wants to establish ties with Israel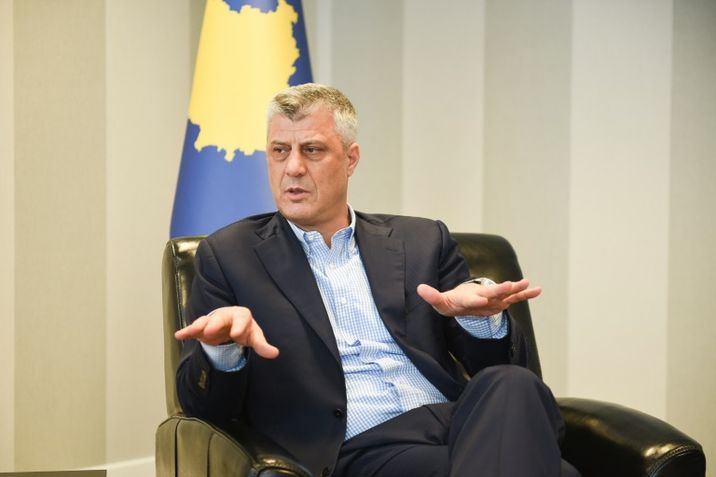 Kosovo's president-elect Hashim Thaci speaks during an interview with AFP in Pristina, on February 3, 2016
Armend Nimani (AFP/File)
Israel has not recognized Kosovo for fear of creating a precedent vis-à-vis its conflict with the Palestinians
New Kosovan president Hashim Thaci, elected at the end of February, has announced he would like to establish ties with Israel, according to an interview with Ynet.
Kosovo, a Muslim-majority country, declared independence in 2008. Israel has so far refrained from recognizing the Balkan state for fear that it would create an unwanted precedent vis-à-vis the Israeli-Palestinian conflict.
The two countries have nonetheless developed closer ties in recent years, according to Ynet.
"I am interested in working on developing our relations with Israel, in promoting relations between citizens of the two nations, until Israel feels comfortable recognizing us," Thaci told Ynet.
"All of Israel's allies recognize Kosovo," Thaci continued. "Yet it's ironic that neither Israel nor the Palestinian Authority recognizes our independence. The PA even voted against Kosovo joining UNESCO.
"I am prepared to help deal with the preconceptions of the case at hand and work with Israel's leadership in order to increase our friendly relations," the president said.
"As foreign minister I initiated the establishment of the Kosovar relations office in Israel. I hope to be the first president to visit Israel in order to officially inaugurate this office," he added.
Thaci also told Ynet that he had previously visited Israel while serving as head of the opposition while the Serbian regime was still in power.
"I hope to visit Israel again. Kosovo has a long and historic connection to Israel and Jews all over the world.
"In 2003 I even inaugurated a statue in Pristina commemorating all of the Kosovar Jews who were killed in the Holocaust."
Ethnic Albanians rescued hundreds of Jews from the Nazis in Kosovo during World War Two, including those who entered the country's borders to seek refuge.