Analysis: Egyptian-Saudi ties come to the forefront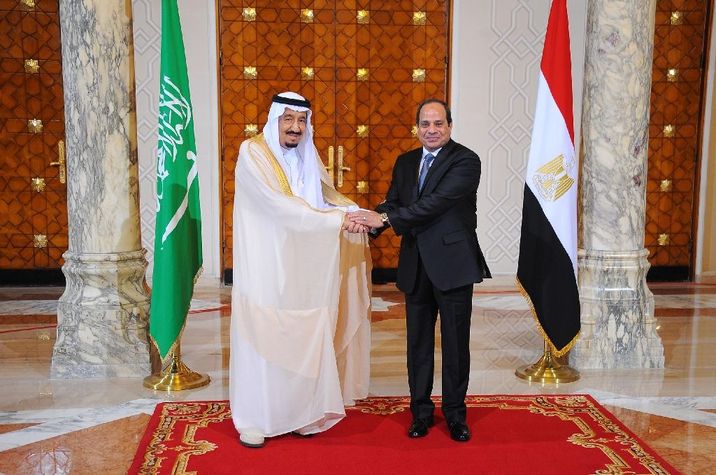 Saudi King Salman bin Abdulaziz (left) and Egyptian President Abdel Fattah al-Sisi meeting in Cairo, April 9, 2016
AFP
Relations between Cairo and Riyadh have been rocky since President Mubarak's overthrow five years ago
All the stops were pulled out for Saudi King Salman during his visit to Egypt. Egyptian President Sisi met the king at the airport with a red carpet, military orchestra, hugs, smiles, and media all around. "Welcome to the historic visit of your second home," the Egyptian President announced as he escorted the Saudi royal through five days of events.
King Salman was immediately awarded the Nile Prize, Egypt's highest honor, made of pure gold and embedded with three squares – the first of which represents the water which protects Egypt, the second which represents the water which ensures Egypt's wellbeing, and the third which represents the water that brings happiness to the Egyptian people.
Few others have been awarded this medal: writer and Nobel Prize winner Najib Mahfouz, South African leader Nelson Mandela, Anwar Sadat, Queen Elizabeth of Britain, and Sultan Qaboos bin Said Al Busaidi of Oman, the only Arab leader who supported Egypt when it signed the peace treaty with Israel.
Relations between Cairo and Riyadh have been rocky since President Mubarak's overthrow five years ago. The Saudi government offered Mubarak political asylum in order to save him from arrest and trial, but he refused, resulting in a trial which continues even to this day.
After he ousted the Muslim Brotherhood from power, Sisi received a financial lifeline worth billions which enabled him to solidify his powerbase. It was very important for Saudi Arabia to protect its ally. Nevertheless, the differences of opinion between the two sides didn't disappear with Saudi Arabia pressuring Bashar al-Assad to leave his post in Damascus, and with Egypt quarreling with Erdogan in Turkey. When Saudi Arabia announced an Arab coalition against Iran, Sisi announced that he would support it, but that he wouldn't send any military forces.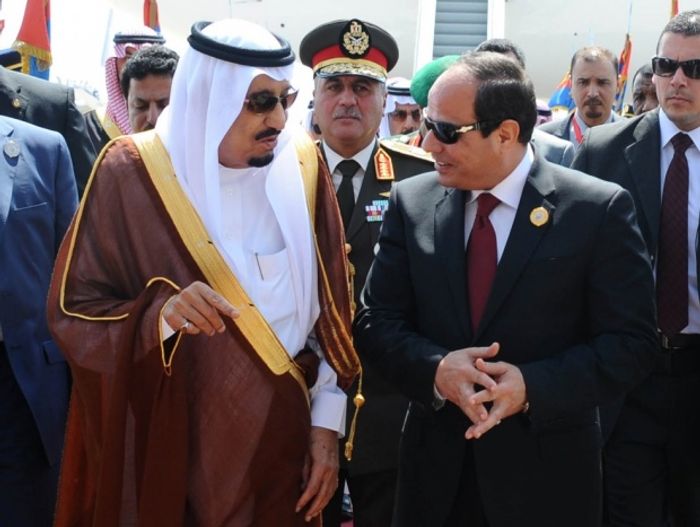 The visit comes as Cairo is in a position of weakness. Advisors are suggesting to Obama that he reconsider US relations with Egypt due to Egypt's continued violations of human rights and their "lack of determination" in establishing democracy. Russia distanced itself from Egypt following the bombing of the Russian passenger plane in Sinai by IS. Italy – Egypt's largest trade partner in the EU and third largest trade partner overall – has recalled its ambassador over the murder of an Italian student.
Salman arrived with a huge entourage of family members in order to try and save Egypt from its difficult situation, signed 17 cooperation agreements with the Egyptians, and pledged three to four million dollars for projects in the Sinai. The ambitious projects include increasing agriculture in the desert, building factories, and establishing the first university on the peninsula. Egypt was made to promise that terror organizations won't interfere with these projects.
But the highlight of the visit came when the Saudi King announced revisiting an initiative to build a bridge between Egypt and Saudi Arabia, which will be the first ever man-made connection between Asia and Africa.
It's no wonder that exact location of the bridge was kept a secret; an unknown place close to Sharm el-Sheikh in Egypt and somewhere in Tabuk Province in Saudi Arabia. The bridge will be 15 kilometers long, take 20 minutes to cross, and will enable millions of African pilgrims to make the holy Hajj journey to Mecca. It will help enable oil to be transported from Saudi Arabia to Egypt more efficiently, and it will facilitate trade and tariffs for both sides.
During the reign of the last Saudi king, Israel worried that a bridge connecting the two countries would enable Egyptian and Gulf forces to transfer weapons and military forces, and was able to stop the construction of the bridge. Israel was able to convince Mubarak that it was a bad idea because it would hurt tourism to Sinai.
However, it was recently exposed that tourism in the Sinai is indeed suffering, with empty hotels and beaches commonplace throughout the peninsula. Egypt and Saudi Arabia will only benefit from the bridge. Meanwhile, Israel has been silent. Was Israel let in on the secret plans for the bridge? Does this point to under the table dealings with the Saudis? Is Israel thinking of the potential danger this bridge could present?
In the end, one can assume that the leadership in Jerusalem is praying that the big plans stay on paper.
Smadar Perry is a journalist at Yedioth Ahronoth. This article was first published by Ynet.