Abbas to Hollande: Palestinians fully support French peace initiative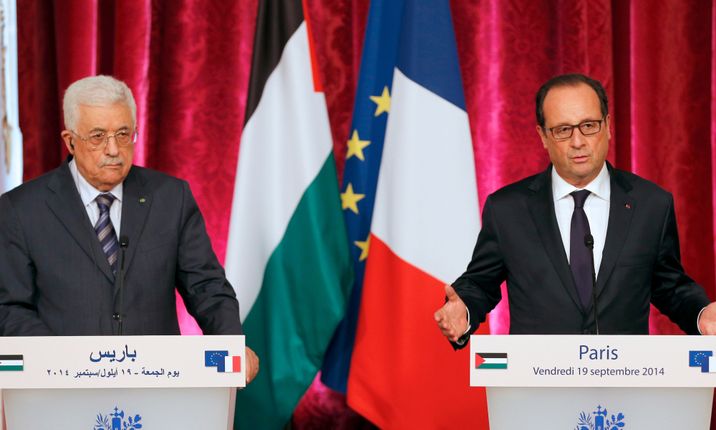 Mahmoud Abbas et François Hollande le 19 septembre 2014
AFP
Palestinian people are "suffocating" under Israel's policies, Abbas told Hollande at their meeting
Palestinian Authority President Mahmoud Abbas on Friday told French President François Hollande that the Palestinians fully support France's initiative to get peace talks back on track, the Times of Israel news site reports.
The Palestinian people are "suffocating" under Israel's policies, Abbas told Hollande at their meeting.
According to Israel Radio, Abbas said he had described to Hollande how Israel's "occupation and settlement expansion" create "suffocating and difficult" living conditions for the Palestinian people. He also reportedly discussed failed diplomatic efforts.
"France plays an important role in efforts to establish a fair, comprehensive and durable peace in accordance with international resolutions," Abu Rudeineh, Spokesman for Abbas said, according to the Times of Israel.
Former French Foreign Minister Laurent Fabius, had stirred Israeli anger in January by proposing that France would "automatically" recognize a Palestinian state if an initiative to host an international conference to revive the peace talks fails.
Shortly after Fabius decided to give up his post, his successor Jean-Marc Ayrault ruled out "automatic" recognition of Palestinian statehood.
Abbas arrived in Paris Friday as part of a two-week tour that will take also take him to Turkey, Russia, Germany and New York, where the Palestinians are discussing a UN draft resolution condemning Israeli settlements in the West Bank. The signing of the UN climate deal will also take place in New York.
Palestinian officials have circulated a draft resolution that would deem Israeli settlements illegal and an obstacle to a peace deal based on two states living side by side within agreed borders.
It demands that Israel "immediately and completely" cease all settlement activities.
Prior to leaving on his two-week tour, Abbas such told AFP that such a resolution "has now become urgent due to settlement activities and because Israel has not stopped these activities."
According to Abbas, Israeli settlement construction in the West Bank "is something that has seriously jeopardized the two-state project."
The UN Security Council failed to adopt a similar motion condemning Israeli settlement building in 2011 after the United States deployed its veto.
Washington has since argued that the best route to peace lies through a comprehensive deal between the two parties, and not through litigating the conflict in the Security Council.
Read more: US keeps options open on Israeli settlements resolution
You need to be logged in in order to post comments. Sign up or log in
Jews need to leave France . they're pretty much asbbad as the terrorist abbas
No more : or teaching little Israel culture!