Israeli president, Ivory Coast FM meet in J'lem, discuss fight against terror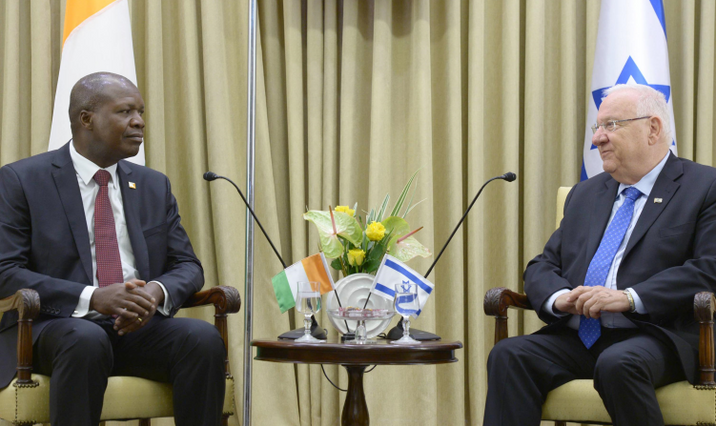 Israeli President Reuven Rivlin hosts Ivory Coast Foreign Minister Dr Abdallah Albert Toikeusse Mabri
Mark Neiman (GPO)
'Ivory Coast is a long standing friend of Israel,' Rivlin tells Dr Abdallah Albert Toikeusse Mabri
Israeli President Reuven Rivlin met with Ivory Coast Foreign Minister Dr Abdallah Albert Toikeusse Mabri, who was visiting Israel on Monday, and the two discussed the fight against terrorism. 
"Ivory Coast is a long standing friend of Israel, and I am delighted to welcome you here in our capital Jerusalem," Rivlin said as he welcomed the foreign minister and his delegation.
Rivlin and Mabri talked about the importance of cooperation, especially in relation to the current security challenges in the Middle East, and throughout the world.
Rivlin told the visiting foreign minister that Israel was keen to once again serve as an observer nation in the African Union, which would help deepen the dialogue between Israel and the countries of the African continent.
Mabri thanked Rivlin for his warm welcome, and said, "Thank you for the honor you have given us, and for your hospitality. The relationship between our countries is indeed very old, and is becoming stronger. This is a relationship of trust and mutual appreciation between our peoples and leaders."
Prime Minister Benjamin Netanyahu also met with Mabri on Monday and the two discussed the global terrorism threat.
Netanyahu noted the importance that Israel ascribes to relations with Ivory Coast and the two discussed opportunities for regional cooperation between Israel and the countries of western Africa.
Last year during a visit to Israel, Ivory Coast's president said that his country was eager to learn from Israel's experience in fighting the universal scourge of terrorism.
Guillaume Kigbafori Soro came on a state visit last July aimed at strengthening bilateral relations and cooperation between the two countries. 
Ivory Coast, the world's top cocoa grower and French-speaking West Africa's largest economy, is emerging from a decade-long political crisis and is now in the midst of an economic revival.
It has enjoyed relative stability since a brief civil war in 2011, having avoided violence related to armed Islamist groups that has affected some of its neighbors to the north in the vast, arid Sahel band.
A French-led military campaign in early 2013 liberated northern Mali from Islamist groups, which had seized control of the area after the Tuareg uprising led to a military coup that plunged the country into chaos.