Turkey dropped detente demand that Israel lift Gaza siege, Hamas says: report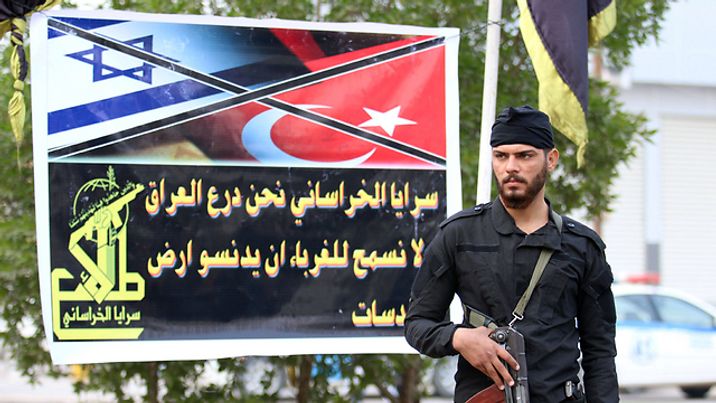 Protests against Turkey and Israel in Iraq
AFP
Turkey says normalization deal depends on Israel
Ahead the reportedly imminent rapprochement between Israel and Turkey, the latter apparently dropped the condition that normalization would only be realized if Israel lifted the siege on the Gaza Strip, according to a Hamas claim cited in the Jerusalem Post.
The comments of anonymous Hamas officials, originally reported in the London-based Rai al-Youm, said that they had been informed of the move by Turkish President Recep Tayyip Erdogan.
"Erdogan announced to Hamas's leadership that he has done everything possible to lift the siege or ameliorate it, but the Israeli government stubbornly rejected his attempts," one of them said.
"Erdogan told the leadership that he must make progress on the normalization deal with Israel in order to serve Turkey's interests," he continued.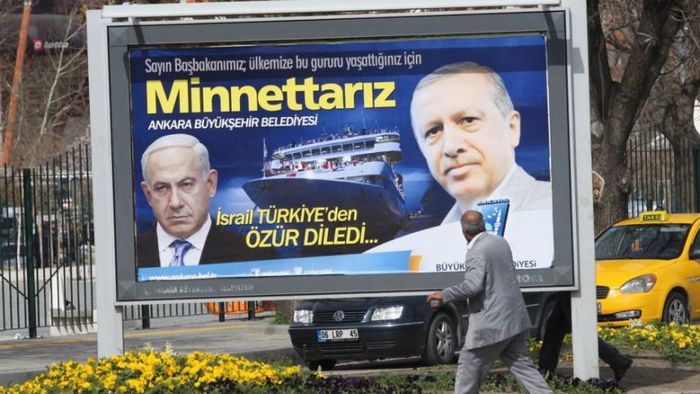 The officials also expressed their fears that Turkey would crack down on senior Hamas officials in Turkey in response to Israeli demands as part of the reconciliation deal, according to the Post.
Relations between Israel and Turkey have been at a consistent low after being downgraded following a 2010 Israeli raid on a Turkish vessel heading to Gaza.
On Wednesday, Turkey said that reaching a deal at upcoming normalization talks depended on steps taken by the Jewish state.
"Whether a deal can be reached at the first upcoming meeting depends on the steps to be taken by Israel," Foreign Minister Mevlut Cavusoglu told a news conference in Ankara.
He did not give the date of the meeting although press reports have said it would take place on Sunday.
Relations between once close allies Turkey and Israel hit an all-time low after Israeli commandos staged a botched pre-dawn raid on a six-ship flotilla in May 2010 as it tried to run the blockade on the Hamas-run Gaza Strip.
Nine activists on board the Turkish-owned Mavi Marmara ferry were killed, with a tenth person later dying of his wounds, sparking a bitter diplomatic crisis. All 10 were Turkish nationals.
Two of Turkey's key conditions for normalization — an apology and compensation — were largely met, leaving the lifting of the Gaza blockade as the sole outstanding demand.
"Our conditions are not very complicated, they are plain conditions," Cavusoglu said, apparently contradicting the comments made by Hamas officials. "They need to be fulfilled the same as our apology demand."
Staff with AFP