Obama, Merkel hold press conference after meeting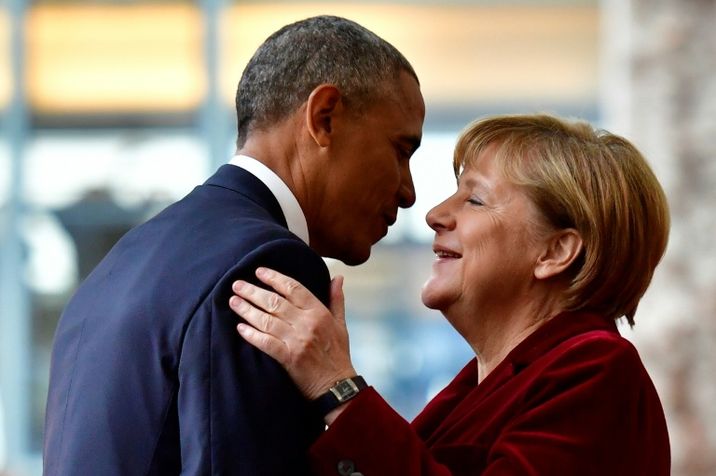 Barack Obama accueilli par Angela Merkel, à Berlin
John MACDOUGALL (AFP)
Obama aims to ease fears about the future of the transatlantic partnership and thank Merkel for her friendship
German Chancellor Angela Merkel admitted Thursday that a trade deal between the European Union and United States would not be concluded now, after the election of Donald Trump, who opposes the planned accord, as the leader held a joint press conference with US President Barack Obama.
"I have always been strongly engaged for a conclusion of a trade deal with the United States. We have made a lot of progress on the negotiations, but it will not be concluded now," she said, following talks with US President Barack Obama on his farewell tour of Europe.
Obama said he hoped Donald Trump would "stand up" to Russia but added he was "cautiously optimistic" about his successor in the White House.
Speaking in Berlin, Obama also praised as an "outstanding" international partner his host Angela Merkel, seen by many as a new standard bearer of liberal democracy as the world tensely awaits how Trump will reshape the global order.
In the joint press conference, Obama and Merkel stressed their common stance for a strong NATO, free trade and action on climate change, as Western leaders brace for potentially radical changes with Trump moving into the Oval Office in January.
Citing the conflicts in Syria and Ukraine, Obama stressed that he hoped Trump, who has voiced admiration for President Vladimir Putin, "is willing to stand up to Russia where they are deviating from our values and international norms".
He said Russia was a military superpower with "influence around the world" but cautioned Trump against the temptation to "cut some deals with Russia" that hurt smaller countries because it may seem "convenient at the time".
"And that will be something that I think we'll learn more about as the president-elect puts his team together."
Despite adopting a sombre tone during his sixth and last visit to Germany as US president, Obama said he was nevertheless "cautiously optimistic about my successor and the shift from campaign mode to governance".
He said "there's something about the solemn responsibilities of that office ... that forces you to focus, that demands seriousness". 
"And if you're not serious about the job, then you probably won't be there very long."
(Staff with AFP)