Police wrap up second quizzing session with Netanyahu, investigate new suspect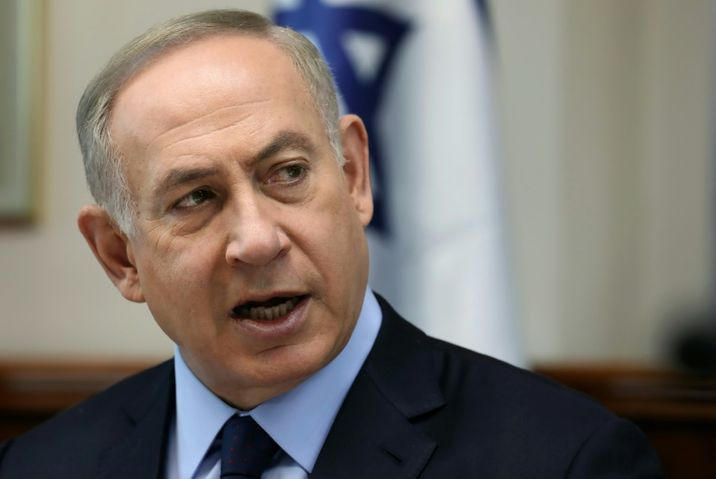 Israeli Prime Minister Benjamin Netanyahu chairs the weekly cabinet meeting in Jerusalem on January 1, 2017
Gali Tibbon (AFP)
Thursday's quizzing session lasted about five hours and was related to two separate cases, police said
Israeli police on Thursday wrapped up their second session of questioning Israeli Prime Minister Benjamin Netanyahu, with the session lasting about five hours.
It was the second time this week that the prime minister was quizzed over graft suspicions, with a previous three-hour session taking place on Monday.  According to a police statement, Netanyahu was questioned about a separate matter as well during Thursday's session.
The statement from the police said that over the past few days another suspect was investigated in connection with the case but did not provide additional details.
Israel's National Radio reported that the head of the National Fraud Investigation Unit was with the team of investigators that had arrived at the Prime Minister's residence for the questioning.
In statement after Monday's questioning, the Attorney General's office said they would further pursue the line of investigation, providing no details regarding its substance.
The statement however pointed out that in a number of past allegations against Netanyahu, specifically in connection with funding of 2009 election, there was "no evidentiary basis" warranting further investigation.
Media reports earlier said that Netanyahu would be questioned over whether he illegally accepted gifts from wealthy supporters, in a probe shaking the country's political scene.
Netanyahu is suspected of receiving tens of thousands of dollars worth of illicit gifts from wealthy supporters, according to media reports, however, investigators have revealed little on the probe.
The Haaretz daily on Thursday named Hollywood producer Arnon Milchan as one of the business people who is reported to have bequeathed the prime minister with lavish gifts.
According to the report, Milchan has also provided assistance with military transactions and has been linked with other notable Israeli political figures including Yair Lapid.
Lapid is the chair of the center-left Yesh Atid party (There is a Future), and according to a poll by Israel's Channel 10 news last week, Yesh Atid could oust Netanyahu's Likud as head of government if elections were held today.
Milchan is linked to Australian billionaire James Packer, whose named has also come up during the investigation into the Prime Minister, said Haaretz.
Milchan executive produced the film "Fight Club," and was a producer on "Mr and Mrs Smith," among many others, and according to Haaretz, holds a 9.8 percent stake in Israel's Channel 10.
Netanyahu has denied any wrongdoing, saying repeatedly that "there will be nothing because there is nothing".
You need to be logged in in order to post comments. Sign up or log in
"I've said it before and I'll say it once again: there will be nothing because there is nothing." Yup, Netanyahu has swallowed the stupid pill. And there's no antidote for that.