United States puts bin Laden's son on terror blacklist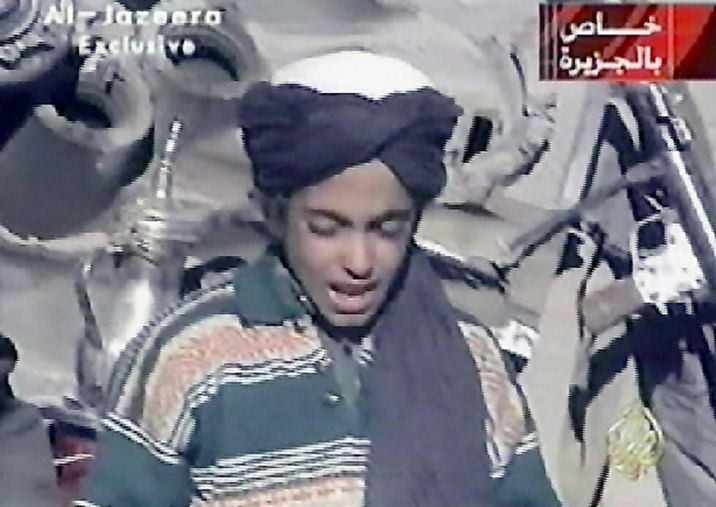 Hamza bin Laden recites a poem during a 2001 ceremony in Afghanistan
Al-Jazeera/AFP/File
Hamza bin Laden, in his 20s, has become an active al-Qaida propagandist since his father's death
The United States added Hamza bin Laden, son of the late global jihadist leader Osama bin Laden, to its terrorist blacklist on Thursday.
Hamza, born in 1989, has become active as an Al-Qaeda propagandist since his father's death at the hands of US special forces in 2011.
The State Department noted in a statement that Hamza bin Laden was officially declared a member of al-Qaida in a 2015 audio message by senior leader Ayman al-Zawahiri, which also included a call by bin Laden to commit terrorism in western capitals – specifically urging lone attacks against US, Israeli, and French interests in Washington, Paris, and Tel Aviv.
Another audio message in July 2016 featured Hamza bin Laden threatening revenge against the United States and warning Americans they would be targeted at home and abroad.
In 2016, bin Laden also urged tribes in Saudi Arabia to unite with al-Qaida's Yemen affiliate to attack Saudi forces, the statement said.
In May 2016, Hamza bin Laden urged  jihadists in Syria to unite, claiming that the fight in the war-torn country paves the way to "liberating Palestine".
"The Islamic umma (nation) should focus on jihad in Al-Sham (Syria) ... and unite the ranks of mujahedeen there," said Hamza in an audio message posted online.
"There is no longer an excuse for those who insist on division and disputes now that the whole world has mobilized against Muslims," he said.
Hamza, the son of one of the three wives who lived with Osama bin Laden in Abbotabad, Pakistan, was the only person that was not found during the US raid that killed the terrorist leader. Letters found in the compound revealed that he was living at a safe house in Peshawar​ and being groomed as the future chief of al-Qaida.