Trump open to lifting sanctions against Russia, repeal 'One China' policy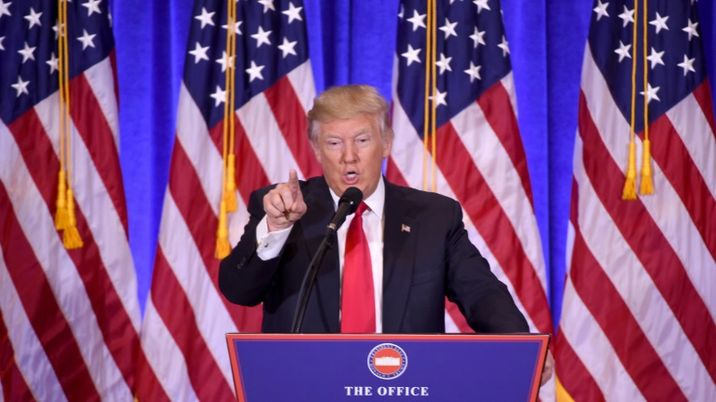 Donald Trump lors de sa conférence de presse à New York, le 11 janvier 2017
DON EMMERT (AFP)
US Senate intel panel to probe into Russia spying
President-elect Donald Trump may be open to lifting sanctions on Russia if Moscow proved to be helpful in battling terrorism and reaching other important US goals, he said in an hour-long interview with the Wall Street Journal Friday. 
Trump told the Journal that, "at least for a period of time," he would keep up sanctions imposed against Russia by the Obama administration in late December in response to Moscow's alleged cyber-attacks. 
"If you get along and if Russia is really helping us, why would anybody have sanctions if somebody's doing some really great things?" he said.
US intelligence agencies allege that Russian President Vladimir Putin ordered a covert effort to interfere in the election to boost Trump and harm his opponent, Democrat Hillary Clinton.
A report from the Director of National Intelligence released January 6 says the Russians hacked Democratic Party computers and accounts to release files embarrassing to Clinton, and also conducted a campaign of media manipulation with the same aim.
But the public version of the report was questioned for offering only weak evidence of its claims. 
Turning to a longstanding agreement with China over Taiwan, a policy known as "One China," Trump said: "Everything is under negotiation, including One China."
The United States and China agreed in the so-called the Shanghai Communiqué of 1972 that Taiwan wasn't to be recognized diplomatically, and that the island state is under the rule of Beijing.
Trump stressed he does not see himself bound to the policy "until he saw what he considered progress from Beijing in its currency and trade practices," the Wall Street Journal writes.
Trump has already irked China by accepting a congratulatory phone call from Taiwan's President Tsai Ing-Wen after he won the election, upending decades of diplomatic precedent in which the White House has foregone direct communication with the island's leader.
He defended that move in his interview with the Journal, saying: "We sold them $2 billion of military equipment last year. We can sell them $2 billion of the latest and greatest military equipment but we're not allowed to accept a phone call. First of all, it would have been very rude not to accept the phone call."
Beijing considers the island to be a breakaway province to be brought back within its fold, by force if necessary
Trump has threatened to get tough with what he sees as unfair Chinese trade practices, and suggested that the "One China" policy could become a bargaining chip in other disputes.  
Trump's diplomatic efforts to warm ties with Russia will however have to compete with those in Congress, including many Republicans, who want to see the incoming administration take a tough line with Moscow the alleged cyber-attacks.
Spying probe
The Senate Intelligence Committee on Friday announced a probe into the matter, saying US intelligence reports of Moscow's interference and possible ties to US parties "raise profound concerns."
The probe, supported by both Democrats and Republicans on the panel, could see officials of both Barack Obama's outgoing administration and Trump's incoming government forced to testify.
Meanwhile, this week an unproven dossier compiled by a former British MI6 intelligence agent alleged closer ties between the Trump campaign and Russian government, and said Moscow had lurid video of Trump with prostitutes while in Russia.
"As part of the Senate Select Committee on Intelligence's oversight responsibilities, we believe that it is critical to have a full understanding of the scope of Russian intelligence activities impacting the United States," the Senate committee said in a statement.
Trump, who will take office in one week, has repeatedly rejected suggestions that Moscow aided in his election victory. 
He has also compared US intelligence agencies to "Nazi Germany" for allegedly leaking to the media their analyses to undermine him.
The probe will review the intelligence community's assessments and also other assessments, "including any intelligence regarding links between Russia and individuals associated with political campaigns," the committee said.
That suggested the former British spy's explosive report could also be reviewed.
But the committee said most of the work will be done out of public scrutiny to protect classified information.
"The Committee will follow the intelligence wherever it leads. We will conduct this inquiry expeditiously, and we will get it right," they said.
(staff with agencies)