Lawyers say White House informed that Flynn may register as foreign agent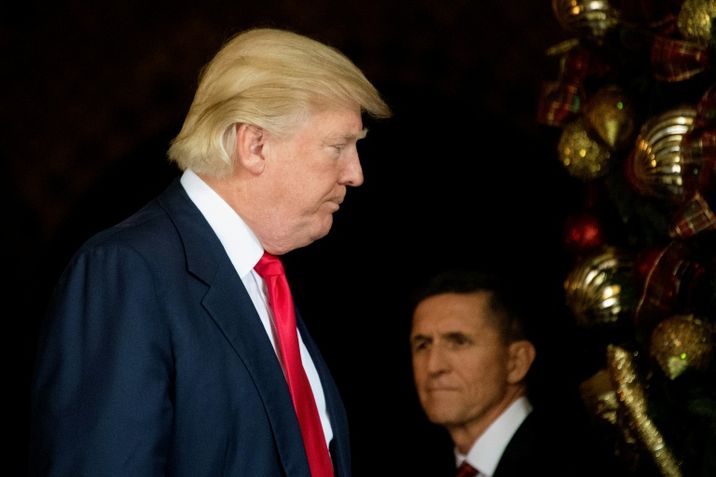 White House spokesman Sean Spicer insisted Donald Trump was not consulted about Michael Flynn discussing sanctions with Russia
JIM WATSON (AFP/File)
The White House denies that Trump was made aware of Flynn's contacts with Russia and Turkey
White House press secretary Sean Spicer said in a briefing Friday that US president Donald Trump was not aware until this week that his recently dismissed national security adviser Michael Flynn had worked as a representative for Turkey.
However, prior to his appointment, attorneys to Flynn had informed the incoming White House legal counsel that he might need to register with the government as a foreign agent.
Flynn was forced to resign last month after details of his dealings with Russia and now Turkey emerged.
On Tuesday, he retroactively filed the paperwork to register as a foreign agent as he was paid to do work that could benefit the Turkish government, reported the Washington Post.
The controversial resignation was a stunning first departure from the new president's inner circle less than a month after his inauguration on January 20.
Flynn admitted that he "inadvertently briefed" the now Vice President Mike Pence with "incomplete information" about his calls with Russia's ambassador Sergey Kislyak to discuss US sanctions strategy before taking office.
"Regarding my phone calls with the Russian Ambassador. I have sincerely apologized to the President and the Vice President, and they have accepted my apology," read Flynn's letter, a copy of which was released by the White House.
The White House said Trump had accepted the retired three-star general's resignation.
Reports have been circulating since February that top Trump advisers were warned about Flynn's contacts with the Russians earlier this year.
Questions have been raised about who knew about the calls and why Trump did not move earlier to replace Flynn.
Ahead of Flynn's resignation White House spokesman Sean Spicer insisted Trump was not consulted about Flynn discussing sanctions, nor did he task his top national security aide to do so.
Asked if Trump was aware Flynn would raise sanctions with the Russian envoy, Spicer said: "No, absolutely not. No way."
Flynn's ties to Turkey have also raised red flags among US lawmakers.
Heading Flynn Intel Group, Flynn acted as a foreign agent representing the interests of Turkey's government for more than half a million dollars, around the same time  he was advising Trump in last year's presidential election campaign, according to Reuters.
When questioned during a press briefing on Friday, spokesman Sean Spicer stated that Flynn's lobbying was a personal business matter and President Trump was not aware that former general was working as a foreign agent.
"You wouldn't know until he filed," said Spicer. "He didn't file until two days ago."
According to Spicer, Flynn's attorney was told that "it was up to the personal lawyer to work with the appropriate authorities ... to determine what was appropriate and what was not appropriate in terms of filing."
"We trust people to fill out the forms that they are required to do so in an honest and legal manner, and in this case he retroactively filed the forms he was supposed to do," said Spicer.
"We did the right thing then, and we expect every employee to follow the law."
On Friday, it was revealed that Trump's legal team had been warned twice by Flynn's attorneys about his potential status as a foreign agent, reported the Washington Post who spoke with an anonymous source close with the White House.
The White House has since confirmed that two calls were made, one to Trump's counsel before the inauguration, and another to a member of the White House legal team in the first days of the Trump administration's early days.
However, the White House maintained that the calls had been placed to provide guidance for Flynn's legal counsel, which Trump's team was unable to give, the Associated Press initially reported.
Spicer maintained on Friday that Trump had never been aware of Flynn's potential registration as a foreign agent and that, "The burden is on the individual to seek the legal advice or professional expertise to decide what they have to file and not."
"They were given the proper legal advice at the time, which was to seek expertise in that matter."
Trump has since named retired lieutenant general Joseph Keith Kellogg, who was serving as a director on the Joint Chiefs of Staff, to be interim national security adviser.
(Staff with agencies)