Erdogan warns Netherlands will 'pay price' after minister's expulsion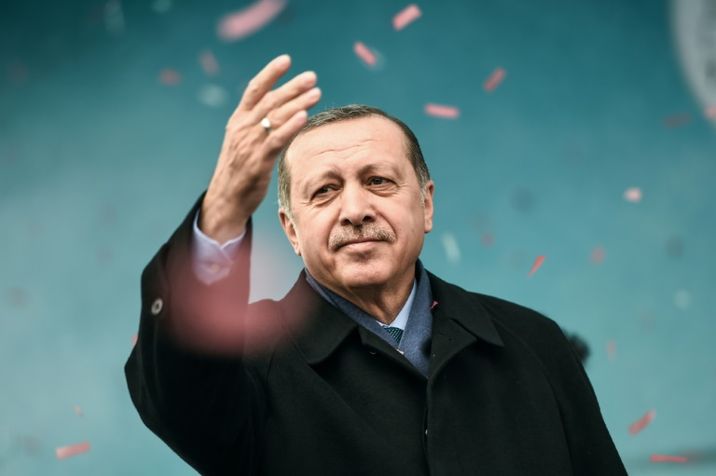 Tayyip Erdogan
OZAN KOSE (AFP)
Dutch expel Turkish minister as police break up protests
Turkey's President Recep Tayyip Erdogan on Sunday threatened that the Netherlands would "pay a price" after expelling a Turkish minister from the country.
"Hey Holland! If you are sacrificing Turkish-Dutch relations for the sake of the elections on Wednesday, you will pay a price," an angry Erdogan told a ceremony in Istanbul, referring to the upcoming legislative polls in Turkey's NATO ally after Family Minister Fatma Betul Sayan Kaya was expelled.
"They will learn what diplomacy is," he growled, adding that what happened "cannot remain unanswered."
Turkish officials said she said Kaya and her entourage were subjected to "rude and tough treatment".
Erdogan added: "They went as far as to lock the door of the consulate there (in Rotterdam)."
After several hours of a calm, but tense demonstration by more than 1,000 people outside the Turkish consulate, AFP correspondents saw the police, some carrying out mounted charges on horseback, begin to forcefully disperse the protesters.
The protesters gathered after the Netherlands said it would refuse Foreign Minister Mevlut Cavusoglu permission to land for a rally to gather support for a referendum on boosting Erdogan's powers.
Tensions finally tipped over into violence after a day of fast-moving events, triggered when Turkish Foreign Minister Mevlut Cavusoglu said he planned to attend a pro-Turkish government rally in Rotterdam.
The Netherlands, which holds general elections on Wednesday, had repeatedly said Cavusoglu was not welcome to campaign for Turkey's April referendum in the country and refused his plane permission to land.
Turkish President Recep Tayyip Erdogan reacted angrily accusing the Dutch -- who were once under Nazi occupation -- of being "the vestiges of Nazis."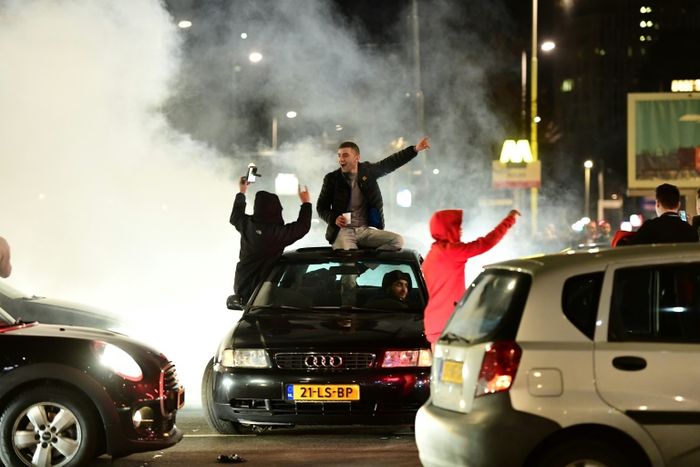 The Dutch decision to ban Cavusoglu from visiting came after Germany and other European nations also blocked similar campaign events.
"They are the vestiges of the Nazis, they are fascists," Erdogan told an Istanbul rally on Saturday, days after he angrily compared moves to block rallies in Germany to "Nazi practices".
"Ban our foreign minister from flying however much you like, but from now on let's see how your flights will land in Turkey," Erdogan said.
Dutch Prime Minister Mark Rutte said Erdogan's criticism was "crazy."
"I understand that they are angry but this is way out of line," he said. "I really think we made the right decision here."
Minister expelled
At around the same time as police began breaking up the rally, Turkish Family Minister Fatma Betul Sayan Kaya tweeted that she was being deported from the city and being taken to Germany, a statement confirmed by Rotterdam's mayor.
Kaya appeared at the scene after reportedly travelling overland from Germany, but Turkish TV said she was stopped by Dutch police some 30 meters (yards) short of the consulate.
"We've been here for about four hours. We were not even offered water," she told the NTV television channel. "(Dutch) police are not allowing me to enter the consulate. "
"I was told to leave the country and return to Germany as soon as possible," she added. "I will not leave unless I am allowed to meet even for five minutes with our citizens."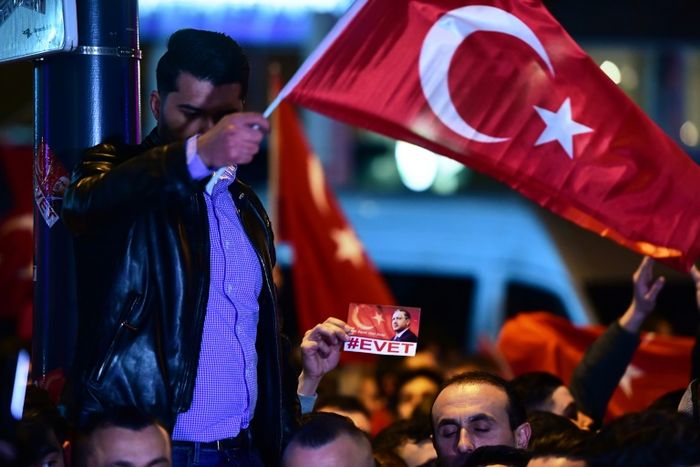 Rotterdam's mayor Ahmed Aboutaleb gave a press conference about the day's fast moving events, explaining that Kaya, who had arrived late Saturday, was "on the way from Rotterdam to Germany."
"She has been expelled back to the country she came from," he said, noting that she was being taken to the border.
After several hours of negotiations, it had proven "impossible to find a solution."
Dutch authorities had repeatedly told Turkish officials that Kaya was "not welcome. But nevertheless she decided to travel," he said.
Cavusoglu meanwhile flew to France where he is expected to address a rally Sunday in the eastern city of Metz. A French official said the visit had been cleared by the foreign ministry in Paris.
Earlier in the day, the Turkish foreign ministry said it had summoned the Dutch deputy ambassador in protest over the ban, and the Dutch embassy in Ankara and consulate in Istanbul were sealed off for "security reasons", Turkish foreign ministry sources said.
The Netherlands is home to some 400,000 people of Turkish origin, and Ankara is keen to harness votes of the diaspora in Europe ahead of the April 16 referendum on creating an executive presidency.
The Turkish government argues the changes would ensure stability and create more efficient governance, but opponents say it would lead to one-man rule and further inflame tensions in its diverse society.
The latest row came after NATO allies Turkey and Germany sparred over the cancellation of a series of referendum campaign events there.
Germany is home to 1.4 million people eligible to vote in Turkey -- the fourth-largest electoral base after Istanbul, Ankara and Izmir.
Although Berlin insisted the cancellations by local authorities were for logistical reasons, Turkish officials repeatedly hit back.
(Staff with AFP)