U.S. files charges against Jordanian woman involved in 2001 Jerusalem bombing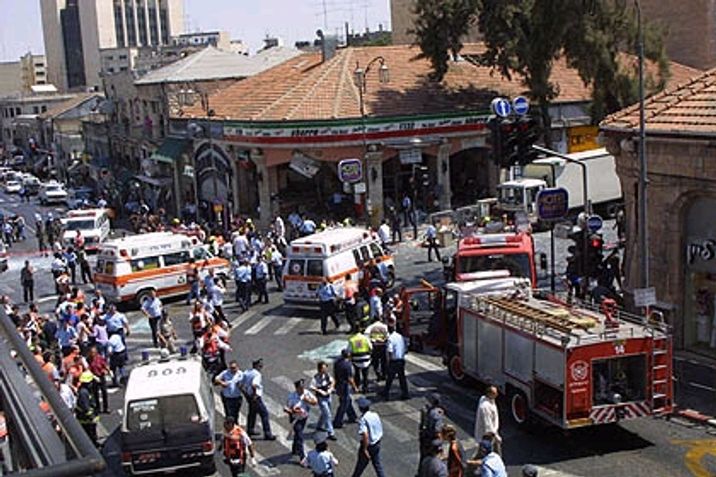 Sbarro
FBI also announced that Al-Tamimi has been added to its "Most Wanted Terrorists" list
The United States on Tuesday filed charges against Ahlam Aref Ahmad Al-Tamimi, a Jordanian woman who played a role in a 2001 suicide bombing at a Jerusalem Pizza restaurant.
Fifteen people were killed in the attack, including two U.S. citizens, and 122 wounded, including another four Americans.
Al-Tamimi acted as an accomplice, scouting the location of the Sbarro pizza chain in the heart of Jerusalem prior to the bombing and escorting the bomber to the site.
She was convicted in an Israeli court and sentenced to 16 life sentences, however, she was set free after eight years as part of a deal with Hamas to release captive Israeli soldier Gilad Shalit.
The deal announced on October 11, 2011 arranged Shalit's release in exchange for the liberation of 1,027 Palestinian prisoners.
#WANTED: Ahlam Al-Tamimi added to #FBI Most Wanted Terrorist List for 2001 pizza restaurant attack in Jerusalem https://t.co/KYxxf0SnpA pic.twitter.com/r18DQarQfu

— FBI Washington Field (@FBIWFO) March 14, 2017
After her release Al-Tamimi, who had been living in the West Bank, returned to her home country of Jordan, where she currently resides.
A statement released by the U.S. Justice Department said that Al-Tamimi is being charged for "conspiring to use a weapon of mass destruction against U.S. nationals outside the U.S., resulting in death."
A warrant for her arrest was issued in 2013, however, it was sealed until the Justice Department announced the criminal complaint against her on Tuesday.
The statement indicated that the U.S. is seeking Al-Tamimi's extradition so she can be tried.
"Jordan's courts, however, have ruled that their constitution forbids the extradition of Jordanian nationals," it said. "The U.S. has worked and will continue to work with its foreign partners to obtain custody of Al-Tamimi so she can be held accountable for her role in the terrorist bombing."
The FBI also announced that Al-Tamimi has been added to its "Most Wanted Terrorists" list.
"Al-Tamimi is an unrepentant terrorist who admitted to her role in a deadly terrorist bombing that injured and killed numerous innocent victims," said Acting Assistant Attorney General McCord. "The charges unsealed today serve as a reminder that when terrorists target Americans anywhere in the world, we will never forget – and we will continue to seek to ensure that they are held accountable."