Jordan rejects U.S. extradition request for accomplice in 2001 Jerusalem bombing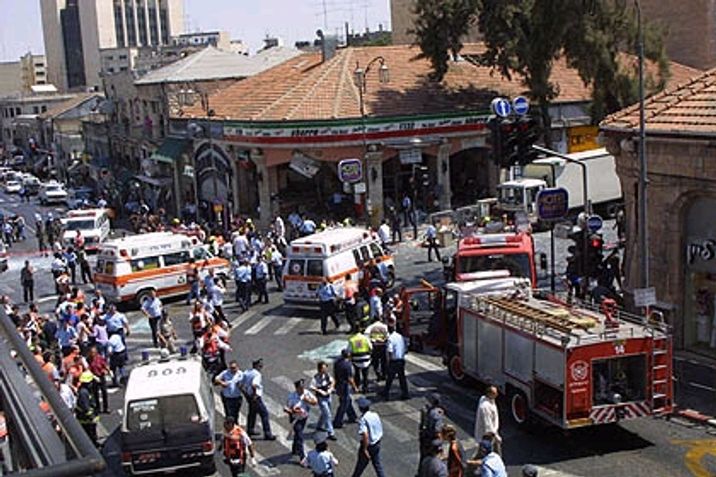 Sbarro
Hamas demanded that Jordan 'protect the freed prisoner and legally decline to deliver her to the U.S.'
Jordan has rejected a request from the United States to extradite Ahlam Aref Ahmad Al-Tamimi, a woman who played a role in a 2001 suicide bombing at a Jerusalem Pizza restaurant, the Jordanian daily Al Ghad reports.
According to the paper the court denied the request as the two countries have no extradition treaty. Such a treaty was signed in 1995, however, the Jordanian parliament never ratified it, said Al Ghad.
Some Jordanian lawmakers say that Al-Tamimi should not be tried twice for the same crime, as she was already tried and convicted in Israel, and served eight years in prison.  
Fifteen people were killed in the attack, including two U.S. citizens, and 122 wounded, including another four Americans.
Al-Tamimi acted as an accomplice in the deadly attack, scouting the location of the Sbarro pizza chain in the heart of Jerusalem prior to the bombing and escorting the Hamas bomber to the site.
She was convicted in an Israeli court in 2003 and sentenced to 16 life sentences, however, she was set free after eight years as part of a deal with Hamas to release captive Israeli soldier Gilad Shalit.
#WANTED: Ahlam Al-Tamimi added to #FBI Most Wanted Terrorist List for 2001 pizza restaurant attack in Jerusalem https://t.co/KYxxf0SnpA pic.twitter.com/r18DQarQfu

— FBI Washington Field (@FBIWFO) March 14, 2017
After her release Al-Tamimi, who had been living in the West Bank, returned to her home country of Jordan, where she currently resides.
In a statement Tuesday the U.S. Justice Department noted that the Jordanian constitution forbids the extradition of Jordanian nationals, but added that "the U.S. has worked and will continue to work with its foreign partners to obtain custody of Al-Tamimi so she can be held accountable for her role in the terrorist bombing."
Hamas responded to the extradition request, saying it is "rejected in form and substance," the London based pan-Arab daily Al-Quds Al-Arabi reports.
According to the paper, Hamas MP Huda Naim said that "Our message to Ahlam Tamimi as a symbol of Palestinian women is to remain steadfast, and that all the Palestinian people stand with Ahlam Tamimi as a symbol for women fighting the deportation of Jordanian nationals."
She went on to demanded that the Jordanian authorities "protect the freed prisoner Ahlam Tamimi and legally decline to deliver her to the U.S."
The U.S. on Tuesday filed charges against Al-Tamimi for "conspiring to use a weapon of mass destruction against U.S. nationals outside the U.S., resulting in death."
The FBI also added her to its list of "Most Wanted Terrorists."
You need to be logged in in order to post comments. Sign up or log in
how about the US stops helping Jordan?