Iran disputes limit on heavy water stockpile under nuclear deal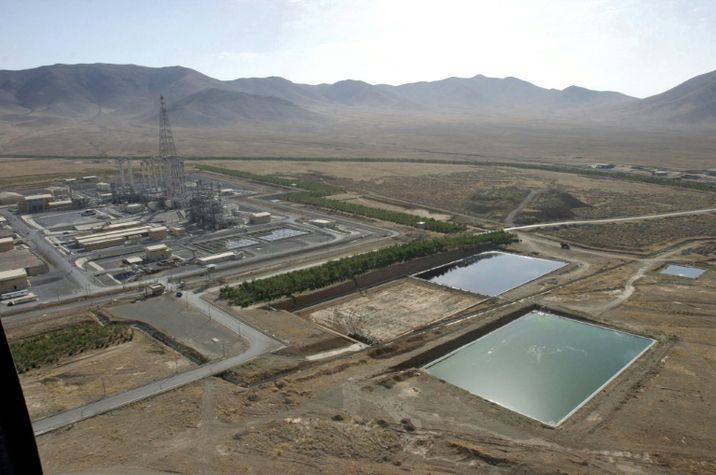 A heavy water plant in Arak, 320 kms south of Tehran
Fars News/AFP/File
Iran claims agreement does not require country to ship out excess heavy water until buyer can be found
Iran said it may not agree to stick to limitations on its heavy water stockpile, as set by its nuclear deal with world powers. 
The 2015 deal restricts Iran's atomic stockpile to 130 tons of heavy water, which it has exceeded twice so far.
In a letter to the UN nuclear watchdog circulated to member states on Thursday and posted on the agency's website, however, Iran argued that the deal does not require it to ship excess heavy water out of the country.
"Nothing in the (agreement) requires Iran to ship out the excess heavy water which is made available to the international market but has not yet found an actual buyer to which the heavy water needs to be delivered," Iran said.
The deal stipulates that all excess heavy water "will be made available for export to the international market based on international prices and delivered to the international buyer".
"Any excess heavy water in excess of the firm cap of 130 metric tons cannot remain in Iran," the United States said in a statement to an International Atomic Energy Agency (IAEA) meeting last week.
The IAEA's latest report said Iran has not exceeded the permitted level of 130 tons, as it did briefly during previous periods.
In November 2016, the atomic watchdog noted that Iran had crept above the 130-ton limit.
Tehran shipped out the excess amount and its current stock was just above 124 tons, the latest report said.
And Iran's stockpile of low-enriched uranium — which can be used for peaceful purposes, but when further processed for a nuclear weapon — was 101.7 kilos (225 pounds), well below the agreed level of 300 kilos.
Verification has continued as agreed, according to the UN watchdog's fifth quarterly assessment since the pact was struck.
Under the accord, Iran dramatically scaled back nuclear activities to put atomic weapons out of its reach — an aim Tehran always denied having — in exchange for the relief of crippling sanctions.
The agreement extends to at least a year the length of time Tehran would need to make one nuclear bomb's worth of fissile material — up from a few months prior.
Steps taken by Iran included slashing by two-thirds its uranium centrifuges, cutting its stockpile of uranium and removing the core of the Arak reactor which could have given Iran weapons-grade plutonium.